One Water Race Starts August 23rd
August 16, 2022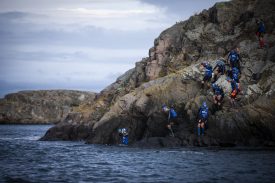 THE ULTIMATE PROOF OF HUMAN CAPACITY
/ENDURANCE SPORTSWIRE/ – On August 23rd -25th, the first official One Water Race will take place. One Water Race is the world's toughest endurance race. The race has gained a lot of attention and the world's best endurance athletes visit to Stockholm to challenge all physical and mental limits and cover 250 kilometers, non-stop, across the entire Stockholm archipelago, from north to south. The purpose is an annual recurring race to draw attention to the urgent climate situation for our seas and waters.
One Water Race is a unique race format that has been established as the world's toughest endurance race. The race has attracted the world's top long-distance athletes to participate, which puts the race, the Stockholm archipelago, and the important water issue in focus.
– We want to create a new era in climate activation, and through the race and the world's top athletes, we have a fantastic opportunity to shine a light on Sweden, the Stockholm archipelago, and our world water. The race is created to be the toughest race in the world in every way. The distance, the combination of running, swimming, orienteering as well as the forces of the weather with cold and pitch-black August nights makes the race completely unique. It is the ultimate challenge for human capacity and even if we have the world's elite athletes in place, we don't know how many of the teams that will make it the entire distance to Landsort, says Thomas Ogander, initiator, and founder of One Water Race.
Eight selected mixed teams from all over the world will race from Arholma to Landsort in the Stockholm archipelago by running, swimming, and orienteering non-stop – a total distance of 250 kilometers (equivalent to 6 marathons), where the competitors choose their own route. August 23rd at 07.00 the race starts at Arholma, and the finish is scheduled for August 25th at the island of Landsort.
– One Water Race will be one of the most challenging races I will ever do. It's so unique and different to anything anyone has done before and it's going to be a huge effort," said Rob Preston, ranked second in the world in adventure racing, Team 8 Australia.
– Teamwork is essential when doing this type of long-distance race. There is a famous saying: If you want to race fast, do it yourself. If you want to go far, do it together. One Water Race is a race over time, says Daniel Hansson Team 4 Sweden & Australia.
The teams consist of three athletes and one support crew, who compete actively all the way. The following teams compete in the race: Team 1 (USA), Team 2 (Sweden), Team 3 (USA), Team 4 (Sweden/Australia), Team 5 (South America), Team 6 (Sweden), Team 7 (USA) and Team 8 (Australia).
One Water Race takes place during the World Water Week, August 23rd to 25th, when the Stockholm Water Prize is awarded by H.M. King Carl XVI Gustaf as well as Stockholm Junior Water Prize and Baltic Sea Day. All activities contribute further by collectively drawing attention to the water issue.
One Water Race is a concept adapted to the digital and content-driven world. The race is media produced with advanced technology and broadcasted in real time via web and social media platforms worldwide. In collaboration with the production company Storyfire, a documentary is also being produced for global streaming services. From August 23rd to August 25th the race can be followed live ​at www.onewaterrace.com and on social media.
One Water Race – Team line-up ​​August 23rd-25th 2022:
Team 1 – USA: Jarrod Shoemaker (captain), Kristin Smith, Misty Becerra and Sara McLarty
Team 2 – Sweden: Staffan Björklund (captain), Johanna Edman, Martin Flinta and Richard Norlin.
Team 3 – USA: Jason Magness (captain), Chris Wright, Renee Metivier and Timothy Gorbold.
Team 4 – Sweden & Australia: Daniel Hansson (captain), Adriel Young and Kristin Larsson.
Team 5 – South America: Ruben Manduré (captain), Douglas Elias da Costa, Fredrica Frontini, Thiago Bonini.
Team 6 – Sweden: George Bjälkemo, Helena Sivertsson and Pontus Lindberg – OUT DUE TO INJURY.
Team 7 – USA: Brett Gravlin (captain), Justin Smith, Lara Sloan.
Team 8 – Australia: Rob Preston (captain), Elizabeth Dornom, Glenn Wilkinson and Julian Dent.
About One Water Race
Behind the One Water Race is the initiator Thomas Ogander together with One Water Foundation and the initiative 'Fossil-free archipelago', which has the ambition to drive the development and establishment of a modern and environmentally adapted infrastructure for the marine environment, starting in the Stockholm archipelago.
The main partner is Stockholm Archipelago, a collaboration for sustainable tourism between seven archipelago municipalities, Visit Stockholm, the Archipelago Foundation and Region Stockholm. One Water Race is also organized in collaboration with Expedition Baltic Sea and Briggen Tre Kronor, which strive to save the Baltic Sea by educating young people and the public. The aim of the race is to, through media and innovative technology, take long-distance sports and climate activation to a completely new level that reaches out to a wide target group – locally, globally, and digitally.
About One Water Foundation
One Water is an independent foundation that act as the catalyst to drive the climate issue of our water and oceans for the benefit of all stakeholders. The foundation works with Sweden and the Stockholm archipelago as a starting point and creates the context necessary to create attention and concrete change through the One Water Race and the initiative 'Fossil-free Archipelago', whose ambition is to replace all outdated fuel stations in the Stockholm archipelago with unmanned fossil-free fuel stations by 2026. The first fossil-free fuel station opened in July 2022 on Lidingö.
The initiative 'Fossil-free archipelago' is unique in its kind and is based on the creation of a collaboration between several actors: government authorities, business community, and the market, who together must strive and work for the necessary changes and a concrete result-oriented development. The goal is for the Stockholm archipelago to become fossil-free, to be an example for progressive environmental development of marine environments in several areas in Sweden, and to influence the outside world and future generations.
For further information, high-resolution images, and interview requests, please contact:
Heléne Airijoki, press contact SpoilConcept, email: helene.airijoki@spoilconcept.se or 073 – 385 03 19.