Olympic Medallist Signs with MANA
October 21, 2021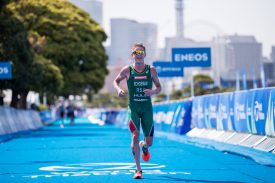 South African triathlete Henri Schoeman joins the team.
/ENDURANCE SPORTSWIRE/ – Olympic and Commonwealth Games medalist Henri Schoeman has joined the growing roster of MANA Sports & Entertainment Group athletes.
Schoeman has won for South Africa a bronze medal at the 2016 Rio Olympic Games and gold at the 2018 Commonwealth Games. He is also the top-ranked triathlete in Africa and is a member of the elite Bahrain Endurance 13 team.
He says: "I am excited to announce that I will be moving into the next phase of my career with MANA, an agency aligned with my goals within the sport as well as afterwards. I look forward to building a future that I can count on."
Fellow MANA athlete Magnus Ditlev took third place at Challenge Peguera-Mallorca over the weekend, backing up from winning the inaugural Challenge Budva-Montenegro the week prior. Ditlev's win in Montenegro was reinstated 48 hours after he was initially disqualified due to "unintentional course cutting" when a marshal led him off-course. After Ditlev and MANA launched a protest, Challenge Family investigated further, leading to an official reversal of the disqualification and an implementation of a five-minute time penalty.
The statement from Challenge Family said: "The action was reduced in acknowledgment of the part the race organization played in misdirecting Ditlev, for which Challenge Family and Challenge Budva-Montenegro has apologized, with a commitment to put more robust procedures in place to ensure this is not repeated. Ditlev retains his place as the inaugural Challenge Budva-Montenegro champion with a time of 3:46:29 with Patrick Lange in second (3:48:21) and Ruedi Wild in third (3:50:43)."
MANA SEG works with the very best in the world of endurance sport. For a detailed discussion about working or partnering with any of our athletes, please contact:
About MANA Sports and Entertainment Group (MANA)
Mana are the experts in the endurance sports and entertainment space, with unparalleled network and credentials in endurance sports innovation. We deliver our projects, programs and services with pride, boldness and authority. Led by two-time Ironman World Champion, Chris McCormack, the Mana team has been responsible for some of the most important innovations in triathlon, including Super League Triathlon, the Bahrain Endurance 13 Team, Athlete Management Program and now the creation and delivery of Sub7 & Sub8 Project. More information is available at www.manaseg.com.