Oakland Running Festival Set to Kick Off Sunday with NFL Star Najee Harris
March 15, 2023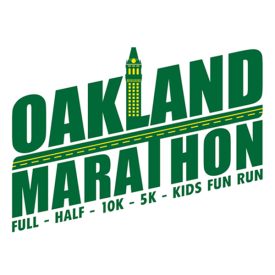 East Bay native and Pittsburgh Steeler Pro Bowl Running Back set to start the Oakland Marathon on Sunday, March 19 as the inaugural Oakland Community Kick-Starter benefiting the Da' Bigger Picture Foundation; full weekend of events to welcome runners of all ages and abilities, including the Saturday, March 18 Eat. Learn. Play. Kids Fun Run presented by Kaiser Permanente
OAKLAND, Calif. – (March 15, 2023) /ENDURANCE SPORTSWIRE/ – The 14th Annual Oakland Running Festival (ORF) will welcome over 7,000 participants during a week's long celebration of the community culminating on Sunday, March 19 with events including the Marathon (26.2 Miles), Half Marathon (13.1 Miles), 10K (6.2 Miles) and the Total Health Dental Care 5K (3.1 Miles). The event's new owners, Run Local® are doubling down on local partnerships to celebrate the annual tradition and inspire movement across all ages and abilities.
ORF's latest initiative, the Oakland Community Kick-Starter Grant, will honor East Bay native and Pittsburgh Steeler Pro Bowl Running Back, Najee Harris and his impactful Da' Bigger Picture Foundation. Harris will serve as the Marathon's honorary starter on Sunday, March 19 at 7:00am and a $5,000 donation will be made to support the foundation's work.
"Sport is a catalyst for developing lifelong skills and I'm proud to be named the honorary starter of this year's Oakland Marathon and the inaugural recipient of the Community Kick-Starter grant," commented Harris. "As someone who experienced homelessness and at times, relying on the support of shelters in the East Bay, Da' Bigger Picture is focused on assisting underserved families in reaching their potential and goals as well as providing tools and assistance to families facing challenging times."
Further inspiring the community, participants on Sunday will enjoy local artists motivating them from start to finish. Start and finish line announcers include the voice of Laney College and Stanford Athletics, James Rockefeller, and Oakland A's Public Address Announcer, Amelia Schimmel. The National Anthem will be sung by Oakland School of the Arts' 17 year old Vocal Music student Jordyn Diew. On course, the world renowned Oakland Interfaith Gospel Choir will make its ORF debut. The event will also be welcoming back West Oakland art school, The Crucibile, who will have on display their metal Fire Arch for Marathon and Half Marathon participants to run through. Batalá San Francisco and Emeryville Taiko along with local DJs will round out the course entertainment to keep participants moving all morning long.
"Running events are so much more than simply closing down streets for a weekend. These events require months of planning with multiple stakeholders and organizations who work tirelessly to create strong and healthy communities not just for a few days, but year round," stated Run Local Founder, and San Jose native, J.T. Service. "We are excited to work with the community of Oakland on this nationally recognized event and place a spotlight on the amazing people and groups who make Oakland move."
Prior to Marathon Sunday, the entire community is welcome to attend the free Health & Fitness Expo on Friday, March 17 and Saturday, March 18 at Snow Park in the heart of downtown Oakland. On Friday, the Expo is open from 4:00pm – 7:00pm with a Happy Hour Packet Pick Up presented by Northern California's Lagunitas Brewing Co.
On Saturday, it is all about the kids with the Eat. Learn. Play. Kids Fun Run presented by Kaiser Permanente. Taking place at 12:00pm, 500 kids ages 12 and under will take on distances ranging from a Quarter Mile to Mile. Family friendly activities will also be available throughout Snow Park, including interactive soccer play in partnership with the Oakland Roots, Oakland Soul and Street Soccer USA. The Oakland A's mascot, Stomper, will also provide high fives and smiles at the finish.
Follow @oaklandmarathon and @runlocalevents on social media to stay informed for additional community events throughout the week. Participants are encouraged to share their journey with #OaklandRunningFestival and #RunLocal.
To learn more and to register, visit: oaklandmarathon.com
Run Local®
Founded in 2012, Run Local's mission is to inspire movement in your community™. It has produced events in the San Francisco Bay Area and throughout California, including the Oakland Running Festival (March) and the Santa Barbara Half presented by HOKA & SB Independent 5K (November). Each of its events celebrate the local running community, artists and the unique diversity of each region. For more information, visit runlocalevents.com and also join us on social @runlocalevents.
Da' Bigger Picture Foundation
Da' Bigger Picture Foundation's focus is assisting underserved families in reaching their potential and goals. The Foundation hopes to provide tools and assistance to families facing challenging times—key areas include education; homelessness; addressing hunger and utilizing sports as a platform to develop life skills. For more information, please visit Najee.Net.