Nutrition Coaching App, Fuelin, Announces Integration with TriDot Triathlon Training Platform
November 2, 2023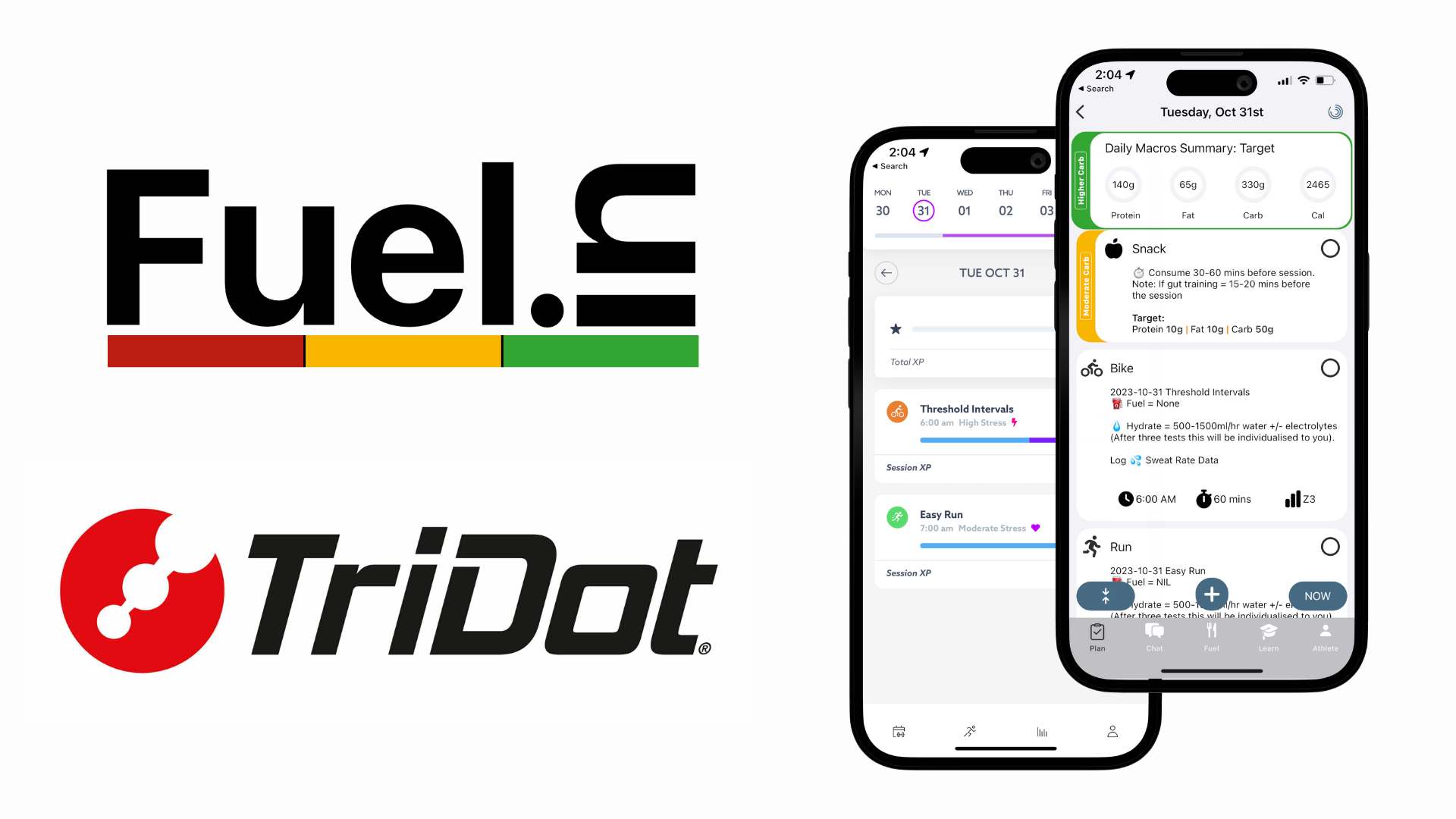 /ENDURANCE SPORTSWIRE/ – Fuelin is excited to unveil a collaborative partnership with TriDot in response to numerous requests from athletes and coaches alike.
This collaboration aims to further tailor nutrition coaching and recommendations for endurance athletes, enhancing their training, performance, and health outcomes. This integration aligns with Fuelin's mission of providing personalized, custom nutrition coaching, making it easier for athletes to harmonize their nutrition plans seamlessly with their training regimens.
With the integration of TriDot, Fuelin's nutrition coaching recommendations will now be available to all athletes on the TriDot platform. TriDot training will connect with Fuelin's nutrition coaching app, instructing athletes how to fuel before, during, and after their training sessions as well as in daily life.
Fuelin CEO, Jonathan Lee, shares, "We're thrilled to partner with TriDot, a move inspired by community requests. This integration melds Fuelin's personalized nutrition coaching with TriDot's optimized training, creating a perfect match that elevates personalized athletic training and nutrition to a new level." This integration reflects Fuelin's ongoing commitment to listen to the community and continually adapt to meet the evolving needs of endurance athletes.
"We share Fuelin's commitment to finding ways to leverage technology in innovative ways to create unique value for our athletes and coaches," says Jeff Booher, Founder and CEO of Predictive Fitness Inc., the developer of TriDot. "Fueling better means that athletes can train better, recover better, and perform better."
The partnership embodies a shared vision between Fuelin and TriDot of utilizing data-driven insights to elevate athletes' training and nutritional strategies.
About Fuelin:
Fuelin is a pioneering nutrition coaching app powered by AI and human nutrition coaches. It specializes in delivering personalized nutrition coaching and recommendations to active individuals. By integrating with leading training platforms like TrainingPeaks, Today's Plan, Final Surge, and now TriDot, Fuelin adapts to each user's training plan, goals, and personal biology to provide tailored nutrition recommendations. Beyond day-to-day nutrition guidance, unique features like the sweat rate calculator and carb capacity tracker allow athletes to measure and manage their carb consumption during exercise effectively, making Fuelin a smart companion in achieving their performance and health goals. www.fuelin.com
About TriDot:
TriDot is a software-as-a-service (SaaS) technology and performance science division of Predictive Fitness, Inc. that provides Optimized Triathlon Training® for triathletes. The platform of choice for top coaches like Mark Allen, Michellie Jones, Timothy O'Donnell and Mirinda Carfrae, TriDot handles the analytics and training program design, giving coaches more time to work with their athletes. Through nearly 20 years of data gathering and R&D, its patents-pending technology uses each athlete's biometrics and training data along with its own proprietary big data and artificial intelligence engine to design and optimize training for athletes, with or without a coach. It produces substantially greater results in up to 30% less training time. www.TriDot.com