Nutrition Coaching App, Fuelin, Announces Integration with Final Surge
August 30, 2022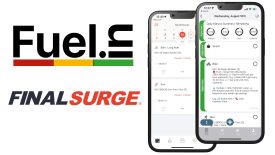 (San Francisco, CA)/ENDURANCE SPORTSWIRE/ – Fuelin and Final Surge announced the integration of Fuelin's nutrition coaching app with Final Surge's sports technology platform. This gives all Final Surge athletes the ability to connect their training program to the daily nutrition and fueling programs available from Fuelin so they know how to fuel before, during and after every workout, as well as throughout the day.
Fuelin's world-class nutrition coaches have worked with professional and amateur athletes around the world to dial in their nutrition and fueling to optimize their performance and health. Not only does the Fuelin program offer guidance around how to fuel and hydrate during workouts, it also includes recommendations on what to eat for every single meal and snack throughout the day. With a library of 700+ recipes, across a range of dietary preferences, Fuelin athletes are never at a loss to know what they should eat to support their training, recover faster, stay healthy and perform their best.
Tim Surface, co-founder and CEO at Final Surge said: "With nutrition being such an important part of endurance training and racing, we're excited to offer this integration to our athletes and coaches. Fuelin will allow athletes to dial in the exact nutrition they need based on their training schedule to fuel and recover properly and get the maximum benefit from each meal to help achieve their goals."
Jonathan Lee, Fuelin co-founder, added: "We are thrilled to launch our integration with Final Surge and make performance nutrition easy for all Final Surge athletes. Tim and the Final Surge team have created a world-class platform along with an incredible community of athletes and coaches that we are delighted to serve."
ABOUT FUELIN
Fuelin is a nutrition coaching app and program that takes the guesswork out of daily nutrition, fueling and hydration for endurance athletes. Using a simple traffic light system, the Fuelin app provides athletes with a personalized nutrition program based on their individualized training plan, including practical guidance on when, how much, and what type of nutrition to consume for optimized performance and health.
For more information visit fuelin.com
ABOUT FINAL SURGE
Final Surge is an online training platform for athletes, coaches, teams, and clubs. The Final Surge Web app, plus iOS and Android mobile apps, have all of the features needed to track and analyze your running, cycling, and triathlon training, including easy coach/athlete communication, planning future workouts, executing training plans, and monitoring your effort and performance while avoiding injury. Final Surge also imports workout and GPS data from all popular fitness devices.
For more information visit https://www.finalsurge.com/
Media contact: Jordan Blanco
Email: media@fuelin.com
Phone: (415) 465-3665