NGX Named As Official Shake Partner Of Super League Triathlon London
August 22, 2022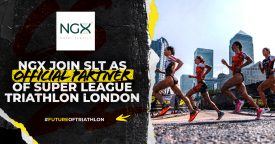 /ENDURANCE SPORTSWIRE/ – Super League Triathlon (SLT) can today announce a partnership with NGX (Nutri-Genetix), who will become its Official Shake Partner for the opening race of the 2022 Championship Series in London.
The agreement with NGX sees them team up with Super League for the kick-off of its biggest ever Championship Series with the world's best athletes ready to do battle over the exhilarating Triple Mix format at London's West India Quay on Sunday, September 4.
NGX is the world's first genetically personalised nutrition shake, tailored to an individual's own DNA to achieve enhanced performance. The multi-awarded and Dragons' Den winning product uses nutrigenetics, to understand how people metabolise and process different nutrients based on their genetic make-up.
Taking the guesswork out of nutrition plans by simply completing a DNA test, customers receive a customised nutrition shake tailored specifically for their dietary needs, resulting in increased performance and overall health.
Matt Caren, Head of Brand Partnerships at Super League Triathlon, said: "NGX is a cutting-edge product that leads on innovation and so has perfect synergies with Super League Triathlon. We are delighted to be partnering with NGX and to work with them as our biggest ever Championship Series gets underway in London on September 4."
Jeremy Poland, CEO and co-founder of NGX, added: "Super League Triathlon welcomes the pinnacle of performance to the start line – having the edge over the competition and knowing everything about your body and how it reacts to nutrition ties in perfectly with what we're about at NGX, offering simple DNA based personalised products to help every day and elite athletes perform at their very best."