NFL Star, Micah Parsons, Huddles Up to be an Ambassador for NOCCO BCAA
June 17, 2022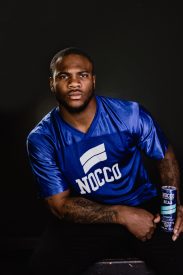 NOCCO makes push to expand in the Texas Area
LOS ANGELES/ENDURANCE SPORTSWIRE/ — NOCCO – the leading no carb, branched chain amino acids (BCAA) beverage company – continues to expand their already impressive ambassador program with legendary Dallas Cowboys linebacker Micah Parsons.
"Micah is hungry and electric; a perfect fit for our ambassador program," said Ben Jones, CEO, NOCCO USA. "We are beyond ecstatic to have Micah join our roster of incredible athletes as he continues to grow in his career."
A Texas native, Micah will be present at NOCCO activations and events throughout the Texas area beginning in April 2022. As a young and gritty hungry / ambitious athlete, Micah recently was the first round pick for the Dallas Cowboys. In his rookie season alone, he was voted into the Pro Bowl, named 1st Team All-Pro by the AP, and was the unanimous Defensive Rookie of the Year. Prior to his professional career, Micah was a five-star recruit and was ranked #4 in his class by 247Sports.com and #7 by ESPN. Micah then committed to Penn State where he was named the Butkus–Fitzgerald Linebacker of the Year.
"Being a part of the Cowboys has been nothing short of a dream come true," stated Micah Parsons. "Being a team player is important to me, that is why joining NOCCO is vital because not only do their values align with mine, but their products keep me going and allow me to perform 110% every game in every training session & every game."
Micah joins an already impressive roster of NOCCO ambassadors and high profile athletes like NBA Star Deandre Ayton, who helped the Phoenix Suns to the NBA Finals in 2021 and MMA Heavyweight Champion Francis Ngannou.
NOCCO is currently available for purchase on Amazon, bodybuilding.com, GNC and at retailers across the country, including gyms and fitness centers. To learn more, visit
https://nocco.com/us/ or follow them on Instagram.
About NOCCO
All NOCCO products are sugar-free, low-calorie and have a blend of BCAA's (branched-chain amino acids) and vitamins. They are vegan and available with or without caffeine. NOCCO is available in eight great tasting flavors.
*Not a low or reduced calorie food. See nutrition information for sugar, calorie and saturated fat content
###