New York City Triathlon & Duathlon produced by Life Time Features New Fall Date and $19,000 Prize Purse for Pros
September 6, 2023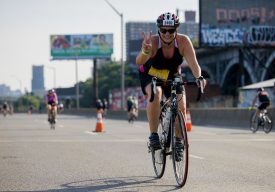 Registration open for 21st edition of the only triathlon to take athletes on a journey through New York City
NEW YORK – (Sept. 06, 2023)/ENDURANCE SPORTSWIRE/ – The New York City Triathlon, produced by Life Time (NYSE: LTH) and a marquee event in the city since 2001, will welcome athletes from around the world on Sunday, October 1. Kicking off at 7:30 am, Triathletes will swim 0.93 miles (1500m), pedal 24.8 miles (40K) and run 6.2 miles (10K), finishing in historic Central Park. In addition to the triathlon, a duathlon also is available, along with a relay team option for the international distance. Registration is open and athletes—from first time amateurs to pros—are invited to race in the "Greatest City in the World."
With a $19,000 prize purse on the line, the event also will feature a professional field, including three-time winner, Rebeccah Wassner, along with Trevor Foley, Timothy O'Donnell, Yorlliry Moreno and Rach McBride.
"In this 21st edition of the New York City Triathlon, we are beyond excited to welcome a very impressive field of pro and amateur athletes who will be rooted on by thousands of spectators along the course," said Alex De Gracia, Senior Event Manager at Life Time. "We anticipate an iconic day of swimming, biking and running throughout Manhattan – a city that is now home to eight of our Life Time athletic country clubs, with more locations to come."
A duathlon race option is being offered again this year for those who wish to compete in the bike and run portions of the event, beginning with a two-mile (3.2K) run, followed by 24.8-mile (40K) bike.
Nearly 1,500 athletes from 41 states and 15 countries are currently registered to participate.
About the Course:
Triathletes will enter the water at Riverside Drive between 81st and 82nd Street and exit at 99th Street, heading to the transition area at 101st Street in Riverside Park on the soccer field.
Upon exiting the swim-to-bike transition, athletes will cycle north on the park path to 105th Street where they will exit onto the northbound lane of the West Side Highway. They will continue north to the Mosholu Parkway with a turnaround at Gun Hill Road. They will then ride south to the turnaround at 56th Street and head back to transition.
The run heads south on the West Side Highway to the exit ramp at 96th Street and continues east to Central Park. Athletes will run south on the West Drive and complete the full southern loop, continuing north on the East Drive to the turnaround at E. 90th Street. Runners will return south to the 72nd Street Transverse and lastly west to the finish line at Center Drive.
Registration for the International distance and duathlon are $370 and available at www.nyctri.com.
The New York City Triathlon is produced by Life Time, North America's premier healthy lifestyle brand. It is among more than 30 premier athletic events produced by the company, including the Life Time Miami Marathon, Leadville Race Series and Garmin UNBOUND Gravel.
About Life Time, Inc.
Life Time (NYSE: LTH) empowers people to live healthy, happy lives through its portfolio of more than 165 athletic country clubs across the United States and Canada. The Company's healthy way of life communities and ecosystem address all aspects of healthy living, healthy aging and healthy entertainment for people 90 days to 90+ years old. Supported by a team of more than 35,000 dedicated professionals, Life Time is committed to providing the best programs and experiences through its clubs, iconic athletic events and comprehensive digital platform.