New UPMC Health Plan Pittsburgh BACK Half Marathon Celebrates Outstanding Charity Runners with Red Carpet Experience
March 7, 2022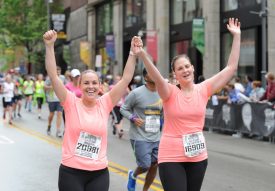 For the first time, half-marathon charity runners who fundraise $1,500 or more for charity will have the opportunity to run the second half of the DICK'S Sporting Goods Pittsburgh Marathon course
PITTSBURGH, PA (March 7, 2022)/ENDURANCE SPORTSWIRE/ – This year P3R is unrolling the red carpet and celebrating outstanding charity runners with the new UPMC Health Plan Pittsburgh BACK Half Marathon. Limited to the first 500 runners who fundraise $1,500 or more for charity, the new race will start in Shadyside and include a VIP experience from start to finish with a VIP gear check, private start line experience, special gold medal and unique race bib. These runners, along with other participants in the Run for a Reason Charity Program, presented by Microsoft, are expected to raise more than $1 million for local and national causes this year.
Runners who qualify for the new course will have the opportunity for the first time to run through the neighborhoods on the second part of the DICK'S Sporting Goods Pittsburgh Marathon course including Shadyside, Point Breeze, Homewood, East Liberty, Highland Park, Friendship, Bloomfield and Strip District.
"I've run the half marathon several times and love seeing each neighborhood come out to celebrate," said Evie Fowler, who is a charity runner for the Greater Pittsburgh Community Food Bank. "In 2020 I was already training for the full marathon for the first time when it became clear it wouldn't be safe to have an in-person event. I completed the race virtually, but I missed seeing the second half of the course on race day. When I saw the back half opportunity, I knew I had to go for it."
More than 2,500 charity runners are expected to participate in the Run for a Reason Charity Program, presented by Microsoft, this year. Individuals who participate in the program can choose from more than 30 official Run for Reason charity partners and participate in any of the seven events during race weekend.
"After my friend's passing due to cancer, this seemed like the perfect avenue to honor her," said Brian Thomas, who has raised more than $2,000 for the American Cancer Society. "As a grieving person, it also gave me a positive outlet and way to clear my mind. Then I found out about the Back Half Marathon running through Bloomfield (my neighborhood) for the first time ever and it seemed like more than coincidence. I believe it was the universe's way of telling me I'm on the right path!"
Runners still have the opportunity to commit to this year's Run For A Reason Charity Program and earn their spot in the first-ever 2022 UPMC Health Plan Pittsburgh Back Half Marathon. Learn more here.
#      #       #
About the DICK'S Sporting Goods Pittsburgh Marathon Weekend of Events
The Pittsburgh Marathon was held annually from 1985-2003. After a five-year hiatus, the DICK'S Sporting Goods Pittsburgh Marathon was relaunched in 2009 and debuted with a sold-out field of 10,000 participants. It has grown each year since, evolving from a single race day into a weekend of events for the whole family that annually attracts nearly 40,000 runners.
Read more at: ThePittsburghMarathon.com
FACEBOOK: DSGPM    TWITTER: @PghMarathon   INSTAGRAM: pghmarathon
About P3R
P3R is the engine behind Pittsburgh's greatest races. We strive to inspire any and all to move with us. Best known for organizing the acclaimed annual DICK'S Sporting Goods Pittsburgh Marathon, P3R runs a variety of other high-quality races, events, and health and fitness programs throughout the Pittsburgh region. While many of our races attract some of the nation's highest-profile professional athletes, we offer activities for all ages and ability levels. Anyone and everyone is invited to #RUNwithP3R! Read more at: P3R.org
FACEBOOK: RUNwithP3R       INSTAGRAM: RUNwithP3R     TWITTER: @RUNwithP3R