New Race Relief Cold Therapy Gel from Zealios now available – Sore, Tired, and Aching Muscles & Joints Finally Have The Relief They Deserve
February 18, 2020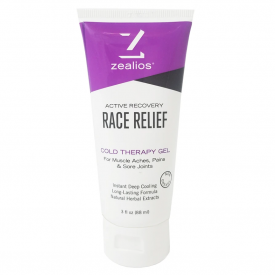 With a proprietary blend of menthol and 12 natural herbal extracts, Race Relief delivers instant, long-lasting relief that absorbs quickly, is non-greasy, and is NSAID-, steroid-, and paraben-free
With a proprietary blend of menthol and 12 natural herbal extracts, Race Relief delivers instant, long-lasting relief that absorbs quickly, is non-greasy, and is NSAID-, steroid-, and paraben-free
(BEND, Ore.) – New Race Relief Cold Therapy Gel, the latest innovation from Zealios, a leader in performance body care products developed by athletes, for athletes, is now available for purchase through the Zealios website and Amazon, the company announced today. Race Relief's unique formula of menthol and natural herbal extracts provides immediate deep cooling and long-lasting relief to sore, tired, and overworked muscles and joints.
"For years the industry has focused almost exclusively on the power of menthol because it provides an instant cooling sensation and minor pain relief, but Zealios takes it a step further with today's launch of Race Relief," said Kevin Fuller, co-founder of Zealios. "By combining menthol with natural herbal extracts that deliver additional soothing and anti-inflammatory properties to help us recover more quickly, we have created a product that provides instant and long lasting relief for athletes and everyday use."
Race Relief boasts a unique combination of 4% menthol and a proprietary blend of 12 natural herbal extracts that deliver cooling, soothing, and anti-inflammatory relief when applied to muscles and joints. Like other Zealios performance-focused products, Race Relief offers a non-greasy feel and absorbs quickly. It also contains no artificial dyes or added fragrances, and is NSAID-, steroid-, and paraben-free.
"We developed Race Relief in collaboration with elite athletes to create a product that provides critical short- and long-term benefits that aid in their recovery and performance," said Kevin Fuller, co-founder of Zealios. "Of course, you don't have to be an elite athlete to benefit from Race Relief. Whether you're training for a 50k, a 5k, or are just looking for relief from your 9-to-5, sore muscles and aching joints are something we all have in common. Race Relief helps us recover and bounce back quicker."
With 4% menthol content, Race Relief provides an immediate cooling sensation when applied to affected areas. Race Relief's blend of 12 natural herbal extracts, each classified under anti-inflammatory or soothing categories, provide additional relief. Anti-inflammatory extracts include Arnica, St. John's Wort, Yerba Mate, Wormwood, Fennel, Ivy, Birch Leaf, and Angelica. The formula's soothing extracts include Horse Chestnut, Linden Flower, Bladderwrack, and Irish Moss.
Race Relief is now available for purchase at teamzealios.com and Amazon, in 3 oz. tubes that retail for $17.95. For more information, visit the Zealios website.
About Zealios
Zealios products are designed to endure the intense physical demands that athletes experience in training and competition. The athletes we protect are the inspiration and driving force behind our existence. Our products are made for athletes and the demands that come with training hard and competing your best on race day. Athletes across the world put Zealios to the test on the hottest days, sweatiest adventures and in the toughest elements. The Zealios product line continues to grow with the same purpose – to give athletes peace of mind on training day, race day, and in recovery and prevention. Worry about your performance, not your body care products. For more information visit teamzealios.com or follow the journey @zealiosskincare.
# # #
RACE RELIEF
KEY INGREDIENTS & BENEFITS
INGREDIENT
CATEGORY
DESCRIPTION/BENEFIT
Menthol
Cooling
A substance naturally found in mint plants, Menthol gives a cooling

sensation and is often used to relieve minor pain and irritation.

Arnica
Anti-Inflammatory
A natural herb and pain reliever for bruises, sprains, and sore muscles and joints.
St. John's Wort
Anti-Inflammatory
An extract providing antioxidant, anti-inflammatory, and antimicrobial properties.
Yerba Mate
Anti-Inflammatory
An herbal tea made from the leaves and twigs of the Ilex paraguariensis plant with anti-inflammatory properties.
Wormwood
Anti-Inflammatory
An herb of an above-ground plant and used to treat muscle pain.
Fennel
Anti-Inflammatory
An extract of the fruit and aerial parts of the fennel plant and found to have anti-inflammatory properties.
Ivy
Anti-Inflammatory
An extract from a vine and its leaves used to make medicine to treat inflammation, joint pain and swelling.
Birch Leaf
Anti-Inflammatory
An extract containing ample amounts of vitamin C, used to make medicines including those treating arthritis and achy joints.
Angelica
Anti-Inflammatory
A biennial plant which is cultivated for its sweetly scented edible stems and roots and serves as an anti-inflammatory ingredient.
Horse Chestnut
Soothing
A plant with its seeds, bark, flower, and leaves offering antioxidants and skin cell-protective effects.
Linden Flower
Soothing
Comes from a tree belonging to the Tilia genus. The dried flower, leaves, and wood are used to offer soothing properties.
Bladderwrack
Soothing
A sea plant containing varying amounts of iodine, which also offers skin soothing benefits.
Irish Moss
Soothing
A species of red algae which grows abundantly along the rocky parts of the Atlantic coast of Europe and North America.
# # #