New Look XTERRA Americas Tour Starts February 15 in Arizona
February 2, 2023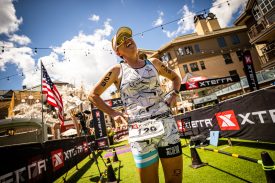 New in 2023, the XTERRA World Performance Index (WPI) will be used to determine XTERRA Americas Tour age group champions in each division.
/ENDURANCE SPORTSWIRE/ – The 2023 XTERRA Americas Tour season opener is just two weeks away at the XTERRA Iceman off-road triathlon in Morristown, Arizona, which was recently named to Triathlete Magazine's list of "Best Tris for a Good Time."
XTERRA Iceman is the first of 25 events in the Americas region spanning five countries and the Caribbean where triathletes can chase regional championships, win XTERRA USA titles, and qualify for XTERRA Worlds in Trentino, Italy.
New in 2023, the XTERRA World Performance Index (WPI) will be used to determine XTERRA Americas Tour age group champions in each division.
The WPI was inspired by ITRA (trail running) and FIS (Skiing) points scoring systems, but built specifically to rank XTERRA athletes at XTERRA races. It delivers a score for every finisher at full-distance events on the Americas Tour based on strength and depth of the field, number of participants, and difficulty of the course.
Athletes must start at least three events in the Americas region to be eligible for tour honors. Detailed rules and a complete set of FAQ's can be found at xterraplanet.com/tour/americas-tour.
Two of the stops in the U.S. are part of the new XTERRA World Cup, a 7-city global circuit built to showcase XTERRA's fastest off-road triathletes as the biggest names in the sport go head-to-head for their share of $340,000 in prize money. First up is XTERRA Oak Mountain on May 21 in Shelby County, Alabama, followed by the XTERRA USA Championship August 26 at Beaver Creek Resort in Avon, Colorado.
One of the most compelling new additions to the Americas in 2023 is the return of XTERRA Puerto Rico on April 15-16. It's offering $7,500 in prize money for professionals and a warm weather Caribbean adventure for all.
XTERRA Quebec is also hosting a silver level event that awards $7,500USD to elites on July 16, and coincides with an 11-day music extravaganza, the Quebec City Summer Festival.
More than half of the stops on this year's Americas Tour also offer half and/or full trail marathons that serve as qualifiers for the XTERRA Trail Run World Championships to be held at Sugarloaf Resort in Maine on October 1.
It's the first-time XTERRA has offered a qualifier-only World Championship race for trail runners, and there's a new DUO category where runners can race together as part of a two-person team.
Find the full XTERRA Americas Tour preview at xterraplanet.com.
Related: 2023 XTERRA European Tour Preview
2023 XTERRA Americas Tour Schedule
Date – Race (Location)
Feb 25 – XTERRA Iceman (Lake Pleasant, AZ)
Apr 1 – XTERRA Argentina (San Juan)
Apr 15-16 –XTERRA Puerto Rico (Fajardo)
Apr 22-23 – XTERRA ATX (Austin, Texas)
Apr 29-30 – XTERRA Chile (Cachagua, Zapallar)
May 6-7 – XTERRA New Jersey (Hewitt, NJ)
May 18-21 – XTERRA Oak Mountain (Shelby County, AL)
June 10-11 –XTERRA Cameron Park (Waco, TX)
June 10-11 – XTERRA Tremblant (Domaine St-Bernard, CAN)
June 17 – XTERRA Lory (Fort Collins, CO)
June TBD – XTERRA Brazil (Amazon, Manaus)
July 8-9 – XTERRA Magnolia Hill (Navasota, TX)
July 8-9 – XTERRA Victoria (Victoria, CAN)
July 9 – XTERRA EX2 (Flintstone, MD)
July 14-16 – XTERRA Quebec (Manoir du Lac Delage, CAN)
July 22-23 – XTERRA Conquer the Crater (Greater Sudbury, CAN)
July 22 – XTERRA DINO Northern Indiana (South Bend, IN)
Aug 12 – XTERRA Sleeping Giant (Thunder Bay, CAN)
Aug 25-27 – XTERRA USA Championship (Avon, CO)
Aug 26-27 – XTERRA Bromont (Plage Lac Bromont, CAN),
Aug 27 – XTERRA Laguna Beach (Crystal Cove, CA)
Sep 2-3 – XTERRA Gaspesia (Géoparc Mondial UNESCO de Percé, CAN)
Sep 16-17 – XTERRA Whistler (British Columbia, CAN)
Sep 17 – XTERRA Lake Tahoe (Incline Village, NV)
About XTERRA
X marks the unknown. TERRA is earth. United, we are XTERRA – a brand born to discover unknown territory. Since our inception in 1996, XTERRA has been inspiring off-road adventure by connecting people with nature through events with a fun, family vibe. We offer 13 off-road race options, from triathlon-to-trail running, for participants of all ages and skill levels in 47 countries worldwide. We have a global perspective, we aspire to protect where we play, and live the XTERRA lifestyle everyday, everywhere we roam. Join us off-road at xterraplanet.com.