New Book, Ultrarunning Europe, Guides Runners Through the Continent's Most Scenic Trails
May 9, 2023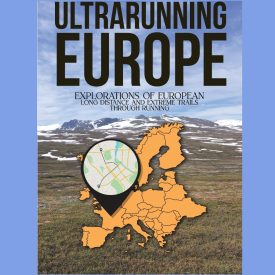 Ultrarunning Europe: Explorations of European Long Distance and Extreme Trails Through Running
Columbus, OH, May 9, 2023/ENDURANCE SPORTSWIRE/ – Ultrarunning enthusiasts, adventure seekers, and nature lovers now have the ultimate guide to exploring Europe's most stunning trail running destinations with the release of Ultrarunning Europe. Written by seasoned ultrarunner and adventurer Luke Tuttle, this comprehensive guidebook offers readers a unique and detailed look at the best ultrarunning routes across the European continent, from the wild coastlines of Ireland to the enchanting forests of Germany's Black Forest.
Luke Tuttle's unique perspective stems from his extensive travels in Europe, where he embarked on a quest to visit every country and explore each one through running. Ultrarunning Europe is the culmination of five years of in-depth research, travel, and personal experiences. By sharing his insights and recommendations, Tuttle aims to inspire and guide both beginners and seasoned ultrarunners in discovering Europe's diverse landscapes on foot.
Ultrarunning Europe is more than just a guidebook for runners; it also serves as a captivating travelogue, inviting readers to explore the rich cultural experiences, natural beauty, and historical significance of each location. With over 100 full-color photos, Ultrarunning Europe documents Europe from a unique perspective, making it a must-read for travelers seeking new adventures.
What sets Ultrarunning Europe apart is Luke Tuttle's personal touch. As an accomplished ultrarunner, Tuttle shares his firsthand experiences, triumphs, and challenges faced while conquering these trails. The guidebook goes beyond route descriptions, becoming a reliable companion for European ultrarunning endeavors and a source of inspiration for exploring the great outdoors.
Each of the 38 trail entries features:
Stunning photographs capturing the essence of each location
Detailed maps for planning and navigating routes with ease
Comprehensive trail descriptions, including terrain, elevation, and distances
Local highlights, points of interest, and cultural insights to enrich the journey
Ultrarunning Europe is an invitation to embark on a life-changing adventure. It serves as an invaluable resource and source of inspiration for ultrarunners, trail enthusiasts, and travelers alike. If you have a loved one passionate about exploring the great outdoors on foot or simply appreciating nature's beauty, this book makes the perfect gift.
Book Title: Ultrarunning Europe: Explorations of European Long Distance and Extreme Trails Through Running
Author: Luke Tuttle
Publisher: Luke Tuttle
Publication Date: April 27, 2023
Price: Paperback $34.99 / Hardcover $39.99
Available on: Amazon.com and other national retailers
For media inquiries, please contact:
Luke Tuttle
Email: ultrarunningdestinations@gmail.com
About the Author:
Luke Tuttle is a seasoned ultrarunner and adventurer with a deep-rooted passion for exploring new landscapes and cultures. With a spirit of curiosity and adventure, Tuttle has journeyed across the world, seeking out captivating and awe-inspiring trails for ultrarunning. Immersing himself in the rich tapestry of landscapes, history, and cultures of over 40 countries, Tuttle's dedication to ultrarunning and exploration is evident in Ultrarunning Europe. He has also visited every state in the USA and continues to compete in ultramarathons and embark on solo adventures. Tuttle's genuine enthusiasm for ultrarunning and exploration shines through, making him a trusted guide for readers seeking their own ultrarunning adventures.