Nearly 1,000 Runners Take Flight at the FlyBy 5K and 2-Mile Fun Run/Walk at Pittsburgh International Airport
October 3, 2022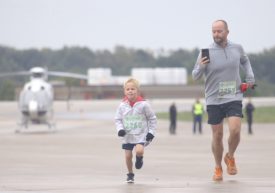 Since 2016, the race has raised more than $100,000 for the Allegheny County Airport Authority Charitable Foundation
PITTSBURGH (October 1, 2022) /ENDURANCE SPORTSWIRE/ – Despite the rain, nearly 1,000 runners and walkers raced the runway and earned their wings at this morning's FlyBy 5K and 2-Mile Fun Run/Walk presented by CNX Resources. This family-friendly race offered participants the rare opportunity to be up close to specialized aircraft and equipment as they tested their endurance on the airfield and taxiways of Pittsburgh International Airport.
MOVERS of all ages enjoyed the course that took them past a Boeing KC-135 Stratotanker from the 171st Pa. Air National Guard Base and a C-17 Globemaster from the 911th Air Force Reserve Base. Ryan Sippel, 29, of Pittsburgh and Nicole Feng, 23, of Pittsburgh were the 5K race champions finishing in 16:40 and 18:30, respectively.
"The rain did not stop families from taking advantage of this one-of-a-kind experience on the runway and having fun while moving together," said Troy Schooley, P3R CEO. "Today, participants not only earned their medals but they also made a difference in the community by supporting the Allegheny County Airport Authority Charitable Foundation."
Organized by the Allegheny County Airport Authority and P3R, the family-friendly race benefitted the Allegheny County Airport Authority Charitable Foundation. This nonprofit organization was established in 2013 to enhance the experience of military, families and others traveling through Pittsburgh International and Allegheny County Airports. Since 2016, the event has raised more than $100,000 for the Allegheny County Airport Authority Charitable Foundation.
Click here to view and download photos from the 2022 event. For official results, click here.
# # #
About P3R
P3R is the engine behind Pittsburgh's greatest races. We strive to inspire any and all to move with us. Best known for organizing the acclaimed annual DICK'S Sporting Goods Pittsburgh Marathon, P3R runs a variety of other high-quality races, events, and health and fitness programs throughout the Pittsburgh region. While many of our races attract some of the nation's highest-profile professional athletes, we offer activities for all ages and ability levels. Anyone and everyone is invited to #RUNwithP3R! Read more at: P3R.org
FACEBOOK: RUNwithP3R   INSTAGRAM: RUNwithP3R   TWITTER: @RUNwithP3R
About Allegheny County Airport Authority
Allegheny County Airport Authority, which operates Pittsburgh International Airport and Allegheny County Airport, is committed to transforming Pittsburgh's airports to reflect and serve the community, inspire the industry, and advance the region's role as a world leader. Pittsburgh International Airport serves nearly 10 million passengers annually on 17 carriers.
The airport was named by Fast Company magazine as One of the Most Innovative Companies in the World as well as a finalist in its World Changing Ideas awards, both in 2020. For more information, visit www.flypittsburgh.com