NCM Introduces Euro-Inspired Commuter E-Bike Line
March 23, 2022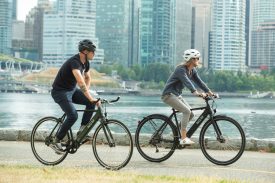 Popular European e-bike brand brings that heritage to the US marketplace with new flat-bar city-style geared and single-speed models
Seattle, Washington (March 23, 2022) /ENDURANCE SPORTSWIRE/ – Since its inception in Germany in 2014, NCM, a Leon Cycle brand, has grown into one of Europe's most popular e-bike brands, and they've recently launched a new line of Class I e-bikes in the States that pay homage to that urban European heritage. The new C5 and C7, single-speed and 8-speed respectively, offer torque-based pedal-assist power combined with sleek, minimalist style and full racks and fenders for urban commuting and fitness riding.
Both models share the same traditional 'double triangle' road-bike-inspired aluminum frame, featuring a comfortable, confidence-inspiring geometry, plus 700C wheels with wide tires and integrated front and rear lighting. Both are also powered by Das-Kit, through their smooth, efficient 350w motor and integrated batteries: 36V14AH, 504WH battery for the C7; 36V/12AH, 432WH battery for the C5. The combination enables a top pedal-assisted speed of 20mph (for a Class I rating) and a 75-mile or 60-mile range respectively.
What makes that combination even more efficient compared with similar bikes is the use of a torque sensor instead of the more common but less sensitive cadence sensor. Power assist is distributed according to the power being put into the pedals rather than simply the number of revolutions. So if you're pedaling hard – say up a steep hill or for a fast acceleration – the power assist will automatically be greater, even at the same selected power level, and vice versa when soft pedaling. This also saves battery life since less power is used during the normal pedaling.
"With our European heritage as a background, we set out on the C series hoping to bring some of that culture and flavor to our city bikes, while also meeting the North American needs for combining form and function, and I feel like we really nailed it in the C5 and C7," says Annie Kao, Brand Manager of NCM "The C5, with its 'fixie' culture aesthetic, is perfect for riders who love to dodge traffic, race the lights and hold a track stand at every stop sign. And the C7 caters more toward the traditional urban commuter looking for a fast, efficient bike that's equally agile and stable."
Other key differences include the bars, gearing and features: With its slightly backswept wide, flat handlebar which provides a more upright position, the C7 is reminiscent of what you might see cruising around London or Frankfurt. It also offers hydraulic disc brakes and 8-speed index shifting.
The C5 on the other hand takes its inspiration more from the younger urban 'fixie' crowd commonly seen zipping around cities like New York and San Francisco, including the obligatory narrow, straight, flat handlebar and adding bar ends for increased versatility. But with a single-speed freewheel replacing the fixed gear hub, and front and rear caliper brakes, the C5 is far easier and safer to ride.
MSRP: C7 $1599; C5 $1199. Each of the bikes can be purchased directly through the Leon Cycle website, Leon retail stores (below), and their network of over 100, and growing, independent North American dealers.
Leon Cycle Stores
Seattle Ballard – 1400 NW 49th St,98107 Seattle, WA
Santa Monica – 2803 Main St, Santa Monica CA 90405
Vancouver Store – 302 W 2nd Ave Vancouver BC V5Y1C8
Montreal store – 3467 Notre-Dame St W Quebec H4C 1P3
Vancouver Port Moody – 3030 St. John's Street BC V3H 2C5
For any US sales inquiries, please email: Dealer.us@leoncycle.com.
Download lifestyle and studio images HERE
For NA Media inquiries contact: Scott Boulbol (scott@simbolpr.com) or Nic Sims (nic@simbolpr.com)
About NCM: NCM is a brand of electric bicycles originally founded in Hannover, Germany.  Since its inception in 2014, NCM has developed a full range of ebikes that are changing the way people choose to move around with its electric bikes from trekking, mountain, folding, cruiser and city lineup.  Distinguished by the company's experienced team of engineers and in-house designers, the company's mission is to make ebikes accessible for everyone.  NCM is a brand of Leon Cycle, an ebike retailer who operates worldwide with stores in over 12 countries including Hannover, Munich, Lille, Barcelona, Melbourne, LA, Seattle, Vancouver and Montreal.  NCM ebikes are purpose-built to deliver maximum range, comfort and are fully equipped for people who ride for fun, work, or the weekend adventure. 
About SIMBOL Communications: SIMBOL Communications formed to help brands tell truthful, authentic stories in the outdoor, cycling, and fitness industries, through exposure in a wide variety of media outlets, developing creative content and sports marketing services. With their multiple decades of relevant experience  — as both industry professionals and competitive enthusiasts — the founders of SIMBOL have all the tools to get powerful stories to the right audience.