National Triathlon Week Presented by Nix Biosensors Starts Today
June 20, 2022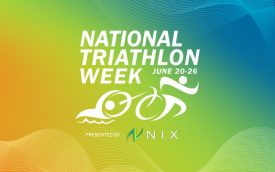 The sixth annual social and digital campaign by USA Triathlon celebrates multisport and promotes sharing of stories and training tips by current multisport athletes, making the week an ideal opportunity for prospective athletes to learn more about the multisport lifestyle.
COLORADO SPRINGS, Colo. /ENDURANCE SPORTSWIRE/ – USA Triathlon today announced the start of the sixth annual National Triathlon Week Presented by Nix Biosensors, a nationwide initiative to celebrate the sport of triathlon and all its constituency groups. National Triathlon Week will take place today through Sunday, June 26. The social-media-based campaign brings together the multisport community not only to swim, bike, and run, but also to share experiences, inspiring stories, advice, and support.
The complete schedule, along with ideas for how to participate, is available on the official landing page for National Triathlon Week: usatriathlon.org/triweek. Throughout the week, athletes are encouraged to get involved and celebrate the sport by posting on social media with the hashtag #TriWeek and tagging @usatriathlon. The week's activities promote sharing of stories and training tips by current multisport athletes — making it an ideal opportunity for prospective triathletes to learn more about the multisport lifestyle.
The emphasis of the week is on celebration, education, and participation in the multisport lifestyle. Each day of the week a different theme will be featured, showcasing all the individuals who make up the multisport community, including age group and elite athletes and elite paratriathletes, USA Triathlon Certified Coaches, race directors, clubs, and officials. Saturday, June 25 is Go for the Gold Day, presented by Toyota, USA Triathlon's Exclusive Mobility & Automotive Partner and supporter of the 2022 Toyota U.S. Elite Paratriathlon National Team.
Daily prizes from USA Triathlon's corporate partners including Hand & Stone Massage and Facial Spa, ICON Meals, KT Tape, Newton Running, Nix Biosensors, Pilates For Sports, Science in Sport, TrainingPeaks and TriBike Transport will be offered on the @usatriathlon social media channels and fans are encouraged to engage with @usatriathlon social media channels using the hashtag #TriWeek.
National Triathlon Week Schedule
June 20 – Kickoff Day
To start off National Triathlon Week, follow and like USA Triathlon on Facebook, Twitter and Instagram for training tips and resources and learn the history of the sport.
June 21 – Something for Everyone
Learn about all the different multisport formats, including gravel triathlon, duathlon (run-bike-run) and aquathlon (run-swim-run). The day also highlights Race Directors, who organize local multisport events across the U.S.
June 22 – Certified Fun
Meet and celebrate USA Triathlon Certified Coaches, who share their expert tips and why they love the profession.
June 23 – Join the Club
From Collegiate Clubs and Women's NCAA Triathlon teams to age group and youth clubs, today is all about celebrating the community of clubs. The day will also recognize and celebrate the 50th anniversary of the passing of Title IX and its impact on women's sports.
June 24 – Faces of Multisport
On this day, USA Triathlon celebrates the Faces of Multisport — the people who make up the wonderful multisport community.
June 25 – Go For the Gold Presented by Toyota
This day, USA Triathlon highlights the elite triathletes and elite paratriathletes who represent the U.S. on the biggest stage, from the Olympics and Paralympics, IRONMAN World Championships and World Triathlon international racing.
The Colorado Springs and Colorado Front Range multisport community is encouraged to come race, cheer and support the multisport community on Saturday, June 25 at the USA Triathlon Pikes Peak Swim Run presented by Select Physical Therapy.
June 26 – Future of Multisport
Look ahead to the future — what does the next 40 years of multisport look like?
#TriWeek Bingo
Followers are encouraged to engage with USA Triathlon's Instagram page starting Monday, June 20 to participate in a week-long bingo event. Participants can check off various multisport activities throughout the week to earn prizes from Spring Nutrition. Those who fill out the entire bingo card will be entered to win a triathlon bundle from Wahoo Fitness.
Lifetime Membership Contest
For the sixth consecutive year, athletes can enter to win a USA Triathlon Lifetime Membership by sharing their multisport journey and demonstrating how triathlon has helped them discover their Power Within. Submissions must either be emailed directly to communications@usatriathlon.org (subject line: "#TriWeek Power Within") or shared on social media, tagging @usatriathlon and using the hashtags #TriWeek and #PowerWithin. Previous Lifetime Membership winners have included Sue Reynolds (Bloomington, Ind.), Stephanie Van Bebber (Fairfax, Va.), Kyle Roberts (Aiken, S.C.), Megan Tuncer (Kensington, Md.), and Tara Wilson Redd (Washington, D.C.).
About USA Triathlon
USA Triathlon is proud to serve as the National Governing Body for triathlon, as well as duathlon, aquathlon, aquabike, winter triathlon, off-road triathlon, paratriathlon, and indoor and virtual multisport events in the United States. Founded in 1982, USA Triathlon sanctions more than 4,000 races and connects with more than 400,000 members each year, making it the largest multisport organization in the world. In addition to its work at the grassroots level with athletes, coaches, and race directors — as well as the USA Triathlon Foundation — USA Triathlon provides leadership and support to elite athletes competing at international events, including World Triathlon Championships, Pan American Games and the Olympic and Paralympic Games. USA Triathlon is a proud member of World Triathlon and the United States Olympic & Paralympic Committee (USOPC).
– usatriathlon.org –