National Downhill Series Calendar Sees Three Returning Events for 2022
February 3, 2022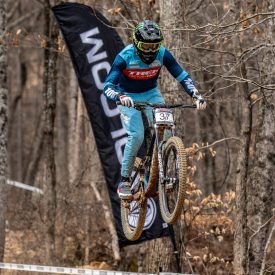 COLORADO SPRINGS, Colo  /ENDURANCE SPORTSWIRE/ – USA Cycling announced on Thursday the dates and locations for the 2022 National Downhill Series. The NDHS, formally known as the Pro Gravity Tour (Pro GRT), saw great success in 2021, despite several races canceling due to outside factors, including COVID.
"We are slated for some fantastic racing this season. With four races between March and September, we hope it allows racers multiple opportunities to grab points. Last season we saw top-notch athletes at the top of the standings along with newcomers in the elite women's standings. We are looking forward to their return this season along with a continued junior points series," said Tara McCarthy, USA Cycling's Director of National Events.
The season will open up at Windrock Bike Park in Oak Ridge, Tenn., with the Tennessee National taking place March 12-13, and the series will conclude with The Fox US Open of Mountain Biking in Killington, Vt. September 15-18.
| | | | |
| --- | --- | --- | --- |
| Event | Date | Location | Classification |
| Tennessee National | March 10-13 | Oak Ridge, Tenn. | C2 |
| Mountain Creek Spring National | May 26-29 | Vernon, N.J. | C3 |
| TBA | TBA | TBA | TBA |
| The Fox US Open of Mountain Biking | September 15-18 | Killington Resort, Vt. | USAC Only |
The 2021 National Downhill Series champions were Neko Mulally (Pisgah Forest, N.C.) on the Pro Men's side and Kailey Skelton (Rancho Santa Margarita, Calif.; KHS Bicycles) on the Pro Women's side. Ella Erickson (Hayden, Idaho; Commencal USA) won the Junior Women's 17-18 category, and Brooks Hudson (Crested Butte, Colo.; Commencal USA Jr Cartel) won the Junior Men's 17-18 category.
Visit USACycling.org for more information on the athletes, events, and membership programs, and follow @USACycling across all channels for the latest on Team USA.
For more information, contact nationalevents@usacycling.org.
ABOUT USA CYCLING (usacycling.org)
USA Cycling is the national governing body for the sport of cycling and oversees the disciplines of road, track, mountain bike, cyclocross, and BMX. USA Cycling's mission is to champion accessibility, participation, and excellence in the sport of cycling to make more Americans healthier, happier, and better on two wheels while achieving sustained international racing success. USA Cycling supports cyclists at all levels, from those just beginning in the sport and participating in fun rides to international caliber racers. The organization identifies, develops, and selects cyclists to represent the United States in international competition through the support of kids' and interscholastic programs, amateur bike racing and grassroots development programs, and the provision of critical infrastructure to run organized racing. USA Cycling has a membership of 100,000, annually sanctions over 2,500 events, and is a proud member of the Union Cycliste Internationale (UCI) and United States Olympic & Paralympic Committee (USOPC).