National Cycling League Announces New CEO
July 6, 2023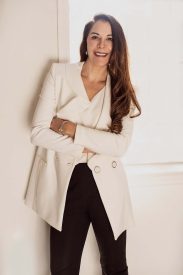 The NCL names Andrea Pagnanelli as NCL's Chief Executive Officer.
/ENDURANCE SPORTSWIRE/ – The National Cycling League (NCL) has brought on experienced sports veteran Andrea Pagnanelli as Chief Executive Officer.
"Andrea has been tremendous in building our vision for 2023 and has learned the business inside and out. Andrea's extensive experience working at the intersection of business and sports makes her the right person to lead our company moving forward. I am incredibly excited to have her building this league with us and to steer the NCL into our next phase of growth." says Paris Wallace, President & Co-Founder of NCL.
Andrea joins as NCL's Chief Executive Officer with over 15 years' experience in the sports industry holding executive roles in the NFL, NBA, MLS, NWSL, and Relevent Sports. She's been named one of the Forbes' 30 under 30, honored as "Woman of Influence" by the New York Business Journal, and is a graduate of Brown University where she was a D-1 soccer player.
Pagnanelli started her career with the NBA's Phoenix Suns before accepting a front office position with the NFL's New York Jets. She then joined RSE Ventures & started her own company, LeapSeats, and built the commercial side of the International Champions Cup (ICC) from the ground up. She's held additional roles including EVP at LAFC, COO at Thuzio, and most recently Chief Business Officer at Gotham FC.
"The National Cycling League is setting a new standard for inclusivity in professional sports by championing diversity. I was drawn to the opportunity to impact and transform communities through our mission." says Andrea Pagnanelli. "With more than 50 million cyclists in the U.S., we have an opportunity to grow the passion and excitement for the sport of cycling among the next generation of fans."
With a commitment to promoting equality, one of the primary goals of the NCL is to promote diversity within the sports industry. The league aims to provide opportunities for minority ownership, breaking down barriers that have historically hindered representation in the sport. Additionally, the NCL is dedicated to fostering gender equality, ensuring women have equal opportunities to compete and receive fair compensation.
"NCL prides itself on empowering and elevating women and minorities. We're extraordinarily proud of the leadership team we've assembled with Paris as President, Andrea as CEO, and the entire front office and athletes that make up the NCL" says Will Ventures Founder Isaiah Kacyvenski. Andrea will also be joining the board of directors and Paris will be staying on board in a day-to-day operating role as President and Executive Chairman.
Ten co-ed teams of professional cyclists, including NCL-owned teams—Denver Disruptors & Miami Nights—competed in the NCL's first-ever race in Miami Beach on April 8. All ten teams will compete in the second race in the criterium-style race series around Dick's Sporting Goods Park, home to Major League Soccer's (MLS) Colorado Rapids. The third and final race of its inaugural four-race series is set for Sunday, August 20 in Atlanta at the world-renowned Porsche Experience Center.
For more information on upcoming NCL Cup races, visit nclracing.com.
About National Cycling League
Founded in 2022, the National Cycling League (NCL) is revolutionizing professional cycling into a world-class spectator sport. The NCL is the first majority women- and minority-owned league and the first gender-equal professional sport, where men and women compete on the same team and contribute to the scoreboard equally. The 2023 NCL Cup is a series of professional criterium races in iconic cities across the United States. For more information, visit nclracing.com.
###
FOR MORE INFORMATION:
July 6, 2023 Kayla Mead
Phone: (760) 822-4786
Email: Press@nclracing.com