National Cycling League and Wish For Wheels Forge Community-Based Partnership
July 13, 2023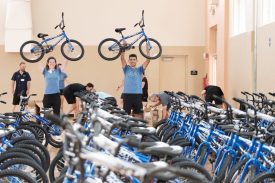 DENVER/ENDURANCE SPORTSWIRE/ – The National Cycling League (NCL) and Wish for Wheels are thrilled to announce a continuation of their partnership to promote cycling to drive community-building in Denver, Colorado.
The NCL, the first gender-equal professional sports league in the U.S. and the first majority women-and minority-owned league, is committed to reimagining what American bike racing can and should look like. Advocating for the power of cycling to nurture community bonds, NCL is partnering with Wish for Wheels for the second time this year.
Wish for Wheels, a non-profit organization headquartered in Denver, CO, partners with companies and organizations to fund, build, and give away new bikes and helmets to second graders in Title I schools. The Wish for Wheels partner schools all qualify for Title I federal funding, reserved for the schools with the highest concentration of low-income students.
To kick off the partnership, the NCL worked with Wish for Wheels during its inaugural event in Miami Beach and gifted over 80 bicycles. The second race of its inaugural series is set for Sunday, August 13 at Dick's Sporting Goods Park in Commerce City, Colorado, located just minutes from downtown Denver. Raceday will begin with a community bike build for the Boys & Girls Club in Commerce City, Co.
"Our partnership with Wish for Wheels is a testament to our commitment to community," said Andrea Pagnanelli, NCL CEO. "Together, we're creating positive change, one bike at a time."
Brad Appel, Founder of Wish for Wheels says, "Our partnership with NCL exemplifies our shared vision for cycling and community development. Thanks to the NCL's support, we are going to continue to utilize bikes to be a transformational shift for a child living in poverty."
Both organizations call upon cycling enthusiasts, community members and sports fans to join in celebrating this dynamic partnership. Race attendance, parking and bike valet is free and open to the public. A limited number of VIP Hospitality start/finish line tickets are also available for purchase and offer all-inclusive food, beer, wine, and non-alcoholic beverages. For more information about the August 13 racing event, visit nclracing.com.
To learn more about Wish for Wheels and its mission to help build and give a new bike & helmet to every Title 1 second grader across America, visit wishforwheels.org.
About National Cycling League: Founded in 2022, the National Cycling League (NCL) is revolutionizing professional cycling into a world-class spectator sport. The 2023 NCL Cup is a series of three professional criterium races in iconic cities across the United States: Miami Beach, Denver and Atlanta. For more information, visit nclracing.com.
About Wish for Wheels
Founded in 2005, Wish for Wheels believes that the gift of a new bicycle and helmet has the power to transform the lives of second graders from low-income communities, broadening their scope for personal growth and promoting a healthy lifestyle. Wish for Wheels partners with Fortune 50 companies to sole proprietary/service organizations to fund, build, and give bikes to second graders in Title I schools. To get involved, visit wishforwheels.org.
###