Munro and English Race to Top Finishes at 2023 Cyclocross Worlds
February 5, 2023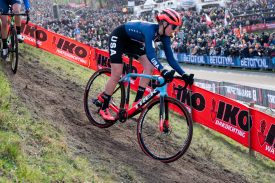 Team USA battled the world to pull off strong results on the final day of Cyclocross Worlds.
February 5, 2023, HOOGERHEIDE, Netherlands /ENDURANCE SPORTSWIRE/ – On the last day of the 2023 UCI Cyclocross World Championships, the Junior Men, U23 Women, and Elite Men competed for their rainbow jerseys. The rain held off and the course stayed dry making for very fast laps.
Junior Men
The Junior Men have had a great season racing in Europe with consistent top finishes. Daniel English (San Ramon, Calif.; Bear National Team), Andrew August (Pittsford, N.Y.; FinKraft Junior Cycling Team), Miles Mattern (Rochester, N.Y.; CXHAIRS Devo Trek Bikes), Ben Stokes (Norwalk, Conn.; FinKraft Junior Cycling Team), David Thompson (New Canaan, Conn.; FinKraft Junior Cycling Team), and Magnus White (Boulder, Colo.; Boulder Junior Cycling) were the men representing Team USA on the starting line.
They had the final preparation they needed going into the World Championships, but unfortunately everything does not always go to plan. 72 riders from 22 nations lined up at Hoogerheide. A crash during the start left many riders needing bike changes right from the tarmac with still a lot of the course left to go until they reached the pits. Stokes and White were able to avoid the crash, but race favorites English, August, Thompson, and Mattern had work to do in the next five laps. All four riders were in the back of the group with many barely even in the top 60 after lap one. Given the misfortune, they were all able to still put in strong rides. English had the best come back finishing 13th as the top American on the day. Thompson also had an incredible ride making his last lap the fourth fastest in the field to finish just behind English in 16th. August was the farthest back after the crash, passing 45+ riders in roughly 40 minutes to make his way into 22nd.
Results
1. Leo Bisiaux (FRA) 43:48
2. Senna Remijn (NED) +0:11
3. Yordi Corsus (BEL) +0:17
13. English (USA) +1:02
16. Thompson (USA) +1:27
20. White (USA) +1:31
21. Mattern (USA) +1:39
22. August (USA) +1:41
29. Stokes (USA) +2:19
U23 Women
The U23 Women's race had 32 riders with 14 nations represented. Lizzy Gunsalus (Dudley, Mass.; Steve Tilford Foundation Racing) had a front row start with Madigan Munro (Boulder, Colo.; Trek Factory Racing) just behind, both racing for Team USA. Munro got caught in a crash on lap one, but she picked off riders one by one to make her way through the pack and finish 11th.
Results
1. Shirin van Androoij (NED) 45:53
2. Zoe Backstedt (GBR) +0:33
3. Kristyna Zemanova (CZE) +1:32
11. Munro (USA) +3:40
15. Gunsalus (USA) +4:16
Elite Men
Curtis White (Delanson, N.Y.; Steve Tilford Foundation Racing) was the lone American in the Elite Men's race. White started on the second row and was off from the gun. His fastest lap of the day was his tenth and final lap cutting 9 seconds off his previous lap time. He finished the day racing to the top 30.
Results
1. Mathieu van der Poel (NED) 1:07:20
2. Wout van Aert (BEL) +0:01
3. Eli Iserbyt (BEL) +0:12
27. White (USA) +3:45
Visit USACycling.org for more information on the athletes, events and membership programs, and follow @USACycling across all channels for the latest on Team USA.
For more information, contact Angelina Palermo at apalermo@usacycling.org.
ABOUT USA CYCLING (usacycling.org)
USA Cycling is the national governing body for the sport of cycling and oversees the disciplines of road, track, mountain bike, cyclocross, and BMX. USA Cycling's mission is to grow participation and engagement with the sport of bicycle racing and achieve sustained international success across all cycling disciplines. USA Cycling supports cyclists of all levels and abilities, from those just beginning in the sport to international caliber athletes. The organization identifies, develops, and selects cyclists to represent the United States in international competition through the support of youth and interscholastic programs, amateur and grassroots bike racing events, athlete development programs, and operational support for cycling clubs, racing teams, and event organizers. USA Cycling has a membership of 80,000, sanctions over 2,500 events annually, and is a member of the Union Cycliste Internationale (UCI) and United States Olympic & Paralympic Committee (USOPC).