Muñiz and Prieto win GFNY Monterrey
March 8, 2023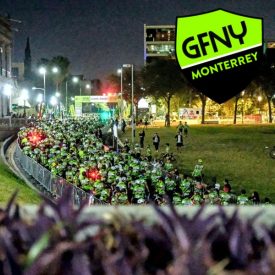 José Ramón Muñiz (Team Petrolike - Mexico) took the solo win in the male race while Patobike-BMC owned the female race for second year in a row
New York City, March 8, 2023 /ENDURANCE SPORTSWIRE/ – Mexico's metropolis Monterrey hosted the fifth edition of GFNY Monterrey this past Sunday.  The racecourse was 137 km with an elevation gain of 1386m first through the heart of the city and then with the  traditional mountaintop finish on iconic Chipinque.
The race started out fast with a very strong peloton including defending female champion Marcela Prieto with her stacked Patobike-BMC team,  double GFNY Monterrey male champion Miguel Arroyo, 2022 runner up Miguel Díaz, GFNY Zapopan winner José Ramón Muñiz and GFNY Cozumel champion Chris Hanz.
After a string of attacks, it was at km 60 when Tomas Aguirre and Jalil Escalante  successfully got away from the peloton.  Working well together, they extended their lead to over two minutes.  Arroyo and Muñiz, who were in the chase group, tried their best to close the gap.   During the Chipinque climb Torres, Diaz and Muñiz attacked hard in pursuit of Aguirre.  José Ramón Muñiz put in the decisive move and took the solo win in 2:52:54 followed by Miguel Diaz and Christopher Torres who completed the all Mexican podium.
In the female race,  Team Patobike-BMC dominated again taking not only the first three spots but eight out of the first eleven. Marcela Prieto defended her title in 2:57:42 followed by Carime Flores and Karen Villamizar who rounded out the team podium.
Next up on the GFNY calendar is the 6th GFNY Punta del Este – Uruguay which will take place this Sunday, March 12, 2023.
About GFNY Global Endurance Sports Series
GFNY Global Endurance Sports Series is a sports event company with three decades of experience in racing, planning and organizing events. The global endurance sports brand hosts multiple events throughout the year around the world on five continents.
Working with partners around the world to deliver a first-class experience, GFNY Global Endurance Sports Series puts its athletes first.
Cycling
30-plus events held around the world. View the latest calendar here
Riders get to BE A PRO FOR A DAY ® by competing against others, themselves and the clock in a personal endurance challenge.
Top 10% (20% at regional championships) of finishers in each age group qualify for the Elite Qualifier Corral at every GFNY World event.
GFNY World Championship NYC
The 11th annual GFNY World Championship New York will be held on May 21, 2023. The race features the world's most international peloton with riders from over 90 countries. Athletes take on a challenging 100-mile route from NYC to Bear Mountain to Fort Lee to compete against each other, the clock and themselves in a personal endurance challenge.
The official GFNY website is: www.gfny.com.
Further Material for Media Use
Official GFNY Monterrey Video: here
GFNY Press Images: here
GFNY Results: here
GFNY World calendar graphic: here
Previous GFNY press releases: here
Media Contact
Gran Fondo New York Inc.
Uli Fluhme, uli@gfny.com
Caroline Lindsay, caroline@gfny.com