Momentous Welcomes World Champion and Leading Female Runners Emma Coburn, Emma Bates and Molly Seidel to the Team
December 21, 2020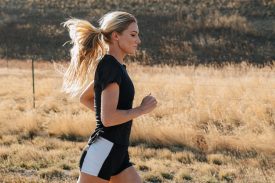 Performance nutrition company used by over 80 elite NFL, NBA, NHL and MLB teams expands with the addition of Steeplechase World Champion and Olympic Marathoners
(JACKSON HOLE, WY—DECEMBER 21, 2020)– Momentous, a premium sports nutrition company known for its line of NSF-certified protein powders and supplements, has partnered with Steeplechase World Champion and Olympic Medalist, Emma Coburn, 12-time All American Marathoner Emma Bates, and 2020 Olympic Marathon Qualifier Molly Seidel. These 3 leading female runners join the elite team at Momentous that includes world class athletes such as climber Alex Honnold, NFL tight-end Kyle Rudolph, and skier Johnny Collinson.
Emma Coburn is best known for setting an American record in the 3000-meter Steeplechase at the 2016 Olympic Games and being the first American woman to win an Olympic Medal in that event. She is also an 8x US Champion and won the 3000 Steeplechase at the 2017 World Championships in London with a time of 9.02.58, breaking her own American record. A graduate of the University of Colorado, Coburn continues to train competitively, coach and will be launching her new cookbook, "The Runner's Kitchen" on December 22nd, 2020.
"I am so excited to be working with Momentous. Protein and collagen have always been a huge pillar of my training and recovery, and I know how crucial it is to give my body the best fuel possible. I love the Endurance Recovery Protein for after longer sessions, Essential Protein for after regular training, and am always adding the Collagen Peptides into my day for tendon health. Momentous has products that give me fuel and are also products that I know I can trust."
12-time All-American and NCAA 10,000-Champion Emma Bates, is also thrilled to join the Momentous. In 2018, Emma won the US Marathon Championships in her 26.2-mile debut with a time of 2:28. Bates now lives in Idaho and runs with the Idaho Distance Project.
Molly Seidel, a Division 1 Champion in the 10,000 meter Outdoor Track and Field Championships, is another standout runner who in her first marathon ever, placed 2nd at the 2020 U.S. Marathon Olympic Trials, to secure a spot on the US team for the 2020 Tokyo Olympics now scheduled to be held in 2021. The New York Times profiled Seidel given her marathon debut, the fact that she also holds 2 day-jobs and took the time during her race to swerve mid-competition to high-five her sister at mile 7.
"We're thrilled to be adding such exceptional athletes to the team," said Matt Wan, Founder and CEO of Momentous. "Distance running and endurance sports are core to our culture at Momentous, and as fans of running, we feel like we've aligned ourselves with some of our nation's best representatives. We look forward to helping fuel more Olympic and personal goals for Emma, Emma and Molly."
For more information about Momentous, their line of clean and safe protein and supplements or performance engineers and athletes, visit www.livemomentous.com
About Momentous
Momentous empowers the relentless pursuit of progress in athlete health and wellness. We strive to create no-compromise products that support the endless improvement of athletic performance. Our mission drove us to seek out the absolute best knowledge of nutritional supplements in order to be able to deliver formulas with complete transparency and free of fillers and inferior ingredients. Momentous products are 100% NSF Certified for Sport across the line, taste great and perform. Momentous products are now purchased by more than 100 professional and collegiate teams and performance facilities from the NBA, NFL, MLB, NHL, and NCAA. Learn more at www.livemomentous.com.