Moloka'i 2 O'ahu Paddleboard World Championships and Spartan Join Forces
June 7, 2022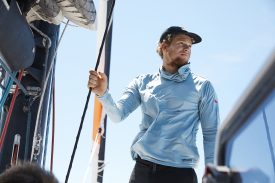 M2O Navigates a Return to Hawaii Events with new partner Florence Marine X
HONOLULU, HI (June 7,2022)/ENDURANCE SPORTSWIRE/ – Moloka'i 2 O'ahu Paddleboard World Championships (M2O) is excited to return to Hawaii this summer for live racing with two great race options for 2022. Continuing its leadership in the sport of paddling, M2O will introduce the first annual Bluewater Hawaiian Classic presented by Florence Marine X on July 24th, followed by the triumphant return of the M2O Virtual Edition 3.0 on the weekend of July 31st.
The inaugural Bluewater Classic won't be the only thing new for M2O this summer, as it has entered a strategic partnership with Spartan, the world's leading endurance sports and extreme wellness brand. The partnership will help drive M2O's future growth and Spartan's mission to change a million lives per year by introducing paddleboarding, one of the world's fastest-growing sports, into its expansive global "tough fitness" portfolio.
"We really loved the brand and knew the Moloka'i 2 O'ahu Paddleboard race was truly special, and we've made a promise to introduce the brand and event to people across the world," said Spartan founder and CEO Joe De Sena. "This is a proud moment as we take the first step in bringing this epic bucket-list event, known as the world's Super Bowl of paddling, to a new audience of athletes. We're excited to work with M2O to grow their global reach and offer the Spartan community another opportunity to step out of their comfort zones and get on the water."
Spartan's commitment to the event included working with AJ Vernet at Cohesive Marketing to secure a new partnership with Florence Marine X. Florence Marine X is a brand built in partnership with Olympian and two-time world champion surfer John John Florence. It's focused on creating advanced outdoor gear to inspire people to get outside and thrive. Florence joins a number of long-term M2O partners this summer, including Hawaii Tourism Authority, Kona Brewing, and Duke's Waikiki.
"I am really excited for Florence Marine X to partner with Moloka'i 2 O'ahu," Florence said. "Competing in M2O was an incredible experience and challenge. I am always so impressed by the participating athletes. Good luck to everyone, and I'm very grateful to support this world-class race!"
"The Florence brand is built around looking to the horizon and wondering what's beyond it," said Pat O'Connell, President of Florence Marine X. "The athletes that take on the immense challenge presented by this race are cut from this same cloth, and we couldn't be more proud and excited to get the opportunity to support this incredible event."
The Bluewater Hawaiian Classic showcases a 22-mile coastal course on the island of O'ahu, where paddlers will navigate challenging surf and tides linking several iconic downwind runs, from Makapu'u Point to Sand Island. The M2O Virtual Edition is a 16-mile paddle race that can be done anytime, anywhere, on anything. Live coverage of the virtual edition will take place on the weekend of July 31st, and participants worldwide will have the option to track their paddle live and share their experiences with photos and videos. Over 2,500 paddlers from 65 countries have participated in this virtual paddling event, a testament to the bucket-list status of the M2O race and its broad appeal throughout the global paddling community.
"It's been amazing to watch the evolution of the event," said Shannon Delaney, M2O's executive event producer. "The success and legend of M2O as the hardest paddleboard race event on the planet drives the imagination of paddlers worldwide. While we won't return to the Molokai Channel until 2023, our events this summer will challenge those who race with us live in Hawaii and enthuse the thousands who race virtually to aspire to conquer the Channel in the future."
This partnership is another example of Spartan's growth into the extreme wellness category. In recent years, Spartan has expanded its business beyond obstacle course events, with the launches of LA RUTA MTB®, Spartan Trail World Championship®, HIGHLANDER®, and DEKA®.
Enjoy the new highlight video launching the Spartan and M2O partnership.
Registration is now open for both events at Molokai2Oahu.com.
In 2023, the race will return to the shores of Molokai, where new world champions will be crowned.
About SPARTAN
Spartan, which began hosting obstacle course race (OCR) events in 2010 — and grew the business into 45 countries — has expanded far beyond its roots, becoming the world leader in endurance sports, and creating a new category of "Tough Fitness." In recent years, Spartan has expanded into trail running — with the launch of Spartan Trail® and the Spartan Trail World Championship — and then mountain biking with the strategic partnership with La Ruta, the world's first multi-stage mountain bike race in Costa Rica. The brand also acquired one-time OCR rival Tough Mudder ®, launched functional fitness brand DEKA™, and created a digital training app and platform.
About FLORENCE MARINE X
Florence Marine X is an advanced outdoor apparel brand founded by 2X World Champion Surfer and Olympian, John John Florence. Its mission is to build things that motivate others to get outside and thrive in the elements while doing their best to protect the ocean and the land. Florence product can be explored here.
About the Molokai 2 Oahu Paddleboard World Championships
Founded in 1997, M2O has grown from a grassroots challenge for the legendary lifeguards of Oʻahu to the premiere event in the sport of paddleboarding. The race annually crowns world champions in the two disciplines of traditional (prone), stand-up (SUP) paddleboarding, and recently Stand-Up Foil. Connecting the islands of Molokaʻi and Oʻahu, the 32-mile race crosses the Kaʻiwi Channel, also known as the Molokaʻi Channel and Channel of Bones. Men and women from more than 25 countries face strong currents as they navigate the fastest downwind route over one of the most beautiful and powerful channels in the world. Top athletes can complete the crossing in less than five hours, riding mid-channel waves that crest more than 12 feet and carrying paddlers hundreds of meters. The annual race is a deeply personal experience, challenging every paddler's physical and mental endurance.