Merrell Presents "This Land" by Whit Hassett and Chelsea Jolly
March 2, 2020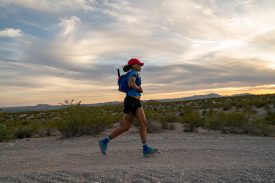 The short film features Faith E. Briggs as she runs 150 miles through threatened U.S. National Monuments.
ROCKFORD, Mich. (Mar. 2, 2020) — "This Land" features runner and advocate Faith E. Briggs who used to run through the streets of Brooklyn every morning. Now, she's running 150 miles through three U.S. National Monuments that lay in the thick of the controversy around public lands. Accompanied by running companions who represent diverse perspectives in what it means to be a public land owner, she assesses what is at stake if previously protected lands are reduced and if the public is largely unaware.
"This Land" is a story about land access told through a journey of inclusion and empowerment. Faith is known within the outdoor and community for inspiring others to spend more time outside and redefine what outdoor means through a lens of equity and inclusion.
"I want everyone to be able to see someone who looks like them outside doing something they love and I want them to be inspired to do the same thing." – Faith E. Briggs
This film was created by an all-female film team including two first-time directors.
Assets:
Social Tags:
 Film Credits:
Brand: Merrell, Peak Design
Directors: Whit Hassett and Chelsea Jolly
Producer: Faith E. Briggs
Director of Photography: Whit Hassett and Chelsea Jolly
Production Company: Mellifera Cine
Editors: Olivia Abtahi and Ryan Miyamoto
Sound Design: Cascadian Sounds
Film Festivals (past and future showings):
5 Point Film Festival
American Documentary and Animation Film Festival
Banff Mountain Film Festival
BZN International Film Festival
The Environmental Festival in the Nation's Capital (DCEFF)
No Man's Land Film Festival
The Siskiyou Film Fest
Vancouver International Mountain Film Fest
Wild & Scenic Film Fest
For additional information or a downloadable file of the film, please reach out to the producer, Faith E. Briggs and the Merrell press contact below.
ABOUT MERRELL
Merrell® exists to give you all you really need to discover the simple yet profound power of the trail. We believe the trail is for everyone. Our goal is to provide thoughtfully designed, rigorously tested products that over-deliver on performance, versatility and durability. Because when you've got air in your lungs and good shoes on your feet, you've got everything you need. Visit Merrell.com or follow us on social at @merrell and @merrelloutside.
MEDIA CONTACTS