Meet Team KINeSYS
March 13, 2023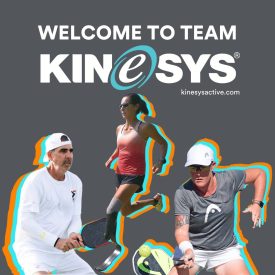 Sponsored athletes who embrace sun protection
Vancouver, Canada, 12th March 2023 /ENDURANCE SPORTSWIRE/ – KINeSYS Performance Sunscreen is proud to announce the establishment of Team KINeSYS, an elite coalition of sponsored athletes and coaches who have long used and embraced KINeSYS products. Hard-working athletes, Team KINeSYS members don't let the sun get in the way of their active lifestyles. Our products offer consistent and powerful protection so that they can concentrate on their sports.
The 2023 Team Members include Pickleball pros Sarah Ansboury and Dayne Gingrich, and adaptive ultrarunner Jacky Hunt-Broersma. These athletes share a tireless work ethic, positive attitude, and a deep commitment to skin protection. In addition to regular sunscreen use, they model responsible sun protection behaviour.
Team KINeSYS understands that choosing the right sunscreen can often feel complicated and confusing and that KINeSYS sun protection is easy to use, effective, and environmentally friendly. KINeSYS protects them from the sun's harmful rays and enables their active, outdoors lifestyles. Innovators in their sports, Team KINeSYS spends hundreds of hours outside each month. They live and breathe our values: sunscreen for everybody, every day.
The 2023 Team KINeSYS members include:
Pickleball trailblazer Sarah Ansboury discovered the sport in 2014 and quickly became one of the winningest and most influential players on the professional pickleball circuit, earning gold medals in both Women's Doubles and Mixed Doubles at the inaugural 2016 USAPA National Championships. Sarah also helps lead the evolution of pickleball as the Education Coordinator and Lead Clinician for the Professional Pickleball Registry. A fair-complexioned former tennis pro, she is currently the Director of Pickleball and Touring Pro for the Palmetto Dunes Oceanfront Resort in Hilton Head Island, South Carolina. Follow Sarah on Instagram and Facebook.
Strategist, coach, and Masters Pickleball Champion Dayne Gingrich understands that success comes not only from natural talent, but also a willingness to set big, often audacious goals and work tirelessly toward them. The effort will hurt at times, and therein lies the reward: When they step out of their comfort zone, athletes hone mental strength, build confidence, and exceed their expectations. Considered one of the top pickleball pros in the senior circuit, Dayne is a four-time national champion, three-time U.S. Open Champion, and has won more than 40 gold medals as a Senior Pro. Follow Dayne on Instagram and Facebook.
Jacky Hunt-Broersma, a.k.a. NC Runner Jacky
Ultrarunner, cancer survivor, endurance coach, mother, and amputee Jacky Hunt-Broersma recently ran 104 marathons in as many days, adding yet another triumph to her impressive list of accomplishments, which can be summed up by the mantra, "Do hard things." Jacky began running only after she lost her leg to Ewing's Sarcoma, a rare cancer. Since completing her first 5K on a walking prosthetic in 2016, she has completed many long-distance races and events, from the Boston Marathon to running more than 200 miles for the Across the Years running festival. Jacky's tenacity and dedication has inspired countless athletes. Follow Jacky on Instagram and Facebook.
"We are thrilled to partner with Sarah, Dayne, and Jacky, all innovators who have challenged the status quo and ascended to the top ranks of their sports," said Lisa Heggie Co-Owner. "To have two of the most influential professional pickleballers on our team, along with an amputee cancer survivor and ultrarunner whose successes far transcend the running world underscores our mission to support all who lead active outdoor lifestyles and are passionate about sun protection."
About KINeSYS Performance Sunscreen
KINeSYS Performance Sunscreen is a leading family-owned sunscreen manufacturer based in Vancouver, Canada. For 25+ years, the brand has been developing and distributing high-performance sunscreens and continues to manufacture their sunscreens and components in North America. KINeSYS exists because they're just like you. Parents, runners, skin cancer survivors, hikers, outdoor lovers. Available through specialty Retail Partners in the USA, Canada and Australia; and online at www.kinesysactive.com and www.kinesyactive.ca.
Media Contact
Lisa Heggie
CEO / WILC Healthcare Inc.
1.888.546.3797 ext. 710
lisa@kinesysactive.com