Media Alert – "The Long Swim, Cycle, and Run to Freedom" Documentary Featuring Xylon Van Eyck Now Available
August 4, 2023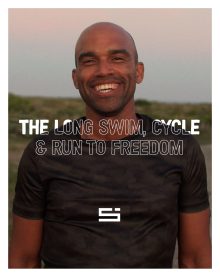 Atlanta, GA/ENDURANCE SPORTSWIRE/ – In a captivating and inspiring documentary, "The Long Swim, Cycle, and Run to Freedom," viewers are taken on a remarkable journey through the life of Xylon Van Eyck, a South African native whose resilience, determination, and passion for creativity have shaped his extraordinary story. Witness Xylon's compelling journey of hope, courage, and devotion to life in this riveting film.
Raised in a segregated neighborhood during apartheid in South Africa, Xylon discovered cycling as a means of escape, opening doors to connect with people from diverse cultures. At 26, he faced a battle with cancer, which could have broken him, but instead ignited an unyielding promise within him. This promise led him on an incredible journey, defying all odds, to participate in the prestigious 2022 IRONMAN World Championships in Kona, Hawaii.
"The Long Swim, Cycle, and Run to Freedom" offers an intimate glimpse into Xylon's life and showcases the power of resilience in the face of adversity. His infectious positivity and unwavering determination to overcome challenges are a testament to the human spirit.
The documentary is available on the Supersapiens YouTube channel starting Thursday, August 3 at 6 pm BST / 1 pm EST.
Film Details:
Biography of Xylon Van Eyck:
Xylon Van Eyck's life journey has been one of remarkable resilience, determination, and creative pursuits. Hailing from Port Elizabeth, South Africa, Xylon faced a turning point when diagnosed with cancer at the age of 26. His unwavering courage and positive outlook on life inspired many as he emerged as a true survivor.
A natural fit for media, Xylon's charismatic personality and eloquent communication skills propelled him into the world of local radio, where he developed a loyal following. Later, he transitioned to television, earning accolades for his ability to connect with diverse audiences.
Driven by his adventurous spirit, Xylon ventured into professional cycling, merging his media expertise with his passion for the sport. His storytelling and commentary talents quickly made him a prominent figure in the cycling community, bridging the gap between enthusiasts and the professional racing scene.
Xylon remains committed to raising awareness about cancer and supporting fellow survivors, using his platform to inspire and uplift others. His life story exemplifies the power of resilience, pursuing passions, and making a positive impact.
Supersapiens is aiming to be the most influential sports brand of the decade. They develop innovative insights around glucose that drive positive behavior change and unlock better performance and recovery.
Abbott's Libre Sense Glucose Sport Biosensor is intended for athletes to measure their glucose levels. When used with a compatible product, the biosensor allows athletes to correlate their glucose levels and their athletic performance.
The Supersapiens system including Abbott's Libre Sense Glucose Sport Biosensor is not intended for medical use and is not intended for use in screening, diagnosis, treatment, cure, mitigation, prevention, or monitoring of diseases, including diabetes.
The Supersapiens system including Abbott's Libre Sense Glucose Sport Biosensor is not for sale in the U.S and is only available in select countries. For a full list of references and FAQs, please visit our Education Hub and Knowledge Base.