MB-2 Bomber Featured at Upcoming Virtual Race
April 12, 2023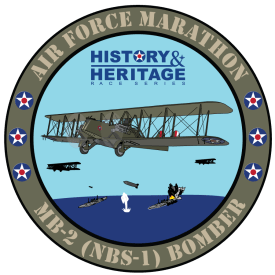 WRIGHT- PATTERSON AIR FORCE BASE, Ohio /ENDURANCE SPORTSWIRE/ – The MB-2 (NBS-1) Bomber will be the third retired aircraft to headline the 2023 History & Heritage Race Series, powered by the Air Force Marathon, beginning May 1.
The event marks the third of six virtual races during the series's third season. Each event features its own historical aircraft vital to the Air Force's past. All can be found in the National Museum of the U.S. Air Force. Registration for this year's races began Dec. 1.
The MB-2 (NBS-1) Bomber, also known as the Martin NB-2 (NBS-1), was the first U.S.-designed bomber produced in larger numbers. First ordered in 1920 and designed as a night bomber, the MB-2 sacrificed speed and maneuverability to carry a heavy bomb load. It became the Army Air Service's primary multi-engine bomber until replaced by the Keystone bombers of the late 1920s.
History & Heritage Race Series competitors will receive a patch and information card highlighting the marquee aircraft, finisher's medal and downloadable completion certificate.
Runners have the option to compete in the marathon, half marathon, 10K or 5K. Each participant may also run or walk the full distance at any destination of their choosing. Results can be uploaded using a GPS-tracking app that confirms time and mileage, but this step is not required to receive your race packet.
For more information and to register for the race, visit https://www.usafvirtual.com.