Maxim Chane, Marta Menditto win XTERRA Oman
March 17, 2023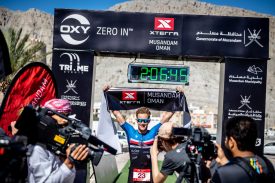 Maxim Chane from France and Marta Menditto from Italy won the inaugural XTERRA Oman off-road triathlon on a hot and sunny day at the Khasab Fort in Oman's Musandam Governorate on Saturday, March 18, 2023.
/ENDURANCE SPORTSWIRE/ – Maxim Chane from France and Marta Menditto from Italy won the inaugural XTERRA Oman off-road triathlon on a hot and sunny day at the Khasab Fort in Oman's Musandam Governorate on Saturday, March 18, 2023.
It's the fifth career XTERRA World Tour win for Chane, and the third for Menditto.
In the men's elite race, Chane, who is one of the fastest swimmers on the XTERRA global circuit, was surprised to see a fellow competitor put more than a minute on him during the swim.
"From the gun a really fast swimmer just took off, and I tried to follow but had to pace myself ahead of a day in the heat. Luckily, he was competing for a relay team," he laughed.
Once on the bike, it was Chane's turn to take off and he did, posting the fastest bike split of the day in 1:12:03 then blitzing the run to take the tape in 2:06:06, more than 14 minutes ahead of Tom Walker from the United Arab Emirates.
"This was totally different from any race I've done before," said Chane, about the first-ever XTERRA race in the Middle East. "XTERRA is about exploring new cultures and experiences so this ticked every box. Every day here has been a cultural learning experience that I'll never forget."
Gianfranco Cucco from Italy rounded out the top three in his first-race as an elite.
"The purpose built course here in Khasab was great, not too difficult for the local athletes but quite tricky when trying to push hard," said Cucco. "The sandy rocky ground was just ready to catch you out and ruin your day. Then running in the heat was really tough, but a proper Middle Eastern race experience for sure."
In the women's race, Menditto led from wire-to-wire, posting the fastest swim, bike, and run times to take the win in 2:39:18, more than eight minutes ahead of Ana Celia Creus Del Campo in second. Mia Anna Andersson came in third.
"It's not every day you get to be the first winner of the first event in a new region," said Menditto. "In 5 years time when there are multiple events in the Middle East, it'll be great to be remembered as the first XTERRA Oman Champion."
Menditto also welcomed the hot race conditions, saying it was a perfect early season event to prepare for the XTERRA Asia-Pacific Championship race next month in Kenting.
"I wanted to push hard as preparation for the first XTERRA World Cup event in Taiwan, as the conditions will be similar so I focused on managing my nutrition and hydration while racing as hard as I could in the heat."
The race combined a 1.5km swim in the Sea of Oman with a 30km mountain bike and 10km trail run through Musandam's spectacular desert-mountain terrain.
"The event proved to be a significant success for the Musandam Governorate and Muscat Municipality, as it highlighted Musandam and Oman as a premium destination in the Middle East for hosting world-class, globally-recognized sporting events," said Mr. Mohammed bin Khalfan Al Obaidani – CEO, TRI.ME.
The region remains largely "undiscovered" by international tourism, representing the ultimate escape into true Arabian wilderness and rewarding adventurous travelers with cultural charm, ancient history and a range of outdoor activities such as sundowner cruises, dolphin watching trips, and diving with whale sharks and sea turtles.
"We had a fantastic response from the athletes taking part – who were delighted with the stunning natural beauty of the Musandam Peninsula. Our team was also very proud to witness the warm welcome shown by the local Musandam community to all foreign athletes taking part," added Mohammed bin Khalfan Al Obaidani.
XTERRA Oman was the second of 20 events in 14 countries on the 2023 XTERRA EMEA Tour, dishing out qualifying spots into both the XTERRA Triathlon and XTERRA Trail Run World Championship races, and $23,000 in prize money – a $16,000purse for the full-distance triathlon and $7,000 for the half marathon.
Up Next: XTERRA Malta, April 1
About XTERRA
X marks the unknown. TERRA is earth. United, we are XTERRA – a brand born to discover unknown territory. Since our inception in 1996, XTERRA has been inspiring off-road adventure by connecting people with nature through events with a fun, family vibe. We offer 13 off-road race options, from triathlon-to-trail running, for participants of all ages and skill levels in 47 countries worldwide. We have a global perspective, we aspire to protect where we play, and live the XTERRA lifestyle everyday, everywhere we roam. Join us off-road at xterraplanet.com.