Max Nwumann Voted May's PTO Athlete of The Month
June 2, 2023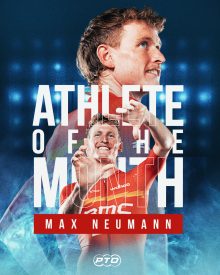 London, UK/ENDURANCE SPORTSWIRE/ – Max Neumann has been voted May's PTO Athlete of the Month, following his landmark win at the PTO European Open in Ibiza on 6 May and his rise from #7 to #4 in the PTO World Rankings.
The monthly accolade is a new initiative introduced by the Professional Triathletes Organisation (PTO) to celebrate its members across the year and recognises a female or male PTO athlete based on: outstanding race performances, significant movement up the PTO World Rankings and/or challenges overcome. Britain's Kat Matthews won the first PTO Athlete of the Month in April 2023.
A six-athlete shortlist for May 2023 was pulled together and then voted on by a panel of triathlon media as well as fans of the sport. The shortlist included (in alphabetical order): Anne Haug, Max Neumann, Sam Long, Jeanni Metzler, Emma Pallant-Browne and Rico Bogen. With Max coming out on top, just ahead of Anne Haug.
Commenting on his latest win, the twenty-eight year old Australian said:
"I think it's actually my first award as a professional athlete. I don't think long course athletes get much recognition; it's all the Olympic side of the sport. So, yeah, the awards are good. At the end of the day, I think it's something that long course is pushing. As you saw with the athlete awards [the Global Triathlon Awards] last year in Nice. I think there are awards in every other sport, so I think it's a cool addition."
Reflecting on his post race TV interview in Ibiza, in which he very honestly talked about his 'no bullshit science' approach and that 'this was a win for going back to basics', Neumann explained:
"It was the race of my life. And, yeah, I think the way we do things is probably a lot different to probably 90% of people out there. I think in the recent era everyone's getting really psyched up about, you know, all this science stuff and trying to find these weird, extra 1%-ers that probably aren't there and you end up forgetting about what really matters. But we [myself, family and coach] just sort of stuck to what has worked for us in the last couple of years and it's starting to pay off now. I think when I crossed the line [in Ibiza] there was probably a few emotions that came out. I guess it was a win for our whole team as well."
"You know, I caught up with Wayno [his masseuse who he gave a shout out to] two days ago and, yeah, he was pretty stoked. He actually massages Ash Gentle as well. So his track record in PTO races is pretty good."
Speaking about his decision not to race Ironman Hamburg this weekend, Max said the following:
"I took a while to recover from the race [the PTO European Open] mentally and physically. And we tried to get back into it, but it just wasn't happening. So, yeah, we decided pretty late to not go [to Hamburg]. I think it's for the best, thinking long term. You know, we've got our slot for Nice already and we've got another big race in the PTO Asian Open coming up, so I think it is kind of the build up to those two big goals now."
Responding to references of a 'small niggle' in a recent social media post, Max went on:
"I think it's more just the travel. It is a long way coming from Australia. Even if you do it efficiently, it's still to get to Ibiza almost 50 hours travel. So, yeah, I think it's just a couple of things and then pushing out one of the fastest races. Your body just gets a bit battered around, but, yeah, now we're on top of it now. It's just a precaution. Like I said, nothing for Hamburg or Cairns was set in stone."
Looking ahead to the season, the new World #4 prescribed:
"A long slow build over the next couple of months. It's winter in Australia, so it's almost like going back doing your winter base to focus on Nice and the PTO Asian Open. I think we pretty much go back to what we started this year heading into the European Open. And yes, stick to what we know and what works. I think freshness is key and not over racing and not over training. It's a very hard thing to master."
The media panel for PTO Athlete of the Month includes: Global Triathlon Network (GTN), Triathlete, Triathlon Magazine & Tri-Mag.de Each of the four outlets gave their 1, 2, 3 based on the shortlist and fans voted during Thursday 27 April, 2023, across the PTO's social channels. Three points are awarded for being voted #1, 2 pts for #2 and 1 pt for #3. The points are then added up to give the winner. For May, Max received 13 points, Anne 11 and Rico 3.
-ends-
For Further Information
Anthony Scammell E: Anthony.Scammell@protriathletes.org
About the Professional Triathletes Organisation
The PTO is a new body, co-owned by the professional athletes, seeking to elevate and grow the sport of Triathlon and take it to the next level. Each PTO Open is raced over 100km (2km swim, 80km bike and 18km run). 2023 PTO Tour races announced to date include: the PTO European Open on 6 May, the PTO US Open in Milwaukee on 4-5 August and the PTO Asian Open in Singapore on 19-20 August. The season will be underpinned by the new PTO World Rankings, helping to create a compelling season-long narrative in the sport for the first time.