Matt Helbig Earns USATF's Allan Steinfeld Award
February 28, 2022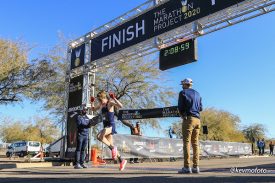 CEO of Big River Race Management Recognized for The Marathon Project
LOUIS (February 28, 2022) /ENDURANCE SPORTSWIRE/ – USATF honored Matt Helbig of Big River Race Management, Ben Rosario of HOKA NAZ Elite and sports agent Josh Cox, with the Allan Steinfeld Award in 2021 acknowledging their work to bring The Marathon Project to life.
Allan Steinfeld was a former president of the New York Road Runners and race director of the New York City Marathon. The award which was established by USATF in 2007 to recognize individuals within a road race organization who have provided outstanding contributions to enhance men's long distance running includes distinguished past honorees including Carey Pinkowski, Guy Morse and Peter Ciaccia.
In a pandemic year where the traditional road racing schedule was upended, The Marathon Project was conceived to give elite distance runners the opportunity to race fast from a performance perspective and safely from a health perspective. Held in December of 2020 in Chandler, Ariz. with strict COVID protocols in place, The Marathon Project saw seven American men run under 2:10 for 26.2 miles in the same race for the first time. Prior to The Marathon Project, only 20 American men in history had ever run below the mark. Martin Hehir, won the men's title with a 2:08:59 performance and Sara Hall ran the second fastest marathon in US History with a time of 2:20:32 to win the women's race.
"This honor is special because it recognizes the hard work that went into putting on a world-class event in a time of uncertainty and in the absence of any event of this caliber for a 10-month time period," said Matt Helbig, CEO of Big River Race Management. "Without its traditional road racing opportunities, the running industry needed someone to step forward and we willingly took on the challenge. Our ability to manage complex logistics, assemble a first-class field of runners, implement and abide by strict health guidelines and provide high quality timing services behind the scenes allowed for the event's success. The result was an exciting and uplifting experience the running world needed. From the athletes who ran fast to fans to tuning in on TV or participating in the virtual event, The Marathon Project was a bright spot in a very challenging year."
About Big River Race Management:
Big River Race Management, with offices in St. Louis, New York and Chicago, provides full-service race organization, planning, management and timing through a relationship-focused approach, cutting-edge technology, world class customer service and elevated participant experiences. Big River Race Management works with premier races and endurance events across the country, providing timing and management services for more than 300 running, cycling, triathlon and scholastic events each year. For more information visit: www.brrm.com
# # #