Master Spas launches series of pro tip videos
May 6, 2022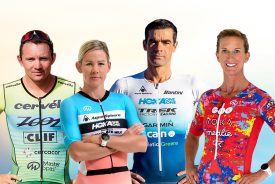 Professional triathletes Ben Hoffman, Mirinda Carfrae, Tim O'Donnell, and Meredith Kessler share training tips featuring swim spas
FORT WAYNE, Ind. — MAY 6, 2022 /ENDURANCE SPORTSWIRE/ – Master Spas, the world's largest swim spa manufacturer, is excited to launch a new video series featuring pro tips from professional triathletes. The videos highlight how these athletes not only incorporate a Master Spas swim spa into their training routine but daily lives.
The video series strives to help any athlete become their best while balancing fitness and the demands of daily life. The tips can be used by someone training for their first triathlon or someone who wants to land on the podium.
Ben Hoffman, Mirinda Carfrae, Tim O'Donnell, and Meredith Kessler each share their top three swim spa tips. From using pool mirrors to swimming while pregnant, the videos underscore the benefits of a swim spa
"Our Master Spas ambassadors are world-class athletes, and their performances are inspiring," said Kevin Richards, Master Spas Vice President of Marketing and Sales. "There's so much we can learn from them — not just in how they train but how they balance family with their goals. With this video series, we see how we can all learn from professional athletes."
Providing a stationary swimming experience, you can swim against the current of water at your own pace. In an H2X Challenger 18D Pro swim spa, you can swim as fast as 1:10 per 100-meter pace. Other H2X Challenger swim spas produce a water current that's as fast as 1:20 per 100-meter pace.
The Pro Tips video series can be viewed on Master Spas' YouTube channel: https://youtube.com/playlist?list=PLSmLfLI_pGB2mlX8xyU0tpuVCwmlVJBsm
About Ben Hoffman
An eight-time IRONMAN Champion, Ben Hoffman is a professional triathlete who lives in Tucson, Arizona. He trains in an H2X Challenger 18D Pro. He joined the Master Spas team in 2019.
About Mirinda Carfrae
Also known as Rinny, Mirinda Carfrae is a three-time IRONMAN World Champion. She is based in Boulder and trains in an H2X Challenger 18D Pro. She joined the Master Spas team in 2019.
About Tim O'Donnell
Tim O'Donnell is a veteran of the U.S. Navy and world champion triathlete. He is married to Mirinda Carfrae and lives in Boulder with their two children. He joined the Master Spas team in 2020.
About Meredith Kessler
An 11-time IRONMAN champion, Meredith Kessler has raced more than 65 full-distance triathlons. She is a wife and mom living in the Columbus, Ohio area. She joined the Master Spas team in 2020 and trains in an H2X Challenger 15D.
About Master Spas
Master Spas is based in Fort Wayne, Indiana, 90 miles northeast of Indianapolis. Operating out of a state-of-the-art, 583,000-square-foot manufacturing facility on a 45-acre manufacturing campus, Master Spas is the largest portable spa, hot tub and swim spa manufacturer in the world with all products built in the U.S.A. The company's executive team boasts more than 150 years of spa manufacturing success and one of the strongest track records in the industry. For more information, please visit: www.MasterSpas.com
###
Contact: Susan Rekeweg
Email: srekeweg@masterspas.com