Master Spas adds pro triathlete Ben Kanute to roster of brand ambassadors
September 20, 2022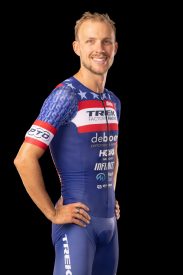 Kanute will train in H2X Challenger 18D Pro swim spa
FORT WAYNE, Ind. — SEPTEMBER 20, 2022 /ENDURANCE SPORTSWIRE/ – Master Spas, the world's largest swim spa manufacturer, is excited to announce a partnership with professional triathlete Ben Kanute.
"We could not be more excited to announce Ben as the newest addition to Team Master Spas," says Kevin Richards, Vice President of Sales and Marketing for Master Spas. "We've been really thoughtful about selecting our partners, and Ben is a perfect fit. He has a strong work ethic and a desire to be the best on the race course. More than that, an athlete like Ben shows how you can reach your goals and balance family life."
Kanute was first introduced to triathlon at a young age, when he watched his father participate in multisport events. He competed on USA Triathlon's youth elite and junior elite circuits, winning one national title as a youth elite and two as a junior elite. In 2016, he was selected to participate in the Games in Rio de Janeiro.
Training in Phoenix, Arizona, Kanute has seen success on the ITU World Triathlon Series circuit, as well as at the 70.3 distance. He also won the iconic Escape from Alcatraz triathlon four years in a row.
"I just love partnering with brands that are passionate about what they do and what they believe in," Kanute says. "Having a swim spa like this makes swimming more accessible. I will have the convenience of being able to swim in my backyard and do hard workouts without leaving my home.
"There's the family aspect, too. I can introduce my children to swimming, and my wife will have the opportunity to work out in the water."
Kanute will train, recover, and relax in an H2X Challenger 18D Pro. This jetted swim spa, which was designed by Master Spas for the competitive athlete, features a variable speed system.
Kanute will be able to complement his pool training, whether he wants to get in a recovery swim in the afternoon or push the pace with an interval set.
Professional triathletes Ben Hoffman, Mirinda Carfrae, Tim O'Donnell, and Meredith Kessler also train in H2X Challenger swim spas.
For more information about Master Spas, go to MasterSpas.com. Follow the manufacturer on social media at @masterspas.
About Master Spas
Master Spas is based in Fort Wayne, Indiana. Operating out of a state-of-the-art, 45-acre campus, we are the largest swim spa manufacturer in the world, and largest portable spa and hot tub manufacturer that makes 100% of our product in the USA. Our management team has over 200 years of spa manufacturing success, and one of the strongest track records in the industry.
About the H2X Challenger Series
The H2X Challenger Series from Master Spas bridges the gap between traditional jetted swim spas and propulsion systems. The unique airless jet system creates a water current that is more efficient, powerful, and smoother than the competition. With the ability to control the resistance and temperature, novice swimmers to competitive triathletes can enjoy a continuous swimming experience that mimics open water.