Mascot Sports' First-Ever Oak Run Co. House Launches on April 27 at the Moxy Hotel in Downtown Oakland
April 27, 2022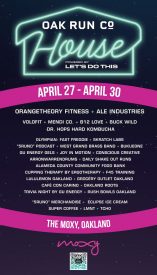 Four-day experience celebrates movement, wellness and community with world class athletes, DJ's, yoga, group runs and more
OAKLAND, Calif. (April 27, 2022) /ENDURANCE SPORTSWIRE/ – The first-ever Oak Run Co. House powered by Let's Do This kicks off today at the Moxy Hotel in Downtown Oakland. Created by Mascot Sports, a leader in one-of-a-kind endurance sports experiences in partnership with its Oakland Run Co. platform, the Oak Run Co. House is a four-day, fully immersive Oakland-fest culminating with the Bay Bridge Half Marathon on Sunday, May 1.
A first-of-its kind in the industry, the Oak Run Co. House offers attendees a magical, physical experience dedicated to movement, wellness, mindfulness, and connection. Each day includes a full schedule of events from Olympian speakers, happy hours and DJs to yoga, group runs, mindfulness exercises and more.
"I hope The Moxy Hotel in Downtown Oakland x ORC House Takeover will serve as the industry heartbeat celebrating the unity of joining together again in a place where health, wellness, music and movement is at the forefront of conversation with like-minded businesses and people in the heart of Oakland," said Gina Giacalone, Director of Experience at Mascot Sports.
Oak Run Co. House partners include Orange Theory Fitness, Mendi Co., Ale Industries, Lululemon, Old Kan Beer, Volofit and more. For more details and the schedule of events, go to https://baybridgehalf.com/orc-house.
All the action builds toward Sunday, May 1 and the second edition of the Bay Bridge Half Marathon, an event that made history in 2019 as not only the first-ever half marathon to cross the iconic Bay Bridge, but awarded the 3rd best global event by Runner's World Magazine. This year, the event will start in West Oakland and give runners a wide, fast and fun few miles before arriving at the entrance to the Bay Bridge.
Created by Mascot Sports, the Bay Bridge Half gives a highly premium, locally curated experience with community partners including Old Kan Beer and La Santa Torta.
To learn more about Oakland Run Co. please visit the website or follow @oakrunco on Instagram, Facebook and Twitter.
About Mascot Sports
Mascot Sports is a leader in sports and experiential marketing igniting the rally for innovation through brands, events, and community. Based in Oakland, Mascot Sports was founded in 2017 by veteran endurance sports executive and competitive triathlete Ryan Dawkins, also the recipient of Acquisition International's 2015 Business Excellence Award for "Best CEO in the Events Sector." Programs include: Amgen Tour of California, Warner Bros' Wonder Woman Run Series, Bay Bridge Half Marathon, Haute Route, Spartan Race and Oakland Run Co. For more information, please visit the Mascot website.
About Oakland Run Co.
Oakland Run Co. was founded in 2019 by Mascot Sports to celebrate and unite Oakland's vibrant running community. Oakland Run Co. connects locals to every running event and meet-up happening in Oakland and throughout the Bay Area, big or small, through its website and digital media channels. It is also the home base for Mascot Sports' signature Oakland events:  the Bay Bridge Half, Oakland 5000, Oaktown Half, and nonprofit Oakland Turkey Trot, in addition to the Field Trip Series partner, Livermore Valley Half and Marin Endurance Festival. For more information, please visit the website.
# # #
Media Contact:
Katrina Younce
katrina@mascotsports.com
T: 310-995-3619