Marian University Takes the Team Omnium National Title at Collegiate BMX
March 13, 2023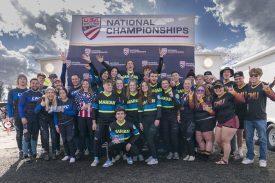 Joey Leto and Korie Gilbert win the men's and women's individual titles.
March 13, 2023, BAKERSFIELD, Calif. /ENDURANCE SPORTSWIRE/ – It was a rainy weekend in Bakersfield, California for the 2023 USA Cycling Collegiate BMX National Championships. With two busy days of racing, the battle for the team omnium win put Marian University back on top.
Collegiate Women
The collegiate women fought hard through the rainy weekend. Lindsey Wilson College rider, Korie Gilbert (Pearland, Texas) was the points leader heading into day two of racing. The LWC senior ended up on top and finished the weekend with a gold medal after the team's trailer got stolen with all of their equipment just days before the race. Marian University's, Mya Ramos (Albuquerque, N.M.) would take second, and Sierra Altendorf (Everette, Wash.; Colorado Mesa University) would take third.
Collegiate Men
With two days of strong racing, Lindenwood University's Joey Leto (Mayakka, Fla.) dominated both races on Friday and Saturday and took his first individual title just a few weeks after standing on his first elite podium in Oldsmar, Fla. Colorado Mesa University's Evan Schaefer (Sarasota, Fla., Colorado Mesa) would take second and Cameron Wing (Garland, Texas; Marian University) would take third.
Team Omnium
Within the individual races is the competition for the best overall school for the weekend. Marian University ended the event with a total of 306 points to claim their 8th team omnium win. Lindsey Wilson College would finish in second with 288 points, and Colorado Mesa University would round out the podium finishing in third with 270 points.
Visit USACycling.org for more information on the athletes, events and membership programs, and follow @USACycling across all channels for the latest on Team USA.
For more information, contact Angelina Palermo at apalermo@usacycling.org.
ABOUT USA CYCLING (usacycling.org)
USA Cycling is the national governing body for the sport of cycling and oversees the disciplines of road, track, mountain bike, cyclocross, and BMX. USA Cycling's mission is to grow participation and engagement with the sport of bicycle racing and achieve sustained international success across all cycling disciplines. USA Cycling supports cyclists of all levels and abilities, from those just beginning in the sport to international caliber athletes. The organization identifies, develops, and selects cyclists to represent the United States in international competition through the support of youth and interscholastic programs, amateur and grassroots bike racing events, athlete development programs, and operational support for cycling clubs, racing teams, and event organizers. USA Cycling has a membership of 80,000, sanctions over 2,500 events annually, and is a member of the Union Cycliste Internationale (UCI) and United States Olympic & Paralympic Committee (USOPC).