Marathon-Photos LIVE reaches USA
September 21, 2021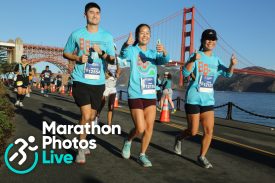 Live photography launched in USA - images available instantly to runners and their supporters at San Francisco Marathon.
September 21, 2021 /ENDURANCE SPORTSWIRE/ — Hot on the heels of its Live photography launch in the UK, world-leading endurance photo company MarathonPhotos.Live has launched its ground-breaking new service in the United States.
Runners in San Francisco Marathon had their photos online within seconds of passing photographers – both on course and at the finish.
Runners could also sign up personal supporters who received a notification when their first photo was online and could then follow their progress to the finish.
"Our technology is like no other," said MarathonPhotos.Live founder and Managing Director Francis Kay.  "It's completely portable and completely international."
He noted that the Live launch at San Francisco Marathon came just one week after the company photographed two major events Live in Britain at the same time – the world's largest half marathon, Great North Run (50,000) and Brighton Marathon.
"The same day San Francisco Marathon was photographed Live, we also had Great Bristol Run being photographed Live in England.  That was a great test for our Live service internationally and it worked very successfully," Mr Kay said.
"Our R & D team has been working on this project a very long time and I am immensely proud of their efforts.  Having photos online immediately is something I've wanted to do for runners for many years.  Their achievements are admirable and now they can enjoy their success straight away with their photos online."
About Marathon-Photos.com
Started in 1999, Marathon-Photos.com was first in the world to promote marathon photos on the internet searchable by name or race number. It was first to offer personal race video online and first to offer products containing personal results.  The company has photographed more than 8000 events in 70 countries, with more than 200 million images of 30 million athletes.  Images remain online permanently.  Visit MarathonPhotos.live
Interested?
Contact Francis Kay
Mob +64 21 641 503