Mana's Henri Schoeman Secures World Title
April 24, 2023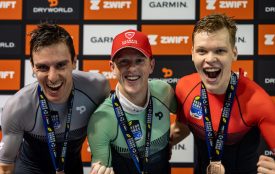 Kiwi Ironman champion signs on.
/ENDURANCE SPORTSWIRE/ –  Sports and Entertainment-managed athlete Henri Schoeman has claimed his first world title, adding to his Olympic Games bronze and Commonwealth Games gold medals. The South African topped the Arena Games Triathlon World Championship Series Powered by Zwift at the Grand Final in London on April 8.
The hybrid esport triathlon format saw competitors complete several stages of swim-bike-run in variable order, with the swim held in a pool and bike and run legs on smart trainers and treadmills connected to the Zwift virtual platform.
After an illness- and injury-beset two years, Schoeman roared back into action in the series, winning the second event in Sursee after taking silver at the kickoff in Montreal. Another silver finish at the final with double the points on the line crowned him the new esports world champion in a format that could potentially be included in a future Olympic Games.
"I'm proud of the race I managed to execute to win the overall title. I'm hungry and excited to keep building up for more! The support has been incredible and humbling, thank you," he said.
Schoeman has also signed on as an ambassador for Medshield, one of South Africa's longest-serving and most reliable medical schemes that enables access to sustainable and affordable quality healthcare.
Two-time Ironman New Zealand champion Mike Phillips has joined the roster of Mana-managed athletes as he seeks to elevate his performance at the highest levels of triathlon. Phillips recorded the world's fastest Ironman debut in 2017, has four half distance titles under his belt, and has finished on the podium at 80% of all his races. For 2023 he has set his sights on selection for Team International at the PTO Collins Cup as well as improving on his career-best 16th place finish at the Ironman World Championship in Nice, France.
He said, "I am excited to be signing with Mana Group to help me reach new heights in my triathlon career. Their expertise and guidance will be invaluable as I continue to pursue my goals and push myself to be the best athlete I can be."
Fellow Mana athlete Joe Skipper has sealed partnerships with Garmin and Fastfood, ensuring the multiple Ironman champion is supplied with top-of-the-line tech and nutrition for all his training and racing needs.
In more signing news, Charlie Quin has partnered with Atohi to wear their high-tech custom kit at all his upcoming races. The rising long-course triathlete has set his sights on qualifying for the Ironman 70.3 world championship as well as defending his Noosa Triathlon and Laguna Phuket Triathlon titles.
MANA SEG works with the very best in the world of endurance sport. For a detailed discussion about working or partnering with any of our athletes, please contact: tim.ford@manaseg.com
About MANA Sports and Entertainment Group (MANA)
At Mana we embody power and prestige, leveraging our extensive network and credentials to execute projects, programs, and services with pride, boldness, and authority. Led by two-time Ironman World Champion and entrepreneur Chris McCormack, Mana has spearheaded groundbreaking innovations in the wide world of sport and entertainment, including Super League Triathlon, the Bahrain Victorious 13 Team, and the Pho3nix Sub7Sub8, powered by Zwift Project. To learn more about us, please visit our website at www.manaseg.com.