Make It A "Race-Cation!"
September 13, 2021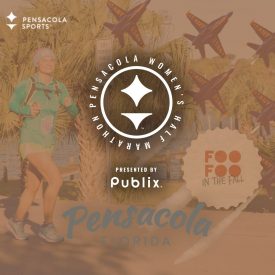 PENSACOLA, FL– Pack your running shoes, flipflops, and even a light sweater or two; Pensacola, Florida will be brimming with events before and after the Women's Half Marathon Presented by Publix.
This year's race is set for November 7 and will feature a 5k run, a mile run and a half marathon. Participants will get the chances to run, or walk, through historical neighborhoods and jaw-dropping water views. After, runners are invited to the post-run party for music, food, drinks and beer.
Starting November 4, the Foo Foo Festival will be commanding the downtown streets. This 12-day festival is dedicated to celebrating the arts and creative culture within the city. Surrounded by the crisp fall air, attendees can shop the many vendors, experience remarkable performances and most of all indulge in delicious cuisines.
The 2021 NAS Pensacola Blue Angels Homecoming Air Show is going to the beach! Due to COVID-19 restrictions, the Blue Angles moved their extravaganza to Pensacola Beach. From November 3-6, locals and visitors can spread out among the white sands, gaze up at the mighty "Fat Albert," and witness the precise formations across crisp blue waters.
Year-round Pensacola offers great views, affordable stays and events for all to enjoy. The month of November will be a small cluster to proving this point. Plan to stay awhile; you don't want to miss a moment.
Women's Half Marathon Presented by Publix: November 7
Blue Angels Homecoming Air Show: November 4-6
Foo Foo Festival: November 4-15
###
About the Pensacola Sports
Pensacola Sports is one of the oldest sports commissions in the United States, beginning in 1954. Today, Pensacola Sports manages and assists in numerous events a year throughout the Escambia, Santa Rosa, and Okaloosa county areas. Pensacola Sports is dedicated to enhancing the quality of life, health, wellbeing and economic development of the Pensacola and surrounding regions through sports and recreation.