Local Runners Dominate 15th Annual Whitefish Marathon Powered by Hammer
June 20, 2022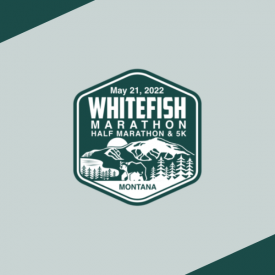 Participants from 40 states, five countries take to starting line in Whitefish, Montana
WHITEFISH, Mont. (June 20, 2022) /ENDURANCE SPORTSWIRE/ – Runners and walkers lined up for the 2022 Whitefish Marathon Powered by Hammer in cool temperatures but the competition heated up as participants raced in the shadows of Glacier National Park on Saturday, May 21. While the event attracted participants from more than 40 states and five countries, local runners benefited from training in the hills and valleys of northwest Montana. All events were won by runners living in or near the Whitefish area, and Montanans broke the half marathon course records.
The event, owned by The Wave and managed by CRRG Events, includes a full marathon distance as well as a half marathon and 5K event. For the first time in its 15-year history, the Whitefish Marathon offered a cash purse to the top finishers of the full marathon and half marathon thanks to the support of Hammer Nutrition. The race presented podium finishers a $2,000 purse for the full marathon and a $1,400 purse for the half marathon.
Overall winners include:
Male – Paden Alexander, 2:45:54, Ronan, Mont.
Female – Kaitlyn McNamara, 3:06:16, Whitefish
Male – Drew Coco, 1:11:06, Whitefish*
Female – Elizabeth Wasserman, 1:23:23, Columbia Falls, Mont.*
Male – Lane Hovey, 19:12, Whitefish
Female – Kari Eberline, 20:30, Kalispell, Mont.
*Indicates course record
As one of the fastest growing events in Montana, registration numbers doubled in 2021 compared to the previous record. The event continued its strong rise in popularity in 2022 with an increase in full marathon finishers.
"We're thrilled with yet another year of growth for the Whitefish Marathon," said Art Krueger, executive director of The Wave. "With Hammer Nutrition's increased support, we're really able to bring the event to another level and hope to keep this momentum going for 2023 and beyond."
The Whitefish Marathon started as a trail marathon in 2008, originally named the Two Bear Marathon. In 2017, the date shifted from September to May, and the course moved to paved streets as a Boston-qualifier event. The Whitefish Marathon is now supported by The Wave Aquatic and Fitness Center, and proceeds from the event benefit The Wave's scholarship fund.
The 16th annual Whitefish Marathon Presented by Hammer will take place on Saturday, May 20, 2023. Registration is now open. For more information and event registration, please visit WhitefishMarathon.com.
###
About CRRG Events:
CRRG Events is an event management and production company with more than 20 years of producing successful running events. Based in Carmel, Indiana, CRRG Events has staged and managed events across 11 states ranging from a 1-mile football halftime race to ultramarathons. For more information, please visit CarmelRoadRacingGroup.com.
Contact: Kim Jackson
317-498-4343