Lizard Skins Re-Launches Old Favorite: The Lever Grip
April 21, 2022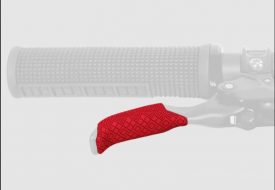 Over 20 years ago the groundbreaking product offered no-slip, better control; now it's back and better than ever
American Fork, Utah (March 21, 2022)/ENDURANCE SPORTSWIRE/ – Lizard Skins, long renowned for focusing on rider contact points and protecting your bike, has just reintroduced one of their earliest products: a new take on an old favorite, now called the DSP Lever Grip. Plus it's considerably improved from the original, which were made from Neoprene; the new lever grip uses Lizard Skins' proven Dura Soft Polymer (DSP), which provides even more reliable grip and control on brake levers.
The DSP material is long renowned for its no-slip, super-grip performance on the brand's handlebar tape and is ubiquitous on Major League Baseball bats and National Hockey League sticks, and is gaining wider use on lacrosse sticks and even gaming controls – basically wherever a hand relies on secure, reliable grip on an implement.
Thanks to the new material, the DSP Lever Grip offers – and improves upon – all the same advantages as the original: easy fitment, slip resistance, universal fit, and better feel and control under braking.
Lizard Skins' DSP Lever Grip is offered in three colors: Platinum Grey, Jet Black and Crimson Red. And each pack comes with four lever grips, so you'll have a spare set when you need it.
"We have been using our DSP technology for years across multiple sports, and in various thicknesses, so it seemed logical we'd use it to improve a rider's grip while braking," says Ryan Huntington, Lizard Skins' Sales and Marketing Director.
"I remember coming out with the original neoprene version, and people liked the added feel and texture. Now I see more people riding gloveless, so I felt the time was right to bring back this classic Lizard Skins product, but using our tried and tested DSP technology which improves the rider's grip of the brake lever," adds Brian Fruit, Founder and President. " As a company of riders, we are constantly looking for the next area, no matter how big or small, that Lizard Skins can improve the rider's experience on being on their bike."
Product Details:
MSRP: $12.99
Available in 3 colors: Jet Black, Crimson Red, Platinum Grey
2 sets of lever grips included
Slip-resistant & comfortable
Multi-textured grip
Optimized feel & control
Universal fit for most brake levers
Easy to install
DSP Lever Grip images link.
For more information on this and any Lizard Skins product, please feel free to reach out to:
For media: nic@simbolpr.com
For dealers: ryan@lizardskins.com
About Lizard Skins:
Since 1993 Lizard Skins has created products to meet the needs of athletes around the world. From its humble beginnings developing a Neoprene chainstay protector to their class-leading DSP products used in cycling, baseball, hockey, and lacrosse, Lizard Skins has stood behind their beliefs to make better products that increase the athlete's performance and enjoyment of their sport. Lizard Skins is proud to be the recipient of the Mountain West Capital Network Utah 100 fastest-growing companies for the last three years.