Live tracking comes to the Buck Fifty
March 31, 2023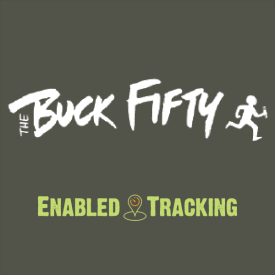 Front Royal, Va. /ENDURANCE SPORTSWIRE/ – The Buck Fifty, a popular 150-mile overnight relay race based out of Chillicothe, Ohio, is gearing up for their 2023 event on April 21-22. To help enhance the experience for participants and event directors alike, the Buck Fifty has partnered with Enabled Tracking, a real-time GPS timing and tracking service provided by Adventure Enablers.
The Buck Fifty is a unique relay race that takes runners on a scenic and challenging journey through Southern Ohio. According to the event website, participants will "travel through several communities, run trails in 4 amazing National and State Parks and across several school campuses." The race also features some intense hill climbs that are sure to test runners' endurance and strength. With over 150 miles of beautiful terrain to cover, the Buck Fifty is a true test of stamina and teamwork.
To make the relay race experience even better, the Buck Fifty has teamed up with Enabled Tracking to provide real-time tracking of participants during the event. Enabled Tracking will supply all the trackers needed to locate and track participants along the race course, as well as a tracking portal that displays split times, integrate social media, and showcases sponsors. The trackers are designed to be easy to use, with preconfigured devices shipped to event organizers so that they can be handed out to runners at the start of the event.
Lead tracker Mark Harris of Enabled Tracking explained, "Over the past few years we have started to track more and more long distance relay races. Our trackers are the perfect baton for runners to hand off and for event directors to see exactly where participants are on the course. For the relay teams, it provides a great tool for them to see how to work out their team logistics of when and where runner swaps need to be made."
To learn more about the Buck Fifty relay race and to register for the event, visit their website at https://www.thebuckfifty.com. For more information about Enabled Tracking and their real-time GPS tracking services, email info@enabledtracking.com.
Adventure Enablers, a woman-owned small business headquartered in Front Royal, Virginia, has over a decade of event experience and complementary equipment and logistics skills. The Adventure Enablers team partners with race directors, charities, property owners, businesses, cities, and states to bring high-quality and fun endurance events that enable goal achievement and adventure. Enabled Tracking is the timing and tracking wing of Adventure Enablers, providing real-time GPS timing and tracking services for endurance events.