Live this Sunday: 11th GFNY World Championship NYC
May 18, 2023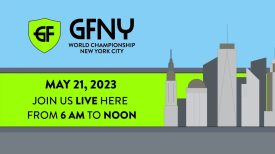 A live broadcast of the GFNY World Championship NYC will be available globally for free in English and Spanish this Sunday May 21 on GFNY.COM
NEW YORK CITY, May 18, 2023 /ENDURANCE SPORTSWIRE/ – The 11th GFNY World Championship NYC will be broadcast live on Sunday May 21 from 6am ET until noon on GFNY.COM, Youtube and Facebook.
Thousands of riders including pros and amateurs alike fight for the GFNY World Championship crown on the 85.1 mile course with 6371 feet of climbing from NYC's George Washington Bridge and back.
The English broadcast will be commentated by local racing insider Dan Schmalz and GFNY expert Chris Geiser. The Spanish broadcast will be hosted by the Urrego brothers Hector and Sergio. The Colombians have reported from the race for many years for Colombia's largest cycling website.
But the show will also be interactive as fans can comment on Youtube and Facebook. The live broadcast assistants will relay questions coming in to the commentators. Additional race info will come from the Race Director car.
"We've been live broadcasting the race since 2016 when live posting became available on Facebook," said GFNY CEO Uli Fluhme and NYC Race Director. "What started with holding a cell phone out of the lead car and narrating the whole thing right there, has turned into a professional looking and sounding experience."
"What has remained since the early days is the contact with the fans and our ability to interact with them. Compliments like 'The Giro is on but I am watching you guys – so much better!' confirmed that we are on the right path for what a modern live broadcast should look and feel like."
Four moto cameras capture the race action at the front of the male and the female race. The fixed cameras are pointing at the commentators and the finish line.
Watch live on GFNY.COM Sunday May 21, 2023.
About GFNY Global Endurance Sports Series
GFNY Global Endurance Sports Series is a sports event company with three decades of experience in racing, planning and organizing events. The global endurance sports brand hosts multiple events throughout the year around the world on five continents.
Working with partners around the world to deliver a first-class experience, GFNY Global Endurance Sports Series puts its athletes first.
Cycling
30-plus events held around the world. View the latest calendar here
Riders get to BE A PRO FOR A DAY ® by competing against others, themselves and the clock in a personal endurance challenge.
Top 10% (20% at regional championships) of finishers in each age group qualify for the Elite Qualifier Corral at every GFNY World event.
Further Material for Media Use
Official GFNY World Championship NYC video: here
GFNY Press Images: here
GFNY Results: here
GFNY World calendar graphic: here
Previous GFNY press releases: here
Media Contact
Gran Fondo New York Inc.
Uli Fluhme, uli@gfny.com
Caroline Lindsay, caroline@gfny.com