LIVALL launch the PikaBoost – for seamless and effective e-bike conversion
November 3, 2022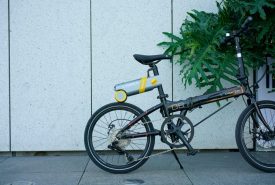 Creative cycling manufacturers, LIVALL, launch the revolutionary PikaBoost, an attachable converter, which promises to transform any bike into an e-bike in under 30 seconds
3rd November 2022, 2pm GMT, UK /ENDURANCE SPORTSWIRE/ – LIVALL, the team behind the world's first smart cycling helmet, have expanded their smart cycle technology into the fast-growing e-bike market. The PikaBoost easily attaches to most bike categories and brands, transforming any bike into an e-bike in under 30 seconds. The tool-free piece of equipment is easily placed onto the bike without impacting the current bike set-up or performance, and offers the addition of up to 250W of power, alongside a host of innovative riding features.
The PikaBoost offers complete riding flexibility and versatility for all levels of cyclist, with three different modes available for selection; Cruise, Roll and Exercise.
Once on the move, Cruise mode offers the equivalent to 'cruise control' – and will automatically maintain bike speed, even when the rider is not pedalling. Roll is there to offer assistance up hills making an incline a little less daunting, ideal for individuals that are building their fitness or not wanting to work themselves quite so hard. Exercise mode offers cyclists the opportunity to increase the resistance when out on a ride, which means that they have control on how hard they want to work, and can adapt their ride according to how good they are feeling. These can all be easily navigated via the easy-to-use PikaBoost app.
Safety is also a key consideration in the PikaBoost product design. An auto-sensing, two-mode rear light offers a regular rear light for safety when riding in the dark, or when ' auto' mode is selected, is able to detect a decrease in speed, acting as a natural brake light. Another important feature of the PikaBoost is that the e-brake automatically stops when an angle of 45 degrees declination is detected, and it's entirely waterproof, making it a durable option for all weather conditions.
The PikaBoost is also a regenerative product that is charged only through pedal action, making it an environmental and cost effective option for those that like to keep an eye on their carbon footprint.
Hudong He, PikaBoost product designer, says, "PikaBoost has been designed to help reduce people's dependence on their car, and to promote better levels of physical activity, along with the reduction of accompanying carbon emissions. It is a great option for those who might be new to cycling, or building their fitness levels – helping to make cycling much more accessible for all."
Hudong He continues, "being so easy to use means that it is a very convenient addition to any bike, and the added safety features mean that the rider can also feel safer on the road than ever before. We're really excited about our new launch, and are very much looking forward to hearing feedback from our early customers."
For more information on PikaBoost, please visit https://www.livall-pikaboost.com/pikaboost/index.html.
The team's Kickstarter campaign also starts on Thursday 3rd November 2022, and can be found via https://www.kickstarter.com/projects/566671869/livall-pikaboost.
———————————————————-ENDS——————————————————————-
CONTACT
Kate Allan
+447754 072648
EDITOR'S NOTES
LIVALL was established in 2014, and the team released the world's first smart sports cycling helmet in February 2015. This full-feature helmet was equipped with a host of smart features which make the rider safer while cycling; with features including smart safety lighting, turn-signals, Bluetooth hands-free phone calls, Walkie-Talkie, music playback through your smartphone connection and SOS Alert function. Notably, LIVALL was the first brand to announce and apply turn signals and accident SOS alert, and these important innovations were made 2 to 3 years before any other brand in the world.
Currently, LIVALL is expanding its product range from smart cycling helmets, smart commuter helmets and smart ski helmets, to smart helmets for e-Bikes, e-scooters and electric motorcycles.
LIVALL applied and got the 180+ global and domestic patents, 58 of which are product invention patents, along with 50 industrial recognized international awards. Notably, it won the ISPO Award's highest honour (the ISPO global design Award – product of the year Award) in 2018.
All of LIVALL's products have passed strict technical and safety certification for users, establishing unparalleled consumer confidence in the products available.
LIVALL, Redefine your Safety!