Listen Live Race Broadcast Sponsored by BlueHalo to Air Women's and Men's Pro/Am Races Saturday and Sunday, June 4-5, 2022
May 31, 2022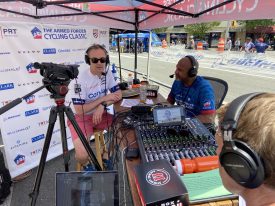 Arlington, Va. – Arlington Sports, the promoting organization of the DC region's premier cycling event announces the continued partnership by BlueHalo for this year's Listen Live audio broadcast. The Armed Forces Cycling Classic, proudly brought to you by The Boeing Company, returns to Arlington, Va., on June 4-5, 2022, now in its 24th year. Listen to the live action of the Women's and Men's Pro/Am races for free on CyclingClassic.org.
This year's broadcast will have renown bike race presenter Brad Sohner providing race updates throughout the Men's and Women's Pro/Am races. He will be joined by veteran team director, former pro cyclist and National Champion Michael Engelman. Together, they will be reporting course-side with race action updates and interviews.
The live broadcast will begin Saturday June 4th at 11am to cover the Crystal Cup. On Sunday, June 5th the broadcast will begin at 9:45am, covering the Clarendon Cup. Coverage will conclude after the awards ceremony each day. To Listen to the broadcast, visit www.CyclingClassic.org and select the Listen Live link!
# # #
Arlington Sports, Inc. (ASI) is a Washington, D.C.-based 501(c)3 non-profit organization dedicated to the promotion and development of professional and amateur bike racing. For additional information on the Armed Forces Cycling Classic and other ASI events, please visit arlingtonsports.org.
Blue Halo is purpose-built to provide industry-leading capabilities in the domains of Space Superiority, Space Technology, Directed Energy/Counter-Unmanned Aircraft Systems (c-UAS), Autonomy, Advanced Radio Frequency (RF), Cyber, and Signals Intelligence (SIGINT). BlueHalo focuses on inspired engineering to develop, transition, and field next-generation capabilities to solve the most complex challenges of our customers' critical missions and reestablish our national security posture in the near-peer contested arena. www.bluehalo.com
Contact: Arlington Sports, Inc.
202-966-0346