Life Time Announces 2023 Life Time Grand Prix presented by Mazda Race Series Athletes
December 15, 2022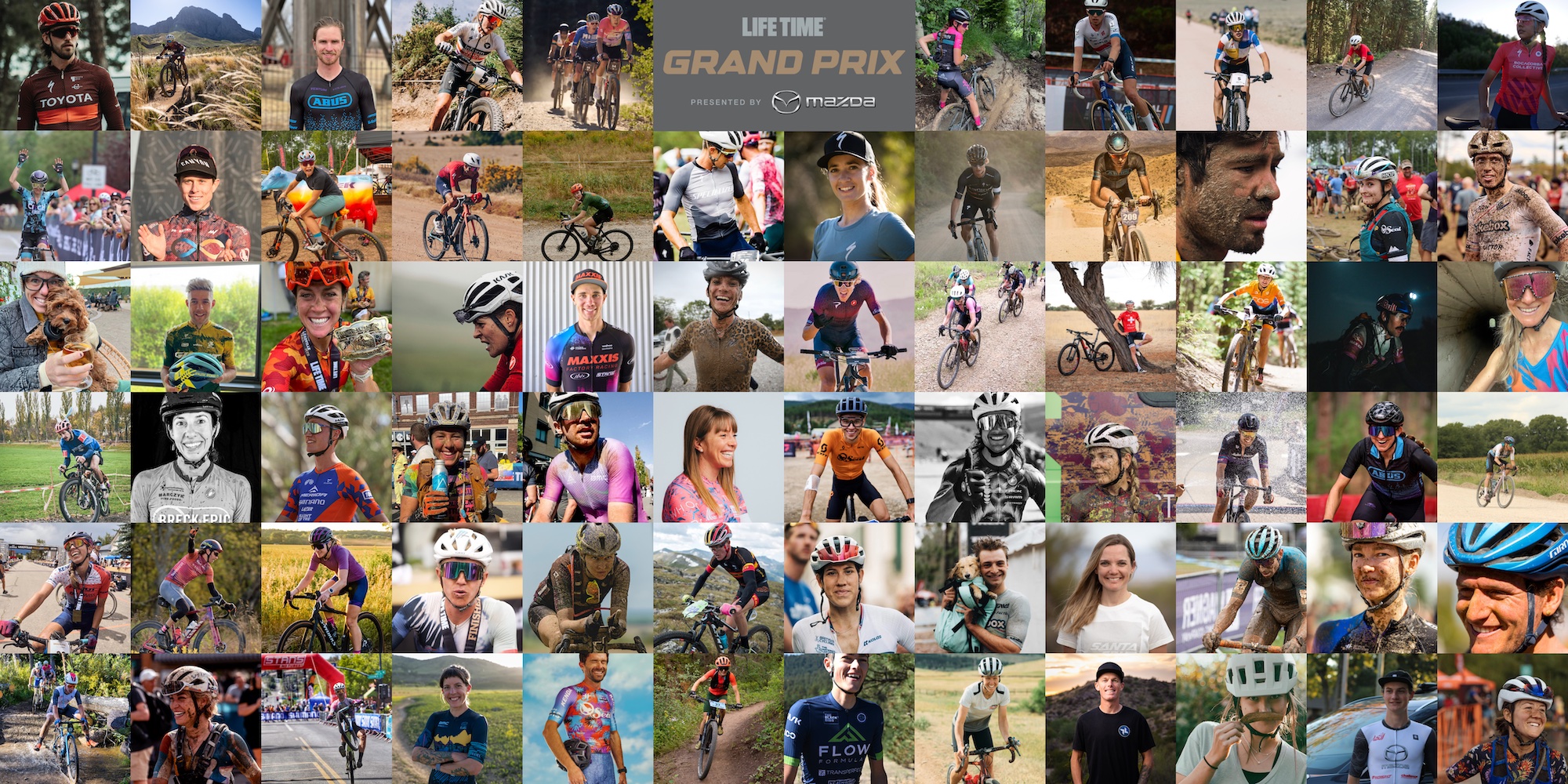 70 elite off-road athletes participating in series' second year
BOULDER, Colo., Dec. 15, 2022 /ENDURANCE SPORTSWIRE/ – Life Time (NYSE: LTH), owner and producer of more than 30 renowned athletic events across the nation and the nation's premier healthy lifestyle brand and event producer, today announced the 70 athletes who have been selected to compete in the 2023 Life Time Grand Prix presented by Mazda series. This year's series will include seven events including Garmin Unbound Gravel presented by Craft Sportswear, the Stages Cycling Leadville Trail 100 MTB, Life Time Big Sugar Gravel presented by Mazda, as well as a seventh 'Wild Card' event that will be announced on January 11. The field size has been expanded for 2023, with 35 women and 35 men competing for a $250,000, equally-split prize purse.
Life Time Grand Prix presented by Mazda: Elite Women
Crystal Anthony, 42, Bentonville, Ark., "In 2022, competing in the Life Time Grand Prix provided challenge, growth, and adventure…the series is definitely the premier series in the US, and as someone who wants to compete with the best, this is where I want to be!"
Ella Bloor, 27, Kingston, Australia, "Cycling is Life! Well, my life at least. I have a strong sense of determination and commitment to live true to my core values, including courage and adventure, and cycling has been one of the biggest gifts in my life to guide me closer to these values."
Chelsea Bolton, 33, Park City, Utah,"I love riding and racing in off-road events, and I am grateful that Life Time has provided so many opportunities for so many athletes in the off-road racing scene!"
Ellen Campbell, 25, Durango, Colo., "The cycling world is growing and evolving in many ways and the Grand Prix has changed the game for endurance cycling which I was lucky enough to experience in 2022. I see how this series has transformed the cycling community to step it up a notch."
Catherine Colyn, 26, Paarl, South Africa, "I am a Professional Cyclist from South Africa. It would be amazing to be given the opportunity to be able to race against some of the best female cyclists in the USA. I have raced on the road in the States in 2019 and in Europe and I have also raced on the mountain bike but for me nothing compares to how racing on gravel brings my soul alive."
Lauren De Crescenzo, Atlanta, Colo., 32, "I'm ready to compete in North America's premiere off-road series! I wasn't ready in 2022, but I've put in the work by MTBing 3x per week and racing cyclocross for the first time ever this off season. I'm ready to take on 2023 and go for the overall in the series."
Rebecca Fahringer, 33, Bend, Ore., "How many times can I say "redemption" before I realize I am a broken, washed up lifestyle athlete? I entered the Grand Prix last year…and I'm glad I stuck it out because I 1) maybe found the spirit of gravel while riding around not at the pointy end and 2) I realized that to race well I need to want to fight, and though I currently don't have it, I want to get that fight back so badly."
Maude Farrell, 31, Redwood City, Cali., "Finishing 11th this past year has also ignited a fire in me to try again with perhaps a different context for the 2023 season, to test my limits and do what I can to break into the top 10. I had mostly a rough, difficult, and not awesome season so the question I want to answer is – if things were a bit different, would my result have been even better? I think the answer is yes."
Sofia Gomez Villafane, 28, Heber City, Utah, "To give it another go. Be more consistent"
Emma Grant, 31, Reading, England, "I see the Grand Prix as an incredible opportunity to evolve as an athlete and ultimately as a person. The broad range of events and unique skill sets they require appeal as a challenge to up my game. I want to compete with the best and rise to the occasion."
Isabella Hyser, 19, Huntsville, Ala., "I want to be a part of the Life Time Grand Prix because it is a race series like no other. It combines all of my favorite things about bike racing, community, camaraderie, and passion for sport."
Heather Jackson, 38, Bend, Ore., "I want to race these iconic off-road events against some of the best women in the world! I absolutely loved the Series racing format and following the movement of all the riders this past year versus just individual results at all of the races."
Isabel King, 32, Los Angeles, Cali., "I participated in the first inaugural LTGP and it was an incredible learning experience. I want to be part of the 2023 GP because I want to take what I learned this year and improve on my results…I want to show people that you can be fast and also be friendly."
Caroline Mani, 35, Besancon, France, "I'm excited for a new challenge in my career. It will be a great opportunity to learn more about myself and push my own limits. I really love the format of the series and how people are excited about it."
Holly Mathews, 34, Longmont, Colo., "While I feel that through coaching, sponsorship and mentoring younger athletes, I have had a meaningful impact, I believe that being a part of the Life Time Series will inspire *me* to expand my reach and be a larger part of creating an environment in cycling that is welcoming, inclusive and, most of all, fun for everyone."
Sarah Max, 47, Bend, Ore., "I'm interested in the challenge of trying to do well at seven premiere races; the comradery of being part of this unique and diverse group of athletes; and the opportunity to be inspired and inspire other athletes who, like me, don't fit the typical mold of pro cyclist."
Deanna Mayles, 29, Colorado Springs, Colo., "The Grand Prix series is an exciting multi-discipline adventure race series and I want to compete with the best off-road endurance cyclists in the US. I believe I am one of them and I want to prove it by being a part of the Life Time Grand Prix."
Julie Momber, 35, Grand Rapids, Mich., "I want to be a part of the highest level of female competition in off road racing!"
Jessica Mullins, 44, Littleton, Colo., "I bring diversity to the Life Time Grand Prix as a 44-year-old mom who got into mountain biking in her thirties. Maybe not your typical athlete for this event, but I am someone that can inspire so many women (And I do have good race results and endurance experience to back me up!)."
Angela Naeth, 40, Brewster, Mass., "One of my goals for last year's Grand Prix participation was to help introduce and bring triathletes, especially female triathletes, over into the world of gravel. I have seen, felt, and directly experienced this momentum, and would love the opportunity to further it. I have drunk the "Kool-Aid" of off-road cycling. I love the challenge of off-road racing, the community and the simple joy of racing with so many others, particularly the world's best!"
Emily Newsom, 39, Fort Worth, Texas, "I participated in the 2022 Life Time Grand Prix and through it, discovered my love for off-road racing. The unique format the Grand Prix provided kept the racing exciting and motivating throughout the year, as well as giving me opportunities to make new friends and see some awesome places."
Raylyn Nuss, 31, St. Louis, Mo., "After following this past season, I became interested in the format and the skill set required to win the overall. I think the most well rounded cyclist comes out on top. I'm excited for the chance to be a part of the premiere gravel series in the world, and embrace the culture of gravel."
Paige Onweller, 33, Grand Rapids, Mich., "I want to return for year #2 of the LTGP because I respect this series and the depth of competitiveness it brings to the women's pro field. The series has given me an incredible opportunity in 2022 to showcase what I was capable of despite being new, so I want to continue to improve my performance as I learn."
Hannah Otto, 26, Millcreek, Utah, "I believe that the Life Time Grand Prix is elevating cycling in North America and I want to be a part of that growth. One of my goals in cycling is to stand on start lines that challenge me to be a better racer and a better human being and after the 2022 season of the Life Time Grand Prix, I can definitely say that this series fulfills those goals."
Jenna Rinehart, 38, Mankato, Minn., "I want to participate in the Life Time Grand Prix to inspire other riders in the Upper Midwest that they too can compete at the highest level. Life Time has done a great job of bringing attention to how awesome the Midwest cycling scene is. I want to show that you don't need to live in the mountains and that we have some really awesome trails, roads, and riders in unexpected places."
Hannah Shell, 31, Longmont, Colo., "I want to participate in the Life Time Grand Prix in 2023 to test my personal growth and have another chance to compete at the highest level. The LifeTime Grand Prix in 2022 elevated the gravel and off-road racing scene, bringing in the best racers across all disciplines to one series of events. Participating in the Grand Prix gave me the motivation I needed to push fear aside and keep moving forward."
Danielle Shrosbree, 28, London, England, "Women's cycling has grown massively over the last few years. With the UK gravel scene only just getting started I think by spreading the work through my profile and sponsors of the Life Time events this could only contribute more to the growth."
Alexis Skarda, 33, Grand Junction, Colo., "I had a lot of fun with the challenging events last year. I'd like to make some improvements with the experience I have now to push myself even further. I like how the Life Time Grand Prix brings athletes from many cycling disciplines together to form a new inclusive culture and community of athletes. It's really exciting for all the participants to race together and get to have the shared experience of the challenge and triumph of such amazing races and locations."
Haley Smith, 29, Waterloo, Quebec, "I believe this style of event is the future of the sport. It's refreshing and motivating to be part of an event style that is focused on mass participation and getting more people involved at all levels of ability. I very much think pros have a role to play in this equation, and part of my purpose is to inspire people of all abilities to take up bike riding. These events accomplish just that!"
Sarah Sturm, 32, Durango, Colo., "Bring on dirt, bring on endurance, bring on 7 races! I feel like I learned a lot racing this season and I am excited to carry that over to next year too. I am hoping to get to be a part of the "traveling circus" again, it was really exciting to be a part of an off-road series for the year, people were stoked to follow and it was a huge learning for me as an athlete."
Starla Teddergreen, 43, Longmont, Colo., "I want another crack at it, I was selected this season but had to withdraw. The 2023 season is a new opportunity to see what I can accomplish as an athlete with a new set of unknown limitations."
Caroline Tory, 32, Snowmass, Colo., "I want to be part of the LTGP for three reasons: the opportunity, the races and the community. I was fortunate to race with some of the LTGP athletes in 2022 and every time I walked away thinking, "I'd love to spend more time with these rad women. Being a part of the LTGP is a chance to learn from and contribute to that community and the growth of women's cycling."
Leah Van der Linden, 28, Boulder, Colo., "I want to be part of the Life Time Grand Prix as it will give me the chance to get my feet wet and muddy "literally" in 7 world class off-road events, competing against some of the best in the world. I love the path less traveled, always have, and can't wait to give it everything I can next season!"
Ruth Winder, 29, Nederland, Colo.,"I want to try to win these races! I was a participant last year and still did fairly well. This year I want to come back with more hunger for results! Bike racing has been my life for so long and I thought when I stopped racing in Europe that it would be the end for me, but this series and the excitement around it has made it possible for me to continue doing this and it blows my mind. "
Anna Yamauchi, 22, Truckee, Cali., "To be honest, I still feel like I have imposter syndrome. I have results to prove my abilities and even more to represent the potential I hold. The Life Time Grand Prix is the best proving ground possible. I believe I am representative of the wider outdoor sports world beyond cycling, and can relate to people in those communities as they take on bike racing for the first time."
Life Time Grand Prix presented by Mazda: Elite Men
Matthew Beers, 28, Cape Town, South Africa, "I think I can show that racing in Europe isn't the only way for South Africans to show their strength. And showing that gravel is becoming a viable option for riders in the future."
John Bortselmann, 31, Lincoln, Neb., "I still believe my experience and fitness are at a level to put me in contention for the overall Grand Prix podium."
Robert Britton, 38, Victoria, British Columbia, "The previous season helped to confirm the choice I made to leave road racing behind and really helped to regain the hunger to train and hustle again."
Eric Brunner, 24, Boulder, Colo., "I am most proud of my integrity and perseverance in the 2021 Crusher in the Tushar. Tushar was one of the hardest races I've ever done, and I finished it absolutely shattered."
Zach Calton, 25, Ogden, Utah, "I am a pure competitor and I plan to compete as hard as I can at the front of the race. I spend my time, money, and energy being the best athlete I can be and I want to show that."
Griffin Easter, 31, Park City, Utah, "I want to be part of the Life Time Grand Prix in order to both compete at the highest level of US Off-Road racing as well as represent OpiCure Foundation and showcase the recovery tool the bicycle can be for individuals struggling with opioid use disorder."
Russell Finsterwald, 31, Colorado Springs, Colo., "I want to be a part of the Life Time Grand Prix because it's where you currently find the highest level of competition in the US."
Howard Grotts, 29, Durango, Colo., "My proudest result would probably be the Cape Epic overall win with Jaroslav Kulhavy, but I'm also proud of my Leadville performances and also XCO National Titles."
Lance Haidet, 24, San Luis Obispo, Calif., "I want to be involved in a series that brings out the passion for cycling within each athlete, and I believe the multidisciplinary nature of the Grand Prix accomplishes this."
Alex Howes, 34, Nederland, Colo., "I have unfinished business at the Life Time GP. Last year was a mess with hard crashes, long Covid, multiple illnesses and far too many last minute trips across the Atlantic for team requests."
Dylan Johnson, 27, Brevard, NC, "Since my first participation, Unbound has been on my list for races I'd like to win one day. The likelihood of that happening seems to get smaller every year as the competition just continues to climb but regardless I won't stop trying."
Brendan Johnston, 31, Canberra, Australia, "As an Australian, most sports in the US are seen as bigger and better, and this is how I see the Life Time Grand Prix and all the events it encompasses."
Andrew L'Esperance, 31, Halifax, Nova Scotia, "The balance of community and competition at these events really resonated with me."
Bradyn Lange, 23, Mendocino, Calif., "My win at Chequamegon was a career altering performance for me. Being the youngest in the Grand Prix, I never expected to win a stage, or even podium."
Taylor Lideen, 33, Bentonville, Ark., "Growth in the US cycling community means being inclusive and humble, yet fiercely competitive."
Konny Looser, 33, Hinwil, Switzerland, "As an international athlete, I like to see the growth in the cycling market in a very positive way. Cycling connects people and it is also good for the environment if more people start to cycle and skip the cars, etc. Cycling creates nice communities!"
Payson McElveen, 29, Durango, Colo., "As many of the top US events begin to reach capacity attendance-wise, I believe the next step is effective storytelling via various media channels that can grow awareness of these events and the athletes that do them."
Lachlan Morton, 30, Boulder, Colo., "I'll come ready this time."
Tasman Nankervis, 27, Bendigo, Australia, "For myself coming from Australia it means opportunity. Opportunity for the athletes like myself who don't fit the XCO World Cup or the Road World Tour constraints and who finds more enjoyment competing where the people are, in mass participation events."
Logan Owen, 27, Bremerton, Wash., "Connections are what fans of bicycle racing want, that's how its fandom will grow. Encouraging young new racers to focus on the fun and the challenge is paramount to developing new fans for the next generation."
Cole Paton, 25, Cashmere, Wash., "The mixture of events and accumulation of overall points keeps me motivated and excited for the entire season of racing."
Kiel ​​Reijnen, 35, Bainbridge Island, Wash., "We want to create new fans and harden the resolve of existing fans to continue supporting and enjoying the sport."
Adam Roberge, 25, Prevost, Quebec, "Cycling is one of the most accessible sports, and seeing it grow, especially on the gravel side, is amazing."
Nathan Spratt, 27, Salt Lake City, Utah, "I would love to compete at the highest level of gravel racing while showing that you don't have to quit your "day job" to race with the best."
Peter Stetina, 35, Santa Rosa, Calif., "I take a more balanced life approach that can hopefully be relatable while still challenging for the win."
Keegan Swenson, 28, Heber City, Utah, "I like to encourage people to try new disciplines of cycling and show them that you can have fun on any sort of bicycle in almost any location."
Kyle Trudeau, 29, Tucson, Ariz., "I am constantly looking for ways to push myself physically and mentally and there is no better place to do it than the Life Time Grand Prix."
Alexey Vermeulen, 28, Boulder, Colo., "My goal is to be a role model of what it means to be a professional on and off the bike and have that inspire and motivate people to find the cycling bug."
Kerry Werner, 31, Vinton, Va., "It's about riding and showing people how bikes can be integrated into any lifestyle and provide joy, as well as an outlet for stress relief and creativity."
Brennan Wertz, 25, Mill Valley, Calif., "I see this as a really great opportunity to show people what is possible, regardless of who you are. I am 6′ 5″, 190-205 lbs, and don't look like what most people picture when imagining what a pro cyclist looks like. I have been able to make a career out of this sport, with my physique being what it is."
Innokenty Zavyalov, 31, Minneapolis, Minn., "I am a first generation immigrant in the United States, I travel full time in a Sprinter van going race to race, I became an athlete later in life. I was never a world tour rider, never a national champion, yet I have found success in off road racing."
Tobin Ortenblad, 28, Santa Cruz, Calif., "In this past year's Sea Otter Classic Fuego I finished 4th. It is the hardest I've ever fought for a result. It was definitely a mountain bike race, but it was also very tactical."
Ryan Standish, 29, South Salt Lake, Utah, "Through my off-bike personality and positivity towards life, I can help share the stoke for riding bikes and keeping it fun and light hearted. This, combined with raising awareness and funds for Multiple Sclerosis (and sharing my dad's story with the disease) and being more involved with the National MS Society, I want to help others affected by the disease get involved with cycling and adaptive options within the sport as well."
Jack Odron, 20, Denver, Colo., "I also want to get young people excited about ultra distance races. There's room for the next generation on this side of the sport!"
Ian Lopez De San Roman, 19, Sebastopol, Calif., "I turned down a spot to race in Europe on the road to pursue gravel. I could have been one of the many other kids in the euro talent pool fighting for a shot at a world tour contract. But instead, I chose to stay and ride the gravel wave."
2023 Life Time Grand Prix presented by Mazda Event Lineup:
"After an overwhelming success with the inaugural 2022 Life Time Grand Prix, our team is stoked to be back in 2023," said Kimo Seymour, President of Life Time Events. "Thanks to guidance and input from our athletes, sponsors, communities and team members, we've implemented changes to the series as we strive to bring more fans to the sport of professional cycling in North America. We are all looking forward to 2023 and beyond!"
With the series expanding to seven races, athletes will have the option to drop up to two events versus just one last year. Additionally, entry fees will be covered by Life Time and doping controls will also be expanded to include more races and athletes.
The $250,000 prize purse will pay out ten-deep based on overall series results, which are determined by a points-based ranking system. First place will earn $25,000, second place will earn $20,000, third place will receive $16,000, and so forth. Three events—Crusher in the Tushar, Chequamegon MTB Festival, Sea Otter Classic—offer individual event purses, which Life Time Grand Prix athletes are also eligible for.
Athletes will be ranked against other Life Time Grand Prix competitors by points received based on their finishing position at each event. Similar to the 2022 series, the first athlete will earn 35 points, second, 34; third, 33; and so forth. The overall results will use an athlete's best five finishes out of the seven events. The final event of the series, Big Sugar Gravel, will be mandatory for all riders and will serve as a tiebreaker in the event of a tie.
To learn more about the Life Time Grand Prix presented by Mazda, visit lifetimegrandprix.com and follow along on social media. To learn more about Life Time, visit lifetime.life.
Instagram: @lifetimegrandprix
Twitter: @LTGrandPrix
Facebook: @LifeTimeGrandPrix
About the Life Time Grand Prix Presented by Mazda
The Life Time Grand Prix presented by Mazda is owned and produced by Life Time, the premier healthy lifestyle brand. It is among more than 30 premier athletic events owned by the company including the Verizon New York City Triathlon, Chicago Triathlon and Life Time Miami Marathon. To view all athletic events, visit: lifetime.life/athletic-events.
About Life Time®
Life Time (NYSE: LTH) empowers people to live healthy, happy lives through its portfolio of nearly 160 athletic country clubs across the United States and Canada. The company's healthy way of life communities and ecosystem address all aspects of healthy living, healthy aging, and healthy entertainment for people 90 days to 90+ years old. Supported by a team of more than 30,000 dedicated professionals, Life Time is committed to providing the best programs and experiences through its clubs, iconic athletic events, and comprehensive digital platform.
# # #
Media Contacts:
Alexa McRoberts | alexa@verde.com | 717.808.9653