LEOMO Launches Running Performance Clinic in U.S.
September 14, 2021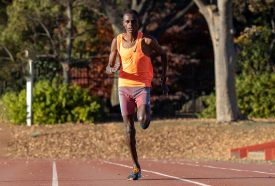 Runners can evolve to run with optimal form based on scientific data
Boulder, CO (September 14, 2021) — LEOMO Inc., a company that helps runners and triathletes of all levels improve their technique and form with products and direct-to-customer services that enable faster, stronger, more efficient, injury-free running, has launched its Running Performance Clinic service in the U.S.
In most running form analysis services available at retail stores and training centers, visual observations are typically made with a runner on a treadmill followed by vague feedback based on indistinguishable images from slow-motion video playback. However, a runner's form on a treadmill can look vastly different than it does running outside on a road or track.
In contrast, LEOMO has developed four Running Performance Clinic courses that provide athletes and coaches with precise, data-informed running form analysis and expert feedback for running gait improvement. It's an easy-to-engage remote service that all levels of runners and triathletes can use to enhance their training, increase their running economy, improve their racing performance and reduce discomfort and pain from common overuse injuries.
Utilizing its advanced wearable motion analysis technology, LEOMO has accumulated extensive running form expertise by conducting numerous data acquisition sessions with elite athletes, coaches and sports scientists in the U.S., Kenya and Japan. After attaching five small, lightweight sensors to their feet, thighs and pelvis, Running Performance Clinic customers undergo a simple running test protocol workout wearing their typical running shoes on a track, path or road where they usually train.
Their specific movement data is collected through various segments of the stride cycle via general metrics, such as landing pattern, ground contact time, stride and vertical oscillation, as well as via LEOMO's proprietary metrics that measure the lateral movement of the pelvis (Smoothness), max thigh swing velocity (Thigh Swing Speed), swing-back angle (Strike Angular Range), the degree of foot strike inclination (Edge Landing), transition from landing to pushing (Heel Pitch) and maximal height of the foot after push off (Recoil Angular Range).
Using the initial feedback they receive as a starting point, runners can work in real-time to improve their form and also engage in long-term development with prescribed drills and strength and conditioning exercises. After their first evaluations via the Running Performance Clinic, runners and triathletes can use the service periodically during a training plan to monitor their progress and improvement.
LEOMO's Running Performance Clinic initially launched in Japan in December and will also launch in Europe in Fall 2021. In addition, LEOMO has begun collaborating with top athletes in Japan, the U.S. and Europe, and plans to deliver their knowledge to more consumers through coaching services and other means.
Running Performance Clinic Courses
The Running Performance Clinic offers four courses that analyze a runner's form and provide guidance to improve specific aspects of their movement patterns to reduce pain, enhance training, increase economy, prepare for competition and achieve race goals.
OVERCOMING PAIN COURSE
Running is more fun if there is no pain! Eliminate running discomfort and pain by knowing the cause and strengthening your form. Understand the weaknesses that cause pain with advanced motion analysis and feedback that will help you improve.
TRAINING BREAKTHROUGH COURSE
Small improvements in your training will have a big impact on your performance! Learn how to break through training plateaus and run efficiently with training that suits you. The feedback from the advanced running form analysis will show you how to overcome bouts of sluggish training so you can consistently get more out of your running and improve your performance.
RUNNING ECONOMY IMPROVEMENT COURSE
Run easier, farther and faster! Learn what optimal running form is by learning and practicing how to move efficiently. Understand the characteristics of efficient movement through advanced motion analysis and feedback that will lower your running economy.
RACE PREPARATION COURSE
Understand problems that can occur in a race and how to take countermeasures for optimal performance. Learn how to counter inefficient movements that can reduce racing performance.
Discover how to eliminate useless movements exposed in an advanced running form analysis and be able to race with optimal results.
PRICING PLANS
More information
For more details about the remote running form analysis service, visit LEOMO's web page that includes an explanation of the process and online registration.
About LEOMO, Inc.
LEOMO, Inc. founded by Kunihiko Kaji and Taizo Son (serial entrepreneur) in 2012, is headquartered in Boulder, CO, with a satellite office in Tokyo, Japan. LEOMO's core business is to sell, design and manufacture devices and related services that contribute to advancements in sports. For more information, log on to www.leomo.io or join the conversation on Facebook, Twitter, YouTube and Instagram
Website: https://www.leomo.io/
Contact: press@leomo.io