Legendary IRONMAN Announcer Mike Reilly Hangs Up the Mic After Making His Final Calls at Nutri Grain IRONMAN New Zealand
December 12, 2022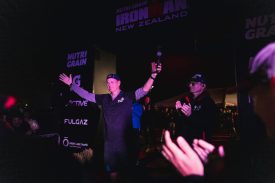 After calling approximately half a million athletes across the finish line, the "Voice of IRONMAN" retires following a career of 33 years and 214 IRONMAN events; Giving back to the IRONMAN community, Reilly and The IRONMAN Foundation auctioning autographed rally towel used by Reilly at IRONMAN finish lines throughout 2022 and finish line tapes from 2022 IRONMAN World Championship events signed by male and female champions; Auction now open through December 16, 2022 by visiting, www.ironmanfoundation.org
TAUPŌ, New Zealand / TAMPA, Fla. (Dec.12, 2022) /ENDURANCE SPORTSWIRE/ – The IRONMAN community has bid an emotional farewell to Mike Reilly, the most famous voice in the sport of triathlon, after a storied career spanning 33 years, 33 IRONMAN World Championship events, and a total of 214 IRONMAN events all over the world. Throughout his career, Reilly's iconic call of 'You are an IRONMAN!' welcomed approximately half a million IRONMAN athletes across the finish line. Acknowledging his importance not only to IRONMAN but also the endurance industry as a whole, Reilly was inducted into the IRONMAN Hall of Fame in 2011, Running USA Hall of Champions in 2017 and USA Triathlon Hall of Fame in 2018.
Reilly, known as the "Voice of IRONMAN", officially hung up his microphone on Saturday, December 10 as the clock struck midnight at the 2022 Nutri-Grain IRONMAN New Zealand triathlon, calling his now iconic four words, 'You are an IRONMAN!' to last finisher Ron Skelton, to the cheers of the hundreds of spectators who stayed up late to be at the finish line to witness the celebration.
Skelton was a last finisher befitting of Reilly's last call, with the 63-year-old himself completing his 35th IRONMAN New Zealand in 16:52:52, just under the 17-hour cut off.
After the 17-hour cut off rolled over on the stroke of midnight, it was time for Reilly to officially call time on his incredible career. Minutes later, Snow Rameka from Māori iwi Tūwharetoa presented Reilly with a special pounamu and iwi members performed a haka in the finish chute as a final show of respect, thanks, and farewell to the man who has given so much to the endurance industry.
IRONMAN New Zealand was the first IRONMAN outside of the United States that Reilly announced, and it is an event he says is one of his favourites in the world.
"I couldn't have written the script any better, the passion and the knowledge of New Zealand for IRONMAN, and the love for it, no other place in the world I think displays that as much as this place, so that's why I wanted to be here," said Reilly.
Reilly is stepping away from his announcing career to spend more time with his family. Though he knows his decision is the right one, he says he's going to miss being at finish lines sharing the camaraderie with his second family; the IRONMAN athletes, supporters, volunteers, and everyone else associated with these events.
"I feel elated, I feel loved, I feel passion and I feel I gave it everything I had for 33 years for the athletes because that's what it's all about. I feel it's time, it's definitely time, because I wanted to make sure that every time I called someone an IRONMAN it was like the first one, and tonight proved that to me," he said.
Throughout his last day on the mic, Reilly spoke about what's kept him going for so many years and why he loves the sport as much today as he did 33 years ago, the people and the challenges they have overcome to make it to an IRONMAN start line.
"I want to say that I've seen it right before my very eyes at finish lines all over the world, that truly 'Anything is Possible,' it's not just three words. People have overcome so much to get to an IRONMAN start line and an IRONMAN finish line, and what I say to you, if you think you can, you will. Do it and watch how your life will change for the rest of your life. I can't wait to see you do it from afar."
Reilly will always be known as the 'Voice of IRONMAN' and for the four words every athlete in the world now hears when they cross an IRONMAN finish line – whether it's their first time, or in the case of 2022 IRONMAN New Zealand last finisher Ron Skelton, 35 times.
"Mike Reilly is a legend, it's so cool to have him here," said Skelton. "Awesome, totally awesome, fulfilment, achievement, I've knocked this thing off as they would say. There were lots of people at the finish this year, bit louder, this is the latest finish I've ever had – five minutes to spare. I'm getting older and it just hurts more but it's still just as good."
Athletes from across New Zealand and all over the world flocked to Taupō to be a part of Reilly's last call. Wendy Parker flew from Victoria, Australia so she could be called home by Reilly one last time.
"It's what I came over here for, when I found out this was his last race it was on my bucket list to do that, it's pretty special. To be honest that's why I came over here. The weather wasn't in the brochure but I'm so excited, so, so excited, I've ticked that off now," said Parker.
In celebration of his career and to give back to the IRONMAN and IRONMAN 70.3 race communities Reilly, along with The IRONMAN Foundation which Reilly serves as an IRONMAN Foundation Captain, is auctioning one-of-a-kind IRONMAN collectibles to benefit race communities around the globe. The auction will showcase a rally towel used by Reilly during his final season as the "Voice of IRONMAN" before his retirement, as well as official finish line tapes from the 2022 VinFast IRONMAN World Championship and Intermountain Healthcare IRONMAN 70.3 World Championship presented by Utah Sports Commission autographed by the top professional men and women finishers.
In the mid-90s, Reilly started waving a rally towel at the IRONMAN World Championship in Kailua-Kona, Hawai`I to energize the crowd as much as possible. "The louder I make it for each finisher in the final hours of their race day, the better," said Reilly.
The rally towel up for auction has been used by Mike Reilly at nearly all of the IRONMAN races he has called for the past ten years; it has "Anything is Possible" inscribed on the front, embroidered with Mike Reilly's signature and will be placed in a shadow box display provided by Fond Memories Graphics. Bidding on these items is open now through 11:59 p.m. ET on December 16, 202 by visiting www.ironmanfoundation.org.
"I've been fortunate to be a part of The IRONMAN Foundation as its Ambassador Captain for the last six years," shared Mike Reilly. "One of the only regrets I have in my career is not getting involved with The IRONMAN Foundation sooner. I'm excited to get to give back to all the amazing IRONMAN and IRONMAN 70.3 race communities around the world that have welcomed me with open arms, by gifting this special rally towel to The IRONMAN Foundation to raise money for the important work they do."
For more information on Mike Reilly, visit www.mikereilly.net.
For more information on Nutri-Grain IRONMAN New Zealand visit www.ironman.com/im-new-zealand. For more information on the auction and The IRONMAN Foundation, visit www.ironmanfoundation.org. For more information on IRONMAN and events in The IRONMAN Group portfolio, visit www.ironman.com. Media inquiries may be directed to press@ironman.com.
###
** Terms and Conditions: Footage and photography is provided courtesy of IRONMAN for news and editorial coverage and is not to be archived. Media may use up to a total of two minutes of video. The B-Roll packages are not provided for the intent of posting the footage in its entirety. Any commercial use or other use of the footage and or photos is strictly prohibited unless a separate written license is obtained from and signed by an authorized representative of IRONMAN. Additional terms and conditions can be found here. Usage of materials constitutes acceptance of terms. **
About The IRONMAN Group
The IRONMAN Group operates a global portfolio of events that includes the IRONMAN® Triathlon Series, the IRONMAN® 70.3® Triathlon Series, 5150™ Triathlon Series, the Rock 'n' Roll® Running Series, IRONKIDS®, World Triathlon Championship Series, premier running events including the Standard Chartered Singapore Marathon™ and City2Surf®, UTMB® World Series events including the Canyons Endurance Runs, Tarawera Ultra and Ultra-Trail Australia™, Epic Series™ mountain bike races including the Absa Cape Epic®, road cycling events including Haute Route®, and other multisport races. The IRONMAN Group is the largest operator of mass participation sports in the world and provides more than a million participants annually the benefits of endurance sports through the company's vast offerings. Catering to the full athlete experience, the company portfolio also includes FulGaz® virtual cycling, the most realistic indoor riding experience connected fitness application aimed at preparing athletes for real-world events. Since the inception of the iconic IRONMAN® brand and its first event in 1978, athletes have proven that ANYTHING IS POSSIBLE® by crossing finish lines around the world. Beginning as a single race, The IRONMAN Group has grown to become a global sensation with hundreds of events across 55+ countries. The IRONMAN Group is owned by Advance, a private, family-owned business. For more information, visit www.ironman.com/about-ironman-group.
About The IRONMAN Foundation
The IRONMAN Foundation creates positive, tangible change in race communities by engaging athletes and volunteers to participate in programs that demonstrate service through sport and commitment to the community. Since 2003, over $55,000,000 has been provided through giveback programs led by The IRONMAN Foundation to more than 10,000 local, regional, national, and global nonprofit initiatives. Through these partnerships, IRONMAN, and Rock' n' Roll Running Series participants are powerfully linked to the community and together help leave a positive legacy behind in race communities long after event day. For more information on The IRONMAN Foundation programs, including Team IMF, Community Fund, Rock This Town®, Your Journey Your Cause®, and Race For Change™, visit www.ironmanfoundation.org.
About Advance
Advance is a private, family-held business that owns and invests in companies across media, entertainment, technology, communications, education and other promising growth sectors. Our mission is to build the value of our companies over the long-term by fostering growth and innovation. Advance's portfolio includes Condé Nast, Advance Local, Stage Entertainment, The IRONMAN Group, American City Business Journals, Leaders Group, Turnitin, 1010data and Pop. Together these operating companies employ more than 17,000 people in 29 countries. Advance is also among the largest shareholders in Charter Communications, Warner Bros. Discovery and Reddit. For more information visit www.advance.com.
IMAGERY: Mike Reilly Images – DOWNLOAD
B-ROLL: Mike Reilly's Final Event / Interviews (Credit: IRONMAN®) – DOWNLOAD