Lake Sonoma Race Series Proves Elite Performance, Community and Diversity can Co-Exist on the Trails
June 15, 2023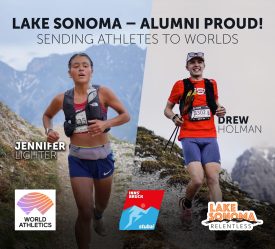 New Race Director Gina Lucrezi and Trail Sisters have changed the Lake Sonoma Race Series (LSRS) forever.
/ENDURANCE SPORTSWIRE/ – This year's 50-Mile event boasted a record high participation rate for female runners, with a forty percent uptick from previous years. The race also raised thousands of dollars for local vineyard workers children scholarships – all while serving as the selection race for the USATF World Mountain Running 80k Course Team.
Nancy Hobbs, the American Trail Running Association Executive Director has experience working with Gina and her Trail Sisters organization and has familiarity with the competitiveness of the 50 miler through the years as a Golden Ticket race for Western States. Under Gina's leadership, the Trail Sisters organization, which is comprised of over 150 community groups, descended on Lake Sonoma in April. The result was a sold-out trio of races over the weekend, with well-orchestrated aid stations and a full-blown festival atmosphere at the start/finish line.
LSRS Director Skip Brand sees a bright future of the sport due to Gina's belief in equality, inclusion and diversity which is fast becoming a central tenet to partners like The North Face, who are looking to support women focused and inclusive events.
Skip is also enthusiastic about Lake Sonoma's diverse field which includes younger speedsters:
"Gina's partnership with American Trail Running Association (ATRA) allowed us to engage emerging elite talent that went on to represent the USA at Worlds. Tropical John, the Lake Sonoma 50 founder, was known for supporting, sponsoring and hosting young runners who he believed had potential to compete at the highest levels of the sport usually at Western States race. John said, "When I was the race director, I focused on international athletes, and almost forty countries were represented at Lake Sonoma my first year. Gina's ability to bring in top-tier talent is the obvious culmination of a long tradition at Lake Sonoma."
While the front of the pack is reserved for those with speed to burn, Lucrezi has helped ensure that you don't need money to burn to get to the starting line. While many of the larger races have been taken over by UTMB or Ironman, or grew large like Broken Arrow with steeper entry fees, Lucrezi's version of the LS50 boasts free camping and plenty of flexibility that ensures that runners can participate, regardless of their wallet size or speed. For the LSRS leadership, the future of the sport rests as much with back of the pack participants and with those competing for the prizes at the front. There are now distance options for all runners to enjoy at Lake Sonoma. It took 20 years of the race to discover all facets of inclusion.
In October, the Lake Sonoma 100K will return as a Western States Qualifier, while remaining a charity-driven local event. The breath-taking loop course will feature miles upon miles of picturesque single track and a relentless series of hills that will challenge even the grittiest competitor looking to qualify. The Fall weather in Sonoma County is ideal for racing, and the vistas are simply spectacular. For runners looking to try their first ultra, the shorter 55K course has been designed with newcomers in mind, with extra aid stations, generous cut-off times, and lots of support along the way.
About Lake Sonoma Race Series
Founded in 2008, the iconic Lake Sonoma 50 Miler is known for having one of most competitive fields in the United States according to UltraRunning magazine. The beautiful wine country 50-miler consists of nearly 90 percent single-track trails weaving through relentless rolling hills, testing runners with three big climbs, and traversing more than a dozen creek crossings. Ultrarunners travel to Sonoma from dozens of countries to experience one of the globe's most popular and distinctive ultrarunning events, one that includes a trail movie festival, gourmet athlete dinner, multiple industry panels, and a lively finish line celebration featuring award-winning wine country chefs, multiple breweries, and celebrated wine from Wilson Artisan Wineries. Participants as well as their families and friends will enjoy Lake Sonoma and Healdsburg's small-town charm at an event where a percentage of the proceeds support the Children of Vineyard Workers Scholarship Fund that expands educational opportunities for local students.