Lake Sonoma Race Series (LSRS) Aims for More Events, More Charity and More Elite Competition with New Race Directors in 2022
December 31, 2021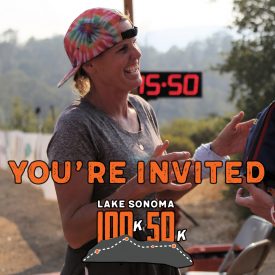 Bringing in powerful women as race directors
/ENDURANCE SPORTSWIRE/ – "Bringing in powerful women as race directors is not only the right thing to do, but Gina and Keira do things right!" — Skip Brand, LSRS founder
The Lake Sonoma 50-miler & Marathon fields are locked with more elite professionals committing daily, but at 6 am on Jan 1st, the lottery for the Lake Sonoma 100K and new 50K will open with a chance for ultra-runners to challenge themselves with miles upon miles of singletrack in Northern California's gorgeous wilderness.
The expanding race series is set in one of the world's most outstanding wine regions with award winning hotels, restaurants and music. Originally founded in 2008 by Tropical John Medinger, the Lake Sonoma Race Series is dedicated to supporting life changing charities through the sport of trail and ultra-running.
The mission of the series is to elevate the community and local racing event experience with inclusion, equity and diversity, as well as inspiring and educating new trail runners.  The LSRS believes that the best events are those that reflect the values of the community and celebrate everything that the surrounding area has to offer with an authentic and genuine flair.
The Lake Sonoma Race Series invites all running enthusiasts – Americans and International visitors alike – to register January 1st to celebrate the 2nd annual Lake Sonoma 100K as well as the inaugural 50K race on over 40 miles of scintillating single track on Saturday, May 28th, 2022.  As with the inaugural edition, the 100K will be a Western States qualifier and finishers will earn four (4) UTMB points.
The Lake Sonoma 50-miler has always drawn an impressive elite field, but it is also specifically known to discover talented young ultra-runners early in their careers. Both founder Tropical John and LSRS Director Skip Brand have focused specifically on these emerging stars.  For 14 years, LS50 competitors have gone from the podium at Lake Sonoma to the grandest stages, such as Western States, Hard Rock 100 and international competitions like UTMB.
This year, the series looks to invite newly eligible college runners who can now compete and win without affecting their collegiate careers.
Racing is coming back in a big way in 2022, all across the United States.  The largest growth segment in the industry is trail running.
Keira believes… "The Lake Sonoma 100K will do double duty featuring an elite professional field and offer very challenging terrain for the experienced trail runner, who is ready to step up to a new challenge or got out hot on a tough course that only saw a 40% finish rate."
To hear more about the Lake Sonoma Race Series and all the action planned for 2022, check out the Instagram Live feed with Skip, Keira and Gina, live on Instagram January 1st at 7pmEST/4pmPST.
About Lake Sonoma 50-Miler & Marathon
Founded in 2008, the iconic Lake Sonoma 50-miler is known for having one of most competitive fields in the United States according to UltraRunning magazine. The beautiful wine country 50-miler consists of nearly 90 percent single-track trails weaving through relentless rolling hills, testing runners with three big climbs, and traversing more than a dozen creek crossings. Ultra-runners travel to Sonoma from over 20 countries to experience one of the globe's most popular and distinctive ultra-running events, one that includes a trail movie festival, gourmet athlete dinner, multiple industry panels, and a lively finish line celebration featuring award-winning wine country chefs, multiple breweries, and celebrated wine from Wilson Artisan Wineries. Participants as well as their families and friends will enjoy Lake Sonoma and Healdsburg's small-town charm at an event where one hundred percent of the proceeds support the Children of Vineyard Workers Scholarship Fund that expands educational opportunities for local students.
About Lake Sonoma Race Series
"We are excited to have Gina directing the Lake Sonoma 50 and Marathon in April for the first time, which allows the Race Director nearly 50 days later to kick off the second weekend Ultra Festival with the most popular distance the Lake Sonoma 100K and new 50K" stated Keira Henninger "The ultra-running community needs everyone's voice to be heard and to build an organization or network of supportive races that lead with partnerships, communities, and resources so the opportunities are available to all."
We believe that ultra-marathons are the ultimate endurance leveling ground. For example, half of the top thirty finishers at this year's Western States 100 were women. Recent studies have found that the longer distance of the race, the smaller the gap in pace between women and men. The number of female ultra-marathoners continues to grow and now more attention needs to be paid to inclusion and diversity for other communities.  Skip Brand, founder of the Lake Sonoma Race Series recognizes the need for women to lead major events to ensure the involvement of people from a wide range of social, ethnic, gender, and sexual orientation backgrounds. Skip believes the more diverse anything is, the higher the quality, and ultra-running should not be any different.