Lake Sonoma Race Series Gets Bigger and Better for 2023, Adding Prize Money, New Women-Only Half Marathon and Fall Races
September 20, 2022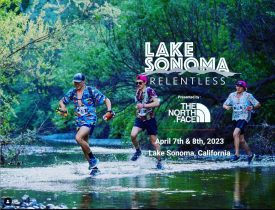 /ENDURANCE SPORTSWIRE/ – The Lake Sonoma Race series returns in 2023 bigger and better than ever with enhanced offerings designed to enliven the runner experience, heighten the spectacular feeling of community inherent in trail running and drive inclusiveness and diversity.
The Lake Sonoma 50 Mile (LS50) and Marathon returns to its traditional spring slot with numerous enhancements to create a more vibrant and pleasant experience for participants. Slated for April 8, 2023, the event will feature new on-site packet pickup as well as a race village with live music and more robust camping options for athletes.
"This gives the whole event a stronger festival vibe, allowing athletes an opportunity to relax and have fun both before and after their events," LS50 Race Director Gina Lucrezi says.
The 2023 event also welcomes the highly anticipated Trail Sisters Women's Half Marathon, sponsored by The North Face, as well as cash prizes for the top men and women in the classic 50-Mile race.
In addition, a new lottery system has been instituted to ensure starting fields for the LS50 and Marathon are balanced equally between male and female athletes.
"With all the momentum from last year's LS50 and Marathon, we're excited to offer even more options with the Women's Half as well as a much more inclusive and dynamic race weekend experience," says Lucrezi, who doubles as the founder of Trail Sisters.
With a crowded spring race calendar already present in Northern California, the Lake Sonoma Race Series has also shifted its 100K and 55K races to October. Moving the race to October provides athletes a much later Western States Endurance Run qualifying race than has been available in the area before. The new October date also enables racers to experience the beautiful setting and hospitality of Sonoma Wine Country in the fall.
LS50 veteran Kevin Deutsche and Healdsburg Running Ladies Founder Tiffany Belize will take the reins as race directors for the 100K and 55K events in 2023.
"There's a lot to love about running at Lake Sonoma in the fall," Deutsche says. "Pristine single track, sweeping views and, of course, the relentless hills once the heat of the summer has passed.  The fall season is the perfect time to do that in Sonoma County, so I'm excited to see how Tiffany and I can use our experience to bring this race series forward with the help of an amazing board of directors, including many former Lake Sonoma race directors."
The lottery and registration for the Lake Sonoma Race Series spring events (50 Mile, Marathon, Women's Half-Marathon) opens on September 21st, while the lottery for the fall race slate (100K and 55K) launches December 1, 2022.  Both lotteries will remain open for two months before notifying athletes.
About Lake Sonoma Race Series
Founded in 2008, the iconic Lake Sonoma 50 Mile is known for having one of most competitive fields in the United States according to UltraRunning magazine. The beautiful wine country 50-miler consists of nearly 90 percent single-track trails weaving through relentless rolling hills, testing runners with three big climbs and traversing more than a dozen creek crossings. Ultrarunners travel to Sonoma from over 20 countries to experience one of the globe's most popular and distinctive ultrarunning events, one that includes a trail movie festival, gourmet athlete dinner, multiple industry panels and a lively finish line celebration featuring award-winning wine country chefs, multiple breweries and celebrated wine from Wilson Artisan Wineries. Participants as well as their families and friends enjoy Lake Sonoma and Healdsburg's small-town charm at an event where a portion of the proceeds support the Children of Vineyard Workers Scholarship Fund, which expands educational opportunities for local students. In 2022, the LSRS expanded to include a Marathon, while the 2023 edition introduces the Trail Sisters Women's Half-Marathon, sponsored by The North Face.
In 2021, the Lake Sonoma 100K became part of the Lake Sonoma Race Series as a response to demand for a longer event in line with the needs of runners hoping to qualify for the Western States Endurance Run and other 100-mile events.  The 100K race takes the best of the LS50 and adds another 12 miles of exciting single track with nearly 3,000 feet of climbing and spectacular views. For those seeking a shorter challenge, a 55K, which completes a full loop of one arm of Lake Sonoma, is available. The 55K and 100K races' October date leverages Lake Sonoma's ideal racing conditions – average high temperatures in the 70s and cool mornings – and offers participants an opportunity to celebrate Sonoma Wine Country in the harvest season with on-site camping, a race village and partnerships with local food, wineries and breweries.
The Lake Sonoma Race Series (LSRS) Board of Directors is guided by a group of seasoned trail runners, including former Lake Sonoma 100K race director Keira Henninger, LSRS director Skip Brand and LS50 founder and Western States board member Tropical John Medinger. The LSRS board also includes Brandelle Macintosh from the Santa Rosa Press Democrat and course director Jorma Gates.
Contact:
Skip Brand, Director: Lake Sonoma Race Series, skip@lakesonoma50.com
Gina Lucrezi, Race Director: LS50, Marathon, Trail Sisters Women's Half Marathon: racedirector@lakesonoma50.com