Lake Sonoma Race 100k & 55k In Its 3rd Year Moves To Fall: Registration to Open 1/15/23
January 12, 2023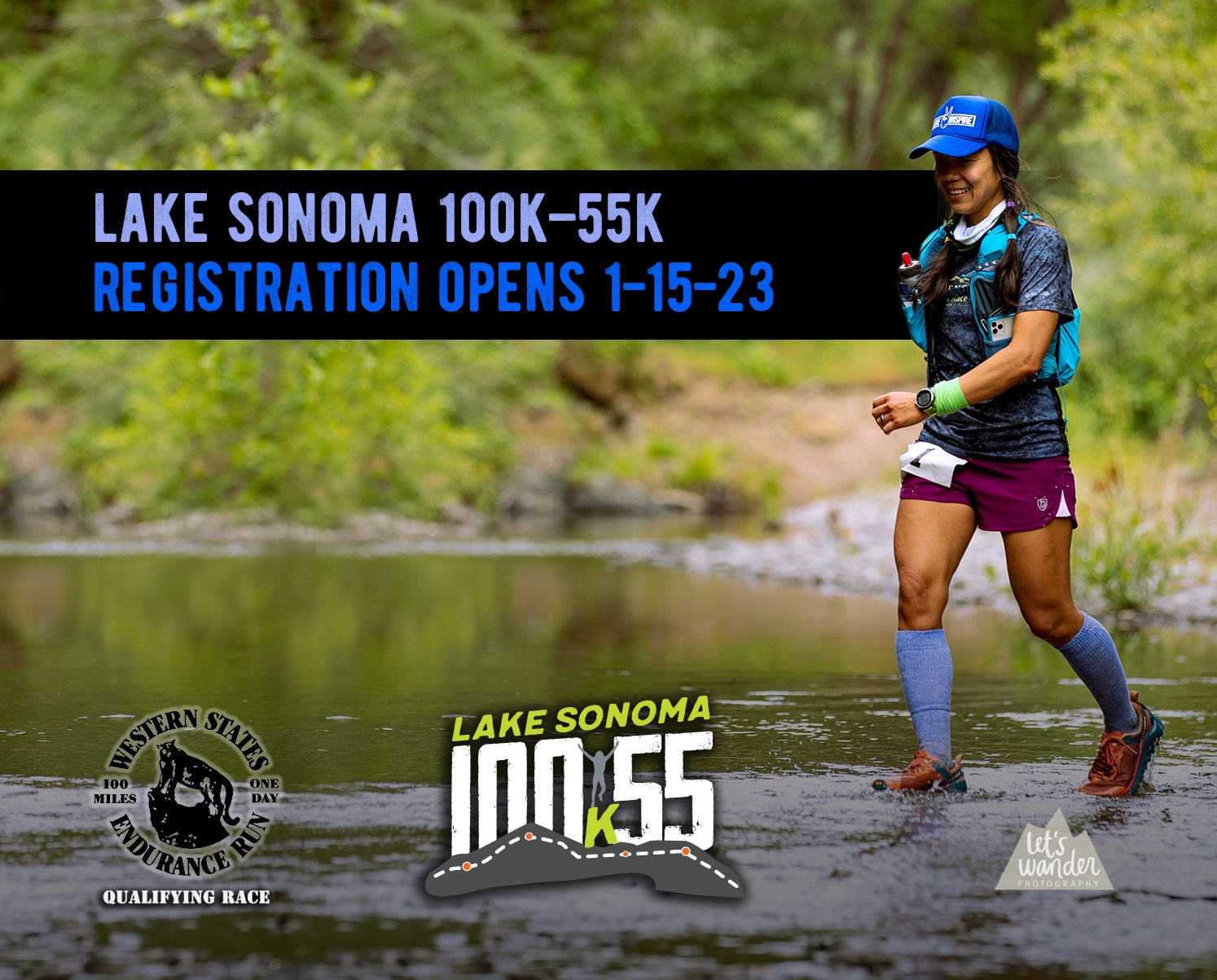 /ENDURANCE SPORTSWIRE/ – For those looking for a late fall challenge, the Lake Sonoma 100K and 55K registrations will open on January 15th at 9 am PST. The relentless Lake Sonoma 100K serves as a Western States Endurance Run qualifier, while the 55K is the perfect next step for marathoners looking for a new challenge. The third annual 100K features a revamped course and a new, fall schedule, with the race taking place on October 21st, 2023. New race directors Kevin Deutsche & Tiff Bellize are excited about the potential for an elite showdown with the new race date.
Deutsche pointed out: "The LS 100K is the logical next step up from the Lake Sonoma 50 mile, which has always been a highlight race for trail running's best, including Jim Walmsley, Hal Koerner, Devon Yanko, Dakota Jones, Keely Henninger, Cassie Scallon, Emily Harrison, Zach Miller, Stephanie Howe, Sage Canaday, YiOu Wang, Jared Hazen, Anna Mae Flynn and Mario Mendoza. We can't wait to see who makes their mark on this relentless course this coming fall."
LSRS Director Skip Brand discussed some of the reasons for the new race schedule: "In 2022, the Lake Sonoma Race Series recognized the potential of having two race weekends by separating the iconic sixteen-year-old 50 mile presented by The North Face and the newer 100K and 55K. With dedicated race weekends in spring and fall, professionals and amateurs alike can find a distance and schedule that suits their needs. We believe that this not only maximizes the potential for both the women's and men's fields but helps the growth of the sport of ultra-running, by helping athletes adapt to these longer distances from the marathon or 55K. Healdsburg, California is a truly unique place to host a trail running festival focused on diversity, equality and inclusion. The Lake Sonoma Race Series is the right place to showcase this evolution."
About Lake Sonoma Race Series
Founded in 2008, the iconic Lake Sonoma 50 Miler is known for having one of most competitive fields in the United States according to UltraRunning magazine. The beautiful wine country 50-miler consists of nearly 90 percent single-track trails weaving through relentless rolling hills, testing runners with three big climbs and traversing more than a dozen creek crossings. Ultrarunners travel to Sonoma from over 20 countries to experience one of the globe's most popular and distinctive ultrarunning events, one that includes a trail movie festival, gourmet athlete dinner, multiple industry panels and a lively finish line celebration featuring award-winning wine country chefs, multiple breweries and celebrated wine from Wilson Artisan Wineries. Participants as well as their families and friends will enjoy Lake Sonoma and Healdsburg's small-town charm at an event where 100 percent of the proceeds support the Children of Vineyard Workers Scholarship Fund that expands educational opportunities for local students.  In 2022, The LSRS expanded to include the 55K and Marathon, and the 2023 edition will continue to grow, adding on the Women's Half-Marathon, sponsored by The North Face.
The Lake Sonoma Race Series Board of directors will be guided by a group with tons of trail experience, including former 100K race director Keira Henninger, LS50 founder and Western States board member Tropical John Medinger, as well as LSRS director Skip Brand.  Rounding out the board will be Coach Tiff Bellize, Brandelle Macintosh from the Santa Rosa Press Democrat, and Course Director Jorma Gates.