Laidlow and Langridge Claim Titles at Inaugural Challenge London
August 6, 2023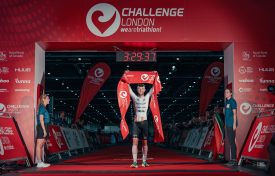 Sam Laidlow (FRA) and Fenella Langridge (GBR) claimed the first-ever Challenge London titles as over 5,000 triathletes took part in the world's biggest city centre triathlon.
London, UK /ENDURANCE SPORTSWIRE/ – Sam Laidlow (FRA) and Fenella Langridge (GBR) claimed the first-ever Challenge London titles as over 5,000 triathletes took part in the world's biggest city centre triathlon.
2023 marks the first edition of the new-look event, formerly known as London Triathlon, and the first time the event has hosted a pro field over the middle distance, with a world-leading field on show in London.
Laidlow, was first to cross the finish line in a time of 3:29:31, after a dominant performance in London which saw him lead from the early stages of the bike leg and lead the run throughout. Joshua Lewis (GBR) and fellow Brit James Teagle (GBR) battled closely in the final stages of the run, with Teagle claiming a narrow second place finish. First out of the water was Harry Leleu (GBR) with Laidlow hot on his heels 10 seconds down. However, Laidlow quickly took the lead with Lewis in second and Teagle further back in third, positions held through the 80km bike. Laidlow came into T2 with a clear two minutes over Lewis and continued to extend this lead throughout the run, showing no sign of the calf injury that plagued him at Roth. Behind him, Lewis capitulated to Teagle at the start of lap three with Teagle taking second 2:45 down on Laidlow and 1:46 ahead of Lewis.
"It's great to race here in front of my family and it's a good confidence booster," said Laidlow. "In Roth I had an injury and it's only been four week so I'm really happy to take the win here. James Teagle was running really fast in the first three laps. I was running at 3:20 pace and he was taking time off me, but then he faded and I kept the same pace – it's really exciting for the future. I really love these Challenge races. The organisation and how they treat the pros is really amazing. It's a privilege to race here and I'm just so grateful to be healthy and fit and win the race."
Great Britain's Fenella Langridge came into the event as one of the favourites for the women's field, and last year's Challenge Family World Bonus winner did not disappoint with a commanding start-to-finish lead to secure the inaugural Challenge London win in a time of 4:02:11. Not surprisingly, Langridge was first out of the swim in 24.45, nearly a minute clear of Lizzie Rayner (GBR) and she remained strong at the front of the field throughout the race. Behind her though a battle was about to ensue. At the end of the bike and up until halfway through the run, it looked like an all-British podium with Rayner and Susie Cheetam holding firm in second and third. However, behind them Magda Nieuwoudt (RSA) was running strong and by the start of the fourth lap had made her way up into third before overtaking Rayner in the final kilometres to take second. But if Rayner thought she could hold onto a podium place, Els Visser had other plans. A wrong turn on the bike saw her coming into T2 in sixth place over five minutes down on Langridge. However, her running prowess came to the fore, running up in third place to round out the podium.
"I'm really happy, it's been a long time coming since I managed to take the tape and execute a race that was quite challenging," said Langridge. "Leading from start to finish sounds easy but mentally it's really hard. It's amazing to race in the heart of London and to think how many people are here racing, many doing their first triathlon is awesome. I had to stay mentally focussed and almost relaxed and keep those legs ticking over. The girls were chasing and I knew they were there but I just had to race my own race at the end of the day."
Pro Podium – Male
1st – Sam Laidlow (FRA), 3:29:31
2nd – James Teagle (GBR), 3:32:17
3rd – Joshua Lewis (GBR), 3:34:02
Pro Podium – Female
1st – Fenella Langridge (GBR), 4:02:11
2nd – Magda Nieuwoudt (RSA), 4:08:33
3rd – Els Visser (NED), 4:09:26
The full results are available here: https://track.rtrt.me/e/RA-LONDONTRIATHLON#/tracker
Full finish line interviews are available here:
Men
​Sam Laidlow – https://youtu.be/_0tsM0JA9CQ
James Teagle – https://youtu.be/zj_npVWdzuI
Joshua Lewis – https://youtu.be/JtHej6tSTTI
​
Women
Fenella Langridge – https://youtu.be/6BrRlxkW0aE
Magda Nieuwoudt – https://youtu.be/wFM8J51AMIo
Els Visser – ​https://youtu.be/Kg8qkeG9Xn8
Challenge London is the world's biggest city centre triathlon open to all abilities, seeing participants ride by Big Ben, the London Eye and Houses of Parliament, setting off from the ExCeL Centre in East London, the heart of the Docklands.
Challenge London will return to the capital in 2024, with entries expected to sell quickly, following a sell-out event in 2023. Participants wanting to take part in next year's event are encouraged to sign up soon, with limited places available. To sign up, visit www.challenge-london.com
Craig Dews, CEO of LimeLight Sports Group, said: "We are delighted to have brought world-class triathlon back to the capital, and in spectacular style. Challenge London is proud to not only take in some of the greatest sights in London, but it offers a platform for all abilities to enjoy the sport, make new memories, change lifestyles and experience the joys of mass participation events.
"Triathlon is more than just a sport, for many it's a lifestyle. Fundamentally the three disciplines of swim, bike, run are a powerful combination that often enhance physical and mental wellbeing. Being a part of sporting events like this gives an overwhelming sense of togetherness and achievement, whatever your personal goal."Super Early Bird places for Challenge London 2024 are now on sale, until midnight Tues 8th Aug. 2024's event is expected to sell out quickly with limited capacity, so don't miss out. Visit www.challenge-london.com
###
Press Enquiries:
LimeLight Sports Club: Nick Rewcastle, New Reach PR | nick@nr-pr.uk
Challenge Family: Victoria Murray-Orr, Challenge Family Global Marketing & Communications | victoria@challenge-family.com
Notes to Editors
About LimeLight Sports Club
LimeLight Sports Club is a specialist division within LimeLight Sports Group that creates and delivers major participation experiences with the purpose of making your active world experience extraordinary. It provides a sporting journey of unforgettable cheer and challenge, designed to move you. LimeLight Sports and its brand partners share a belief that when people of all ages and abilities come together and participate in any kind of group exercise, the benefits can be immense, both for individuals and for society as a whole. This is reflected in our commitment to sustainability, improving equality and working increasingly on the mental health benefits of physical activity. LimeLight Sports produces seven multisport and running event experiences throughout the year: Hackney Moves Festival, London Duathlon, ASICS London 10K, Challenge London, Blenheim Triathlon, Oxford Half and Etape Caledonia. Visit https://limelightsports.club/
About Challenge Family
With over 30 long and middle distance triathlons around the globe featuring spectacular courses in iconic destinations, no Challenge Family race is like any other. Focusing on delivering the race of a lifetime to athletes of all ages and abilities, Challenge Family races provide unforgettable experiences that capture all the excitement and emotions of this inspirational sport for competitors, friends, family and supporters alike. #AllAboutTheAthlete #WeAreTriathlon